No doubt you'll be starting to think about second-year housing if you haven't already.
I have two words for you: Don't. Stress.
Housing is probably the only topic of conversation at the moment but honestly, you can still secure a house in March next year.
I wouldn't worry about finding a house till the housing talks that the University put on for you but if you're reading this, there's probably a reason and I should get on with it…
So, without further ado, here's a step by step guide for searching for a second-year house.
Attend housing talk
Like I mentioned, attending one of the housing talks is helpful as you can get any questions answered and they will tell you about any important things to note when you're searching for a house.
The talks are usually held before places like Studentpad release their first round of rental housing so it's a good idea to go – or at least discuss it with someone who can go if you can't.
Think about your budget
Of course, one of the most important things to consider when looking for a house is pricing. Make sure you know how much you can afford taking into consideration things like deposits.
Find housemates (or not)
Having to decide who you're going to live with, in the second year only three months into university, can be daunting. This can be a big decision, but just make sure you're happy with who you've picked.
Also check if you have similar ideas about where you want to live, or you could find yourself in a situation where you're looking at housing way more expensive or cheaper than you expected.
Search for a house
If you want to avoid the huge deposits, I'd recommend finding websites that host independent landlords and go directly through them. You can use websites such as Zoopla, Rightmove Student, or simply Google "Bath student housing" and see what results come up.
Put all the houses you're interested in on one document so it's easier to keep track of which ones you've contacted about viewings etc.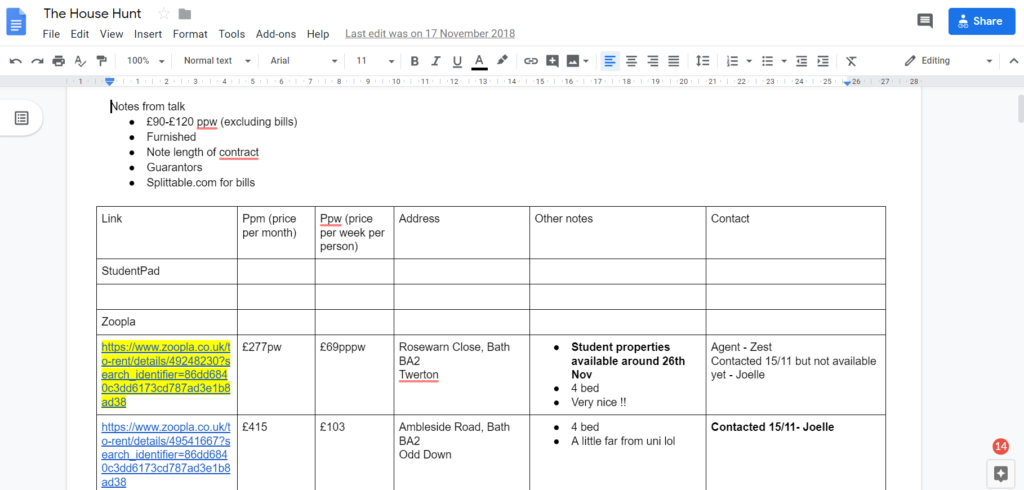 Visit houses
Once you've booked a viewing, arrive a bit earlier than your allotted time – it leaves a good impression on the landlord/agency! It's also a good chance to check out the bus route to uni if you live on campus.
A few things you might want to do on your visit:
Keep a lookout for any signs of damp
Consider the warmth of the house
Talk to current tenants if you can
If you're allowed to, take pictures or videos so you can remember what it's like
Secure the house
When you've decided that the house is The One, it's time to call up the landlord/agency and let them know before someone else does. That being said though, don't feel pressured to decide really quickly because this is a fairly major decision to make.
Then you can pay the deposit and congratulations, you've secured the house!
Watch the video below where I show you what my second-year house looks like and chat more about my experience!