I think I did a good job of masking my excitement about starting university. Coming off a gap year, the Post Results Day/Pre-Freshers' Week time period was full of anticipation and restlessness. I joined group chats for my course, accommodation and successfully re-acquainted myself with my old Facebook account (yes, I had an account before, I am that old) and joined the 2019-2020 Fresher's Facebook group. The novelty of starting university was intoxicating, the hype train of the arena night events in Freshers' week, where the nightly acts were announced daily over a six-day period, as well as promoting the events during the days. So, all of that, as well as shopping and packing for university put me in an enthusiastic mood, to say the least.
Moving out and in
So, on the long drive from London to Bath, my Mom kept making the off-hand comment that she had never seen me wear a smile for so long before. My moving-in day went smooth, I'm not the kind of person who gets homesick or anything like that, so I settled right in. I also joined the Facebook group chat for my Eastwood accommodation, so the ice was already broken amongst us housemates. We already knew each other well enough, so we pretty much just fast-forwarded to living in the house together.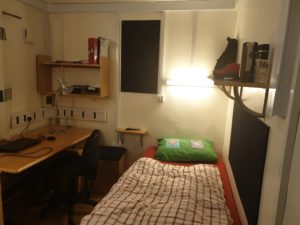 The Student Union organized parties at the Plug…or the Tub (I still haven't figure out which is which, to be honest) the nights of the weekend that we moved in, both of which turned out to be fantastic social lubricants. There's no amount of social anxiety a good Pre's wouldn't smooth over. With that done, Freshers' Week kicked off.
Freshers' Week was jam-packed.
There were a million or so many things to do during the days, it seemed impossible for it all to be done in a 24-hour time period. I'm talking mini-golf, Yoga sessions, Sport taster-days, BUCS sport team try-outs, art exhibitions, Skyline walks, City tours, Meditation sessions, poker tournaments, Pool tournaments, random table tennis games, Tea and biscuits (mainly just to meet other random Freshers for a chill chat), Film Society movie screenings, pizza and board games, Acoustic Nights, Arena Nights, bouncing castles, which was my personal favourite by the way….obviously, Freshers' Fairs and the incredible amount of freebies and pizza they gave out and so much more. Looking back its almost ridiculous how many things were on during the week.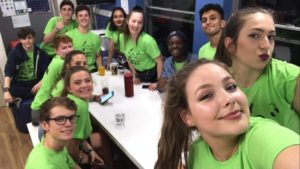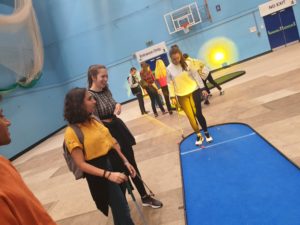 I enjoyed getting to meet so many people, engaging in small talk and just getting to hear where they came from and their backgrounds. I must have introduced myself a million and one times during that week (still am, it's still only three weeks in). I met an innumerable amount of people, many of whom I'm still in regular contact with. The overall atmosphere was uber-friendly. So as long as you had some sort of enthusiasm and a social setting of some sorts, you were probably gonna find someone to chat to.
Freshers' was an experience and half and I still pretty much remember all of it. I'm quite pleased to say I didn't find myself idle at all during the week, something was always on and there was always an opportunity to find new interesting people to meet.
I'll concede, towards the end of the week a small part of me wanted it to end, just because I felt exhausted. I had never met so many people in such a short amount of time and to be honest, there are only so many names I can remember. I was also itching to settle into a routine and get started on my Chemical Engineering degree.  I mean, after all, that is the primary reason I came here and the fact that I hadn't done some actual academic learning in over two months started to give me a sense of dread.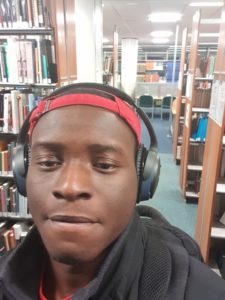 All in all, I really enjoyed the week and can confidently say Bath Freshers' Week 2019, lived up to the hype. I would say it surpassed it, but I don't come off as overly enthusiastic or anything.