When it comes to food in Bath, there are two options for students here. Campus, having around 10 eating places and two grocery shops, and the city, with loads of such places. Prospective applicants, especially those with specific food preferences or dietary requirements such as Vegan, Vegetarian, Halal etc, would be wondering about the places to eat in Bath. In this blog, I will talk about some wonderful places to eat Halal food both on campus and in the city. For this blog, some information comes from the 'Survival Guide' of the 'Bath University Islamic Society (BUIS)'. I have also drawn on my many own experiences of eating Halal Food in Bath.
Here is a list of a few accessible places where you can dine at a student budget:
City Eat-outs
Al Falafal (Takeaway)
Great for Doner, Sandwiches, and Fried Chicken. Al Falafel is one of the cheapest and best places. They serve with sauces and salad of your choice and priced at about £4.50 for a Doner and chips is quite a deal.
Location - Monmouth St, close to Kingsmead Square, a 5-minute walk from the iconic Roman Baths.
Best part - it's open from 11 am to 4 am, so you have an open choice for those late-night hunger pangs.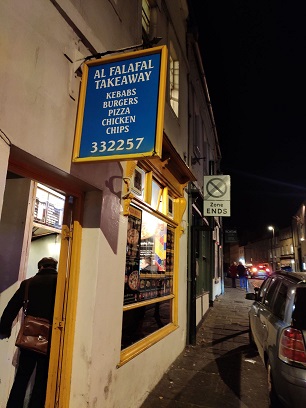 Peri Peri Sizzler
Peri Peri Sizzler, opposite Al Falafal at Monmouth St, It's a nice place to dine in for something spicy. My favourite is Shish Kebab roll with hot sauce. It's usually open until 12 am.
Ruposhi Indian Takeaway
Famous for its Indian curries, Ruposhi is student-friendly in its pricing. The address is 3 Sussex Place, Widcombe Parade.
Comptoir Libanais
It is famous for delicious Lebanese cuisine. Buffet offers are very popular. A little more expensive than the above three. It's at 4 Newark opposite to the Sainsbury's Local. Less than 1 minute walk from Bath Bus Station.
Super Stokes (Grocery Store)
If you want to buy some packed Halal stuff such as sausages, steaks etc, this is the place to go. You can also ask them to order raw meat for you. It's at 38 Moorland Rd accessible by U3 bus service.
Halal chicken (raw) is available at 'Big Fresh' on campus, which I will mention in the next section.
Other Places
Besides these, you can go to Absurd Bird, Bear Flat Tandoori, The Eastern Eye, Thai by the Weir etc. You can also contact Bath University Islamic Society (BUIS) for the 'Survival Guide' in which they have a list of Halal food places.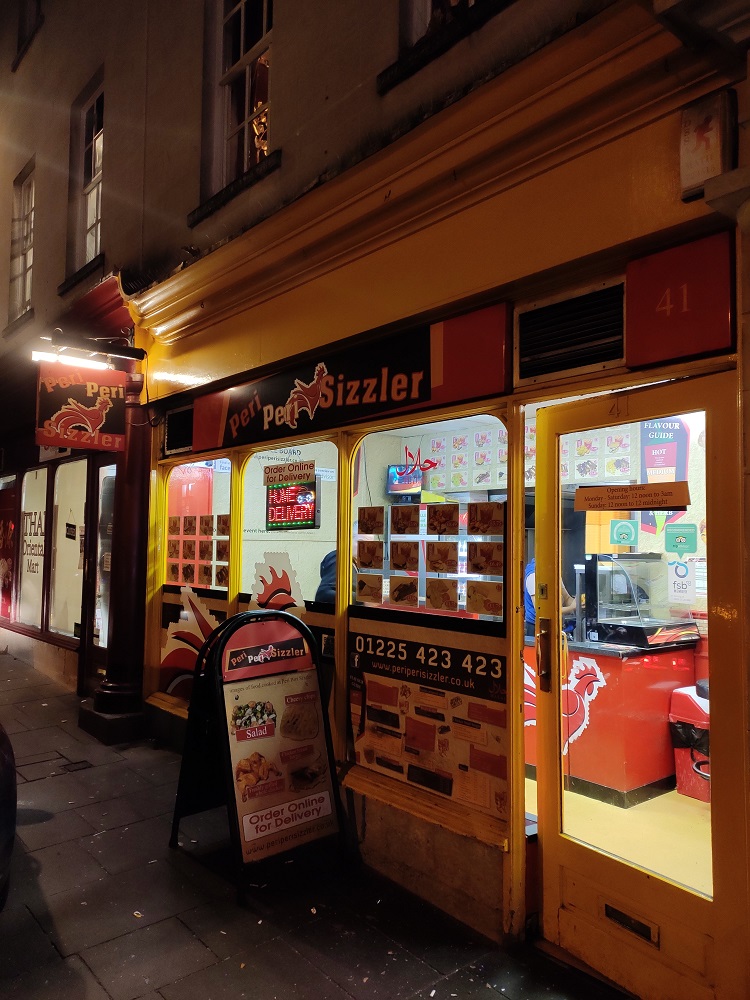 Places on the Campus
Lime Tree
Pizza and Pasta, if with Chicken, are Halal. You can always ask at the counter for your satisfaction. A lively and happening place to sit (by yourself or network with other students), Lime Tree is around the Arrival Square on campus.
4 West Café
Like the Lime Tree and other restaurants on the campus, only some meals are halal. You can go for Jacket Potatoes with chicken and sandwiches & wraps of chicken (packaged). You can ask at the counter for more details on Halal meals. This café is very close to Student Services.
Claverton Rooms
In terms of Halal Items, you can get a sweet chilli-chicken baguette and BBQ chicken wraps. For other stuff, you can always ask at the counter. Claverton Rooms restaurant is in front of the library.
Big Fresh
In front of the Barclays Bank campus branch and very close to Wessex house, the Big Fresh is where you can get Halal meat of chicken and lamb. Fresh is the best option for groceries if you are on the campus.
Other places
Apart from these places, you can get selected halal food items at Pitstop, Fountain Canteen, Wessex Restaurant, Edge café, and Parade Bar & Grill. Ensure that you ask at the counter about this.