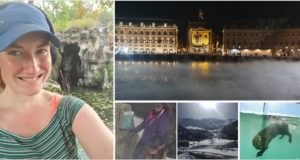 "Proceed to Gate 2 – Now Boarding."
This was the moment when reality sunk in. Excitement, nerves and anticipation all rolled into one. Three coffees, two hours and one EasyJet flight later, I landed in one of France's most beautiful cities: Bordeaux. The wine capital of the world.
As I delved into the city's vibrant and rich history, it dawned on me that I'd only ever known countryside and mountains as a home, having grown up on the Isle of Man and working as an intern in Peisey-Vallandry, an unmistakably remote Alpine village. The closest I've ever got to an urban lifestyle is Bath…but let's face it. Does Oldfield Park really count?
Choosing a location was perhaps the hardest decision in planning my Year Abroad. It shapes your social life, experiences and language skills. I've fortunately now experienced the two extremes: city bustle versus rural life. So, in true EasyJet style, fasten your seat-belts: here's how to pick your perfect placement location.
Activity or Serenity?
In Bath and Bordeaux, I have almost everything I could only imagine at my fingertips, whether that's entertainment, jaw-dropping sights or even part-time job vacancies. Already, I've been here two months and barely uncovered the hidden gems and opportunities that city life has to offer. I often find myself craving the tranquility of nature, though. Bordeaux's maze of towering buildings is a permanent reminder of the fast-paced rhythm of uni life. While the range of events and entertainment was limited during my placement in Peisey-Vallandry, I felt free from everyday stress in the serenity and beauty of the surrounding mountains… it was undoubtedly the best thing I've ever done for my mental health.
Language Familiarity or Progress?
Attracting tourists and expats worldwide, most major cities embrace an international vibe. Bordeaux is no exception. While I stand out from the tall, tanned French with my fiery red hair and fair skin, city life gave me the opportunity to blend in and facilitate my initial integration into this foreign country. Almost everyone I encountered was willing to speak English at some level, saving me the risk of embarrassment of any language barriers or miscommunication.
On the other hand, rural life can greatly develop your foreign language skills. Inevitably, it can be daunting to communicate primarily in a foreign language. It's fair to say, I've had more than my share of translation errors! Two weeks before I was due to leave Peisey-Vallandry, I had to undergo emergency surgery in a hospital where no one spoke English…and I completely mistranslated one of my allergies on the form…Language immersion would however undoubtedly accelerate your language competencies – both a rewarding personal accomplishment and a highly sought-after skill in the workplace!
Best of Both Worlds
Ultimately, the perfect location comes down to your personal goals and priorities. Keep in mind there are ways to get the best of both worlds. You could choose a smaller city with scenic natural surroundings, or even buy a railcard for a change of scenery on weekends!
Good luck!
Emma x