In retrospect, deciding to study Chemical Engineering was more of a process than a choice. From being science-orientated in my early teens to becoming fascinated by all aspects of engineering, reading and researching it as much as I could to finally settling upon the one branch that I felt encompassed my engineering interests, Chemical Engineering.
Early Exposure
I'd say the "process" was rigged from the very beginning. I was fortunate enough to have work experience bouts in two Oil and Gas companies in my early teens. During which, I shadowed petroleum engineers and gained insight into what their duties were, how they worked in conjunction with other engineers and how their work was conducted with a commercial focus in mind. Although I didn't understand all of what I had been exposed to at the time, the experience was an eye-opener.

Chemical Engineering and its impact on the World
Upon researching the different disciplines of engineering further, I was drawn into the sheer breadth of the Chemical Engineering branch. It seemed to encompass just about everything. I think it is best described as the engineering discipline that designs processes to produce, transport and transform energy or materials. I'd say that sentence alone doesn't quite describe Chemical Engineering's impact on our modern world. In no place is its effect more apparent than in the production of ammonia via the Haber process, for use as a component of fertilizer. In doing so, it has had a direct effect on the population explosion from 1.6 billion in 1900 to 7.5 billion as of now. So far-reaching were the implications of this one engineering process, it's said 50% of all nitrogen in the human body originates from the Haber process.
With that example, you can look at the issues the modern world faces today in terms of Climate Change, pollution and the various sustainability issues. Chemical Engineering, in its various sectors, has the potential to solve (or further exacerbate) such matters. So, confronted with all this information, when the time came to submit my university application on UCAS, my mind was already made up.
Chemical Engineering at the University of Bath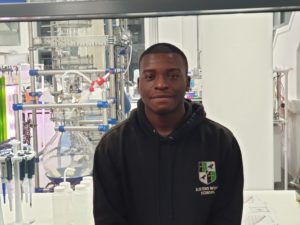 Fast forward to the present, starting the Chemical Engineering course here at Bath and getting stuck in the lab experiments, lectures, presentations and coursework. My understanding and passion for the course have definitely grown.
It's no mean feat either, the course here at Bath is as mentally taxing and time-consuming as it promised to be. There's a balance between the theoretical aspects of the course you learn in the lectures and the more practical aspects of the degree in the lab and computer sessions, presentations and coursework you'll conduct throughout the year. The course here at Bath has industrial leanings and is tailored towards preparing its students holistically towards a professional engineering career, in whatever sector you choose to pursue.
It's still very much early days in my degree, but I'd say I'm exactly where I should be, learning the necessary skills and gaining the knowledge that'll set me up to be at the forefront of the field in the near future.
When it comes to deciding which course you'd like to study at university, I believe it's best to start by looking at the world around you. Think about what effect you'd like to leave upon the world, what do you want to offer or solve? Using these sorts of questions as a guide to eventually selecting the course you feel will best equip you with the necessary skills in your future profession.