First things first, Introductions are in order. I'm Alfie, I'm a Computer Science and Maths undergrad in my first year. I've been here a little over a month now and I want to talk about how it's going,
I'm going to split this first post into some sections:
1. Accommodation
2. Course
3. Sports Clubs & Societies
4. Friends
These are sections I was worried or curious about before I came so I'll try answering some of the questions I had and I'll get more specific on topics in future blog posts.
1. Accommodation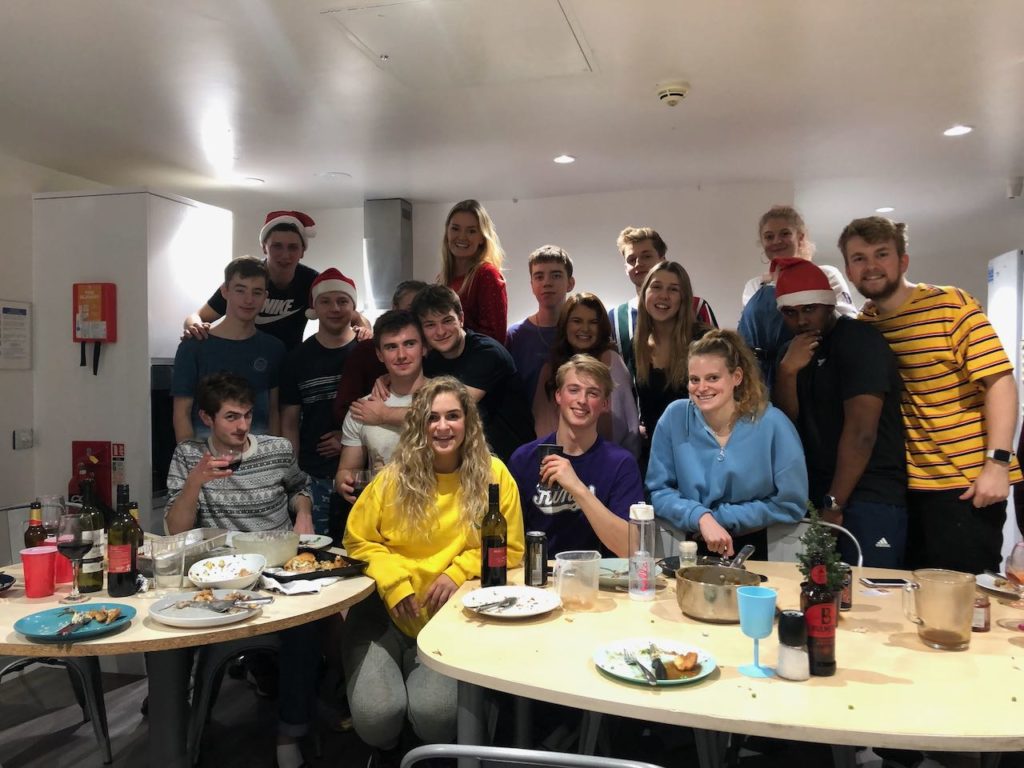 I have really nice accommodation, and I'm very privileged to have it. Additionally, my flatmates are all lovely and I'm grateful for the friends I've found here. My flat has 18 people in it, which is as big as they get, but I like that. It means if you don't want to go out there will always be someone to stay in with, and on the flip side, there are always people to have a night out with, and whenever I want to be around people, there will always be people in our social area. But there are definitely downsides, maintaining the kitchen cleanliness is much harder and stuff mysteriously goes missing!
I've been here just over a month now and I've started to feel settled. Until now I just felt like I was on a holiday, that this was a very nice adventure but I'll go back home in a couple weeks. Only now do I truly realise that this is my new home and these are the new people I live with. Intellectually I knew, but now I know it subconsciously. Also, I'm a bit shocked at how little I miss home. I miss my family and friends, but life here moves so fast that before you have a moment to be homesick you're in the swing of things. I've had some friends from home come to visit me over the weekends and it's really nice to show off your new life to your friends from your old life.
I'm self-catered and I'll talk more about how that's been in another post. But I love cooking and want to share what I've been doing.
2. Course
I say that life moves quickly but that isn't because of the course. The courses here ease you in. I can see on the horizon course work and exams, but for now, the administrators know it's a big change for everyone so will give you a chance to get settled. A lot of the first few weeks has been getting everyone caught up to the same level so if you did have experience with your subject, like me, you'll probably have less work than others.
But there is work and it's important. As much as we need to get the measure of the Uni, the Uni needs to get a measure of us so there will (probably) be homework in the first week to establish good study habits. If you ever struggle with anything, there is an army of support staff who you can turn to, from Personal Tutors to Student Services; you will always have people who can help you. It really helped me to remember that everyone is in the same boat as you so if you're struggling with any of your course, probably so are others. When I've struggled me and my peers have been able to solve any issues together.
The shared study space for Computer Science is great, people from all years just hang out here and are more than happy to help with anything you need. I cannot recommend enough getting out of your flat and doing some work in the shared space, just to meet people!
3. Sports Club & Societies
Societies are my favourite part of Uni life, at the moment. I'm part of Ultimate Frisbee, Cue Sports (pool and snooker), and BCSS (Bath Computer Science Society). The main ones for me are Ultimate and Cue sports and I cannot emphasise enough how fun these have been. I was so surprised by how welcoming and friendly the society goers have been. Even though I was terrible, to begin with, these have very quickly become the highlight of my week. I really recommend going to as many tasters as you can in freshers and seeing what you like! Also if you can't go to the tasters in Freshers' Week for any reason, just go along to a session as loads of people joined later for my societies. There are 4 sessions a week for both of these societies but you can go to as many or as few, as you'd like. Some societies do require you go to a certain amount if you want to be on a team though. I haven't made it to any of the society socials and they are totally NOT required if you're nervous about the stories about them, I know I was.
BCSS (Bath Computer Science Society) is a subject society, which is also great. There have been 2 socials for BCSS so far and they've been a good way to get to know people on my course, I'd really recommend joining the society for your course. They plan loads of events if you want to stretch yourself further and get ahead or just for fun!
4. Friends
This was, undoubtedly, my biggest worry before coming. I had been in the same friend circle for 9 years before I came and so hadn't made new friends in a long time. Thankfully, this totally wasn't an issue, there are so many people who will have similar interests to you on your course and your flat become a little group. You're around everyone so much that making friends is inevitable. Just get out there to societies and spend time with your course mates and flatmates and you'll find people you want to spend time with.
My new friends here also don't replace my friends at home, we send each other messages in a group chat showing what we're up to but I feel like I'm starting to make a new friend group here. But that is only happening after a month, don't feel disheartened if you don't make friends instantly! For the first couple of weeks, I was really scared that I didn't have any friends here but it takes time and you will find people.