The prospect of healthy eating can seem horrifying to some, conjuring up images of unappetising bowls of green mush and strange sounding words like 'quinoa'.
Good news awaits, however, as healthy eating extends far beyond Pinterest salad bowl aesthetics, and doesn't have to break the bank. Most cupboard and fridge staples can easily be turned into a nutritious meal, and it doesn't even have to look pretty, as long as it's edible!
I'm no Nigella, but I do enjoy eating food (who doesn't?!), especially when that food is nutritious and delicious – ok, now I am starting to sound like a TV chef… Anyway, my point is that food is one of the main ways to keep your brain working through those university assignments, so it shouldn't be taken for granted.
Today, I'm sharing what I eat in a typical day at uni, in the hope that it will inspire you to take more interest in your cupboard content and have fun with meals. I haven't failed anything yet, so it must be doing me some good!
BREAKFAST
I. Love. Breakfast. No, seriously, I do. Maybe I love it a bit too much, as it's not uncommon for me to eat breakfast foods at various points during the day, but they say it's the most important meal of the day so in theory, I'm just making all of my meals 'important'… right?
For breakfast most days I tend to whip up this beauty:
It consists of Weetabix (warmed-up or cold, depending on the mood I'm in), banana, frozen blueberries and raspberries, a handful of nuts, a spoonful of peanut butter and soya milk. Oh, and sometimes a sprinkling of granola on top too. Yep, I really do go all-out on breakfast! All of this keeps me feeling nicely full and ready to go for a fairly long time, and I love the contrast between the nutty tastes and the sweet fruits. I'd never had frozen fruit before coming to uni, but now I'm hooked! It's actually a bit cheaper than buying the fresh stuff, and personally, I find that the flavours come through a lot stronger. A 10/10 start to the day.
If you're not a fan of Weetabix, obviously there are other cereals available, like porridge or granola, and incorporating different combinations of fruit makes a refreshing change. Apple and cinnamon are another great breakfast topping, especially when heated up a bit. Now, go forth and re-discover your fruit bowl!
LUNCH
By the time lunch rolls around, I'm feeling ready for a much-needed break from work, and the food I feel most excited to include in my meal is eggs. Who knew there were so many different ways to cook an egg? I tend to stick with the classics like scrambled or poached eggs on toast, but eggs are super versatile. So, there's no need to limit yourself to sticking them on a bit of bread, it's just a simple thing to prepare when you're short on time.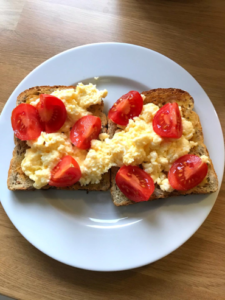 Eggs go great with tomato, as well as avocado and pretty much most vegetables. They can also be spiced up a bit by adding some chilli flakes and serving with ramen for a warming lunch/supper on those cold winter days. Plenty to egg-speriment with, I'd say! (Sorry, I couldn't resist making an egg joke.)
And, for those days where you just can't face the thought of making your own lunch, there are plenty of food outlets on campus serving lunch options. I recommend The Edge 'CAFE', situated a short walk from the University bus station, which serves loads of healthy snacks and meals. I am yet to sample a great deal of the menu, but based on my recent trip there I would suggest checking out their lunch sandwiches. I had a roasted veg and guacamole wrap, and it provided a much-needed boost before my 2-hour research methods lecture!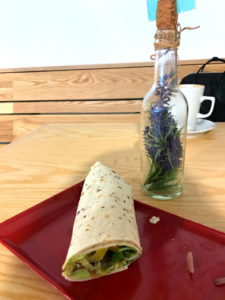 DINNER
I feel like dinner is the meal that fills most students with dread when it really doesn't have to. Practising a few meals at home in the safety of your family's kitchen is a great way to gain a bit of confidence, but most things are pretty simple to cook, as long as you read the instructions properly. As my Nan (and I think basically every nan) says, if you can read, you can cook.
I tend to switch my dinners up fairly frequently because I get bored eating the same thing, however, the meal that I will be sharing today is kind of my go-to when I'm stuck for ideas, or just can't be bothered to do anything else! In the future, I'll suggest a more comprehensive list of easy student meals, but for now, I give you this: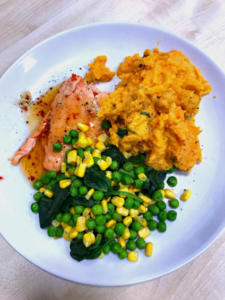 Sweet chilli salmon, sweet potato mash, and mixed veg! Try not to be too disappointed!! I promise it tastes nice, but the lighting in my kitchen really isn't great for taking Instagram-worthy food pics.
Fun fact: I used to really not like salmon. I'll admit, the texture and general look of it may not be the most appealing thing in the world, especially when Domino's is only a phone call away. Nevertheless, it's full of healthy omega fats, so a worthwhile addition to your diet. The chilli sauce gives it a nice kick, as otherwise, salmon can be a bit tasteless – but that's why it can be incorporated into meals so well. If you are a spice lover, you can add a few extra chilli flakes to amp the flavour up even more.
As for the sweet potato mash, it's no different to make than with normal potatoes, but I think the slightly sweet taste makes a nice change and goes well with the chilli. Simply peel, chop and boil the sweet potatoes until they are soft enough that a knife easily slides through them, Then, drain them and add a little milk to mash. Boiling the other veg together with the potatoes is also a handy way to reduce some of the washing up, as you only need to use one saucepan. Proof that you can be healthy and lazy at the same time!
Hopefully, you have enjoyed this quick insight into healthy eating at uni, and it's made you realise that cooking doesn't have to be difficult or stressful - unless Gordon Ramsay happens to be present in your kitchen, that is!
What I have realised since cooking for myself is that you should never be afraid to experiment. Follow instructions, but don't focus too much on exact amounts or serving sizes. If you want to add more peppers, or cheese, or turmeric, or whatever it is you're using, then go for it! After all, it's your gut (and brain) that you are feeding.
Stay tuned for more meal and snack ideas coming soon! Now, if you'll excuse me, I'm just off to eat some granola…