Hi guys! I'm Dorsa and I'm a first-year Pharmacology student here at the Uni of Bath. I'm originally from Iran but I lived in France for a while where I completed the IB diploma.
I understand choosing a degree can be very difficult and like many of you reading this post, I was very confused. After all, it's a very important decision that will shape our lives. In this blog, I will tell you about how I made the decision of studying Pharmacology, as well as my experiences as an International student at the University of Bath.
"Life is a matter of choices, and every choice you make makes you"
-John C. Maxwell 
To be completely honest, before I started looking at unis, I had no idea what a Pharmacology degree was! I did know that I wanted to pursue a career that has its main focus on healthcare and something including biology and chemistry, but that was all I knew! I considered doing medicine but I realised that wasn't for me. I also thought about doing Pharmacy, however, I found myself more interested in researching drugs and finding new treatments rather than working at a pharmacy or a hospital and delivering the drug. Don't get me wrong, both jobs are very interesting but I just found pharmacology more suitable for me and it was closer to the perception that I had of my future career.
Additionally, I really like that pharmacology could provide me with so many different job opportunities from research at a pharmaceutical company or working at a university to having your own business or being involved in marketing.
If you are hesitant between Pharmacy or Pharmacology, the first step is to decide what would you enjoy more, doing research or having constant interaction with patients?
Considering all of this, I should also mention that there's a lot of overlap between Pharmacy and Pharmacology. Especially in the first year, although we have our own workshops and practicals we have almost all of our lectures together.
Pharmacology at Bath 
For those of you who are still unsure what pharmacology is about, in simple words, it's about the impacts that drugs have on the body, as well as how the body deals with drugs.
One thing that I really love about Pharmacology at Bath is that we start learning pharmacology from the very first semester. In semester 1, we have 3 modules, From Molecules to Medicine 1, which is essentially organic and medicinal chemistry, The Healthy Body 1 is a biology module and finally, we have a module that's coursework based and is about research and communications within the field of Pharmacology. All these three modules interconnect and integrate, easing you into learning pharmacology.
We have a lot of practical work, not so many in the first semester but at least 3 hours a week in the second semester. I enjoy the labs so much, they're quite fun and it doesn't feel like 3 hours at all, time just flies!
I also really enjoy the workshops because we get to consolidate the theories that we've learned in the lectures and we get to ask our questions.
A "typical" week of a first-year pharmacology student
Well to start with, unlike many other courses, our timetable varies so much from one week to the other. I've had weeks as busy as 30 hours contact-time and also as chill as only 10 hours! I actually find this quite nice because if one week is very hectic, it doesn't mean that the next week would necessarily be the same. But just to give you an idea, we do have one practical every week as well as at least one 2-hour workshop and roughly 10 lectures ( lectures are 50 minutes).
That said, we don't have any classes earlier than 9:15 or later than 17:05 and also we have at least an hour break for lunch. Don't worry much, I never found myself short of time to hang out with my friends or have fun, life at uni is all about balance.
Just to give you an idea, here I will include my timetable for week24 2019 Pharmacology entry.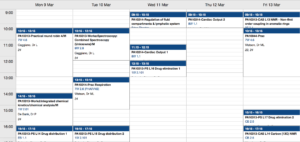 What the Future Holds for Us
One of the amazing things that are offered here at Bath is the opportunity to have a placement year. For pharmacology, the third year of the course is the placement year. So we spend the first two years at uni, then go on a placement which covers a really good range of options and then we come back to Bath and complete our fourth year.
Placements are optional but highly recommended as it improves your CV so much. If you're on a MPharmacology programme, you have to have a placement and it has to be lab-based research. For the BSc programme, options are more varied and it can be either a lab-based experience or something more related to the marketing of drugs.
It is possible to switch between the courses with or without placement in the first year so don't worry if you have changed your mind since you'd applied.
To Conclude 
It may sound like an advertisement but my prior expectations have definitely been met and I genuinely love the uni and my course. Additionally, Bath is such a charming city with a very rich history and I feel lucky to able to spend 3 years of my life here!