It's fairly well known and often commented upon that STEM subjects are predominantly male. Although the times are changing and more effort is being made to even out the balance, it can be scary and intimidating starting a course where you know there won't be many other girls.
I am in my second year studying Computer Science and Maths with Professional Placement - that's right, not one but two STEM subjects in one! There are only three girls on this course in my year (out of a total of around 25), and an even smaller percentage of girls on the Computer Science course, so the lectures can sometimes feel slightly overwhelming, especially in first-year having come straight from a girls' school! So, what exactly is it like? Is it harder to make friends? Are there any prejudices? Are we listened to? Here are some of the thoughts and concerns I had before starting:
"I won't make any friends on my course"
This could not be further from the truth. Firstly, (and this came as a shock to me), boys aren't actually that bad! I've felt no different than them and found that they talk to me and include me in exactly the same way as they do each other. It's such a lovely community environment - especially having the 1 West lab for Computer Science students only where we can all hang out and panic about leaving coursework to the last minute!
Secondly, being in the minority means the Computer Science girls rally together. We all found each other really quickly and formed a tight bond. The three of us girls studying Computer Science and Maths get along really well; it's lovely to have people you know you can always go to lectures with.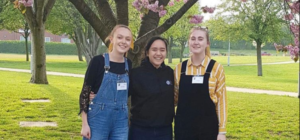 "I won't be listened to by the males on my course"
This was a big worry of mine. There is almost always a group project of some description underway and I was really concerned that I would be pushed out of the way as most likely the only girl in the group. However, I haven't found that to be the case at all! The guys in my groups don't treat me any differently and don't assume I know any less than them - it's a lovely, friendly environment to be in. I think this is definitely helped by having a great mix of male and female tutors in the labs; the representation is fantastic and means that everyone gets to see how strong women in tech can be!
"There won't be as many opportunities for me"
I've found that the University has been nothing but fantastic in terms of opportunities for women in STEM. There's a Women in Science society, run by students, which holds hackathons and events - all brilliant to take part in. Not only this but once a year we attend the Lovelace Colloquium. This is a celebration of women in technology - featuring speakers and activities, as well as the main poster event where you can present on any tech topic of your choosing. It's great fun and really actively encouraged by the department - Bath is always envied for our great turnout!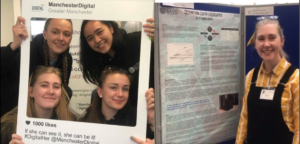 "I will find it harder to get a placement"
Wrong again! The placements team is absolutely fantastic - plus it's run by two amazing women. Help is provided at every step of the way, from writing CVs and cover letters to preparing for interviews. Plus, all of the placements advertised by the department have been thoroughly investigated to ensure they fit the standards necessary, so you can be sure you'll be doing genuinely important work and really become part of the company - you won't just be on the coffee runs every day!
I cannot express how much I am enjoying my course here, and the University of Bath has created such a lovely, encouraging atmosphere where women in STEM can flourish. Every day brings something new and I can't wait for my placement next year so I can begin to put my skills into practice in the real world!