So, this is it. I am among the hundreds of other final year students who are unable to finish their university life in the way we had all hoped. No Summer Ball. No Summer Graduation. No emotional goodbyes to course mates and lecturers.
We are all aware that in the grand scheme of things there are currently much more serious issues, but we can still feel sad, knowing that after 4 years of hard work, we won't be able to celebrate together and end our university experience in the way we had all envisaged. Finishing university is not something we will be able to do again once these strange and difficult times are over and it's ok to feel angry and sad at the situation, thinking about what could and should have been.
However, in these testing times, I have found myself reflecting on my 3 previous years at university, re-living some of the great memories I have made and realising how much I have changed since joining as a nervous fresher. I have had time to think about some of the things I have learnt whilst at university, and so in my final blog post, here are a few tips for those of you lucky enough to have more years at university to look forward to!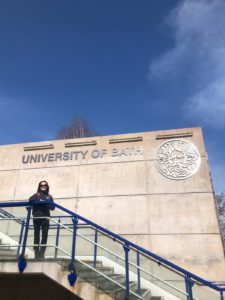 Make the most of it!
The saying "you don't know what you've got until it's gone" is ringing true for everyone during these challenging times. When this crisis is over and life returns to normal, I would urge you to make the most of all university life has to offer. For me, that has always been about so much more than just studying.
I've loved filling my days with many varied extracurricular activities; from being a Peer Mentor to being on the committee of the Mountaineering Club. Participating in clubs and taking up voluntary roles outside of my degree has enabled me to throw myself into university life wholeheartedly, meet people I would never have known and acquire new skills.
I will leave university not only with great additions to my CV but also with increased knowledge, confidence and a real sense of personal enrichment.  I have worked hard studying for my languages degree and have needed good time management to be able to incorporate the other things I have done alongside it, but making the most of the opportunities on offer has, without doubt, enhanced my whole university experience.
Despite the initial shock to the system of returning to university after my Year Abroad, I soon settled back into 4th year and was determined to make the most of my final year. From starting the day walking up Widcombe Hill to helping out at an Applicant Visit Day as a Student Ambassador before heading to the pub for a Mountaineering Club Social, I enjoyed having an agenda full of things other than just my studies.
It may sound clichéd, but my advice is to really make the most of every opportunity that comes your way; join that club, sign up to volunteer or just arrange to meet a friend for lunch by the lake!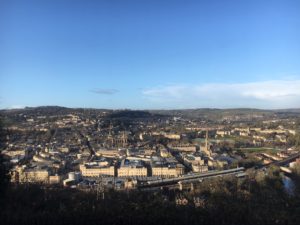 Enjoy Bath
Throughout my time at university, I have tried to explore as much of Bath and the surrounding area as possible. Not only has this made me feel more settled, but I have discovered some really great places! I remember making a Bath Bucket List, where I wrote down all the things I wanted to do/see before I left Bath.
It included trying out different cafés in town, completing the Skyline Walk and feeding the ducks on campus! We are lucky to be able to live in such a beautiful city and I urge you to see and do as much as you can whilst it is on your doorstep. Here are a few of the things I have enjoyed doing during my time living in Bath:
Watching the sunset from Bathwick Hill
Walking along the canal path to Warleigh Weir
Going on an organised tour of Bath Abbey - you can climb up to the top to get great views of Bath
Sunbathing in Parade Gardens
Visiting the Roman Baths (If you haven't already, a visit to the Roman Baths is a must and it is free with your University of Bath student card!)
Having a BBQ with friends in Royal Victoria Park and watching the hot air balloons lifting off
Visiting Prior Park (a National Trust property with beautiful grounds and a café that sells delicious scones)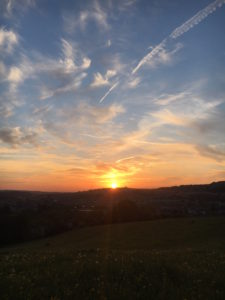 Reflect on how far you've come 
It can often be easy to criticise yourself and stress about what you should be doing better. You might worry if you are getting good enough grades, or if you are putting in enough hours of study or maybe feel your social life could be improved. But don't forget to look back and recognise how far you have come.
When I think back on my time at university, I realise how much I have changed.  I still remember the anxiety on the first day of Freshers' Week and the sensation of feeling completely overwhelmed. How on earth was I going to juggle cooking for myself, organising my life and coping with studying for a university degree?
But little by little, almost without noticing, you adapt to each new situation and grow as a person. If I had been told in the first year that I would fly across the world by myself to start a new life in Chile for 6 months during my Year Abroad and then begin a new job in France 6 months after that, I wouldn't have believed it. But I did it and learnt a lot about myself in the process.
With each difficulty that you face and overcome during your time at university, you realise how much you are actually capable of. When I look back to that nervous fresher who arrived ready to move into Solsbury Court, I can hardly believe it was me. I have gained so much confidence, experience and knowledge at university, in areas other than just those associated with my degree subject.
I feel that the life skills I have learnt will help me deal with challenges in later life and I will be able to draw on my experiences at university to help overcome future difficulties. So, give yourself a pat on the back;  you're doing better than you give yourself credit for!
Whilst it is gutting not be able to finish my degree in the way I had hoped, looking back on my time at university reminds me of all that I have managed to achieve. Coronavirus can never take away those memories and I am looking forward to having a belated graduation ceremony and celebration with my friends when this is all over.
Thank you, Bath, for a great 4 years; over and out!