My A level choices
I studied 3 languages at GCSE and I loved maths too, so I chose Maths, Further Maths and French for my A levels. I never liked the fact that you had to be a science student or an arts student - science and art overlap a lot more than people think. I enjoyed the literature part of my French A level, especially how there was no right or wrong interpretation. However, I also enjoyed the uniqueness of a mathematical solution: how there was one right answer, but many different ways of getting there. Both were languages with logic patterns and strict well-defined rules. Throughout Year 12, I was stuck between studying languages or maths at university. Ultimately, it came down to the fact that the satisfaction I got after finally solving a problem was greater than my love for translations, so I decided to study Maths at university.
Applying to universities
Now that I had the problem of what to study out of the way, my new dilemma was where to study. I went to many open days, with a list of what I was looking for in a university:
A highly-ranked campus university
Within 3 hours of London, to make getting home easier
The option of a study year abroad
With those in mind, I applied to 5 universities in October, with the University of Bath being on my list.
Offer-Holders Residential
I received my offer from Bath fairly quickly, around Christmas time. In January, I received an email from the Widening Participation Office, inviting me to attend an Offer-Holders Maths Residential for one night, during February half-term.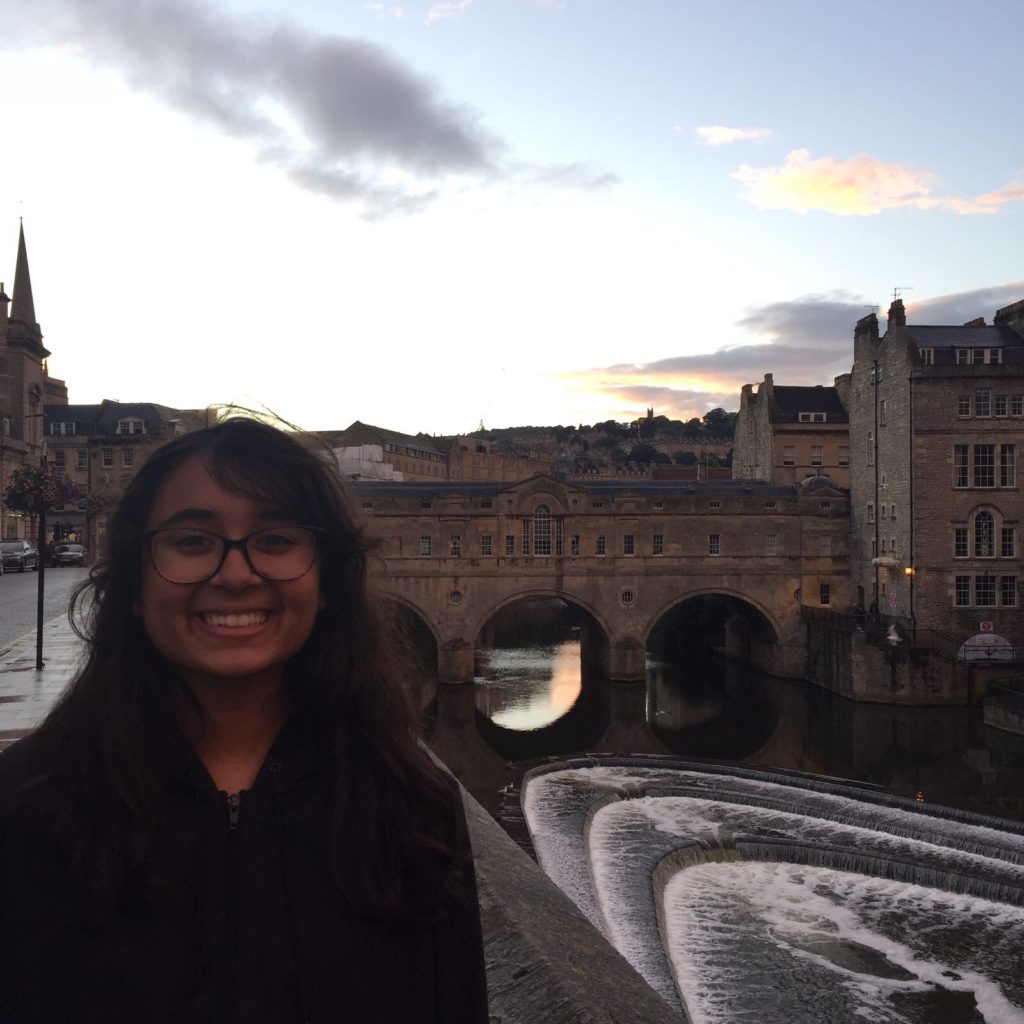 I arrived at Bath Spa train station and took the bus to the University. We arrived at The Edge building, where we left our bags, then we went to a small room for a talk on the day ahead. We were taken on a campus tour, then we were taken to a seminar room. Here, we watched Statistics first-year lectures and tried problem sheets to get us up to speed, so we could attend the real lecture the next day!
We were given time in the evening to do some sports activities, then we settled into our rooms for the night. I stayed in Woodland Court. After we went to the first-year lecture, we went to a seminar where we had time to reflect on the lecture and what we had learnt. We were also told about results day, the scholarships and bursaries available and what happens if you miss your offer.
After the day was over, I decided to walk around the city and be a tourist. I loved the city so much!
Choosing my firm and insurance universities
I really liked Bath and I had such a positive experience. However, I ended up choosing a university closer to home for my firm choice. Bath was a little too high for my insurance choice, so I chose a different university. I had taken part in a programme with that university, similar to Pathway to Bath, which offered me a contextual offer.
Results Day
Tensions were very high in August leading up to Results Day! I was feeling very nervous. I knew that I had tried my best, but I was really worried about not getting into my firm choice. Unfortunately, I checked UCAS Track before opening my results, and I found out that I had not got into my firm choice. I was devastated. I had spent all summer looking forward to going there.
I opened my results in school, with my Head of Year beside me. She said that she was extremely proud of me and that despite the fact that I didn't get into my firm, I had got amazing results. It took me a long time to be proud of my results because they weren't good enough for my firm choice. But they didn't know how much hard work it had taken for me to get those results! I sat down with my Head of Year and we had a look at universities on Clearing since I wasn't too keen on my insurance choice. I was surprised to see that the University of Bath was in Clearing! It definitely made me feel a little better because I really enjoyed my experience at the Offer-Holders Residential.
Clearing phone call
I immediately called the University of Bath and when I got through, I asked if there were any places left for maths. I felt so relieved when he said yes. He asked me for my grades, when I told him I got A*AA he congratulated me and told me that Bath would love to have me. He asked for my personal details, then a little while later I was sent an email, with my 'verbal' offer. I had to put Bath down as my Clearing choice by Monday 19th, which was a little while away from Thursday 15th, results day. I called two other universities and received verbal offers from them as well.
My reasons for choosing Bath
Over the weekend, I was leaning towards Bath but I was also considering my other offers, as well as my insurance. My insurance opened the accommodation applications right away, which I felt already put me at a disadvantage. Bath, on the other hand, didn't open their accommodation applications until Wednesday 21st, two days after the deadline for me to accept the offer. I really appreciated that. After considering everything, I chose Bath for a few reasons:
All of the interactions I had on my Offer-Holders Residential were positive ones, even from the students that weren't Ambassadors who helped me get back to my room when I got lost
There's a community feel on campus
there are plenty of scholarships and bursaries available
There are well-paid part-time jobs available, such as a Student Ambassador for the University
Settling in and making new friends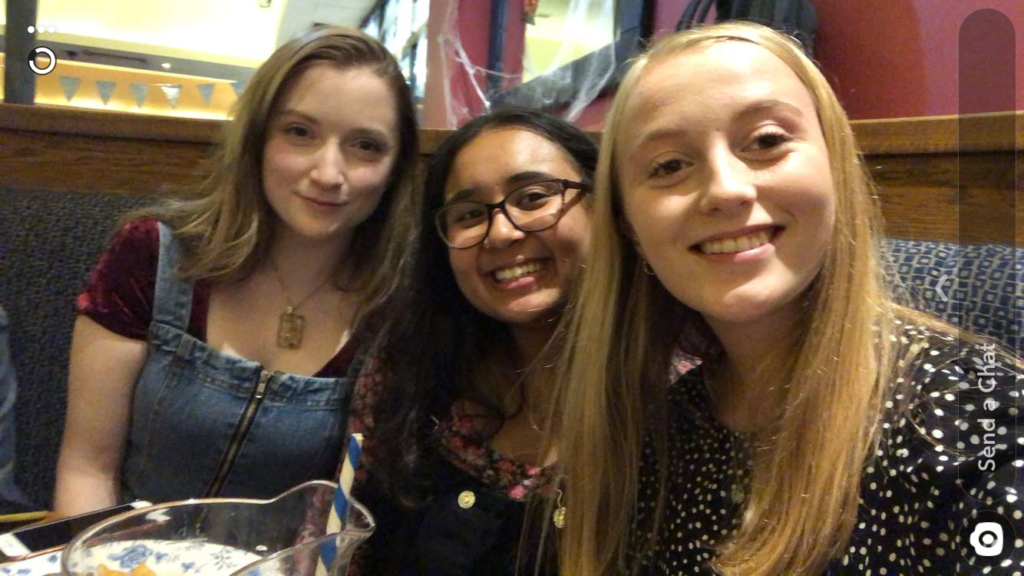 Moving to a whole new city, knowing nobody, and trying to learn a new style of teaching is very difficult to do. I've had my fair share of homesick moments: calling my mum and really missing her food. Making new friends is also really hard! But you have to put yourself out there, talk to new people, knowing that most of the people you talk to will be feeling just as nervous as you're feeling.
A typical day
On an average day, I have three lectures and one tutorial. Like I mentioned before, it's been difficult transitioning to a new learning style, but I think I've got the hang of it now. Since I'm studying Maths, there can be as many as 300 people in my lectures! But I really enjoy the tutorials, where there are only 13 of us. It's much easier (and much less daunting) to ask questions. We have to give in one problem sheet per module each week, and I have five modules. The problem sheets are very useful to practice what we've learnt in the lectures. In the tutorials, we get a lot of feedback on the questions we got wrong on the problem sheets.
My reflection
I can say with absolute certainty that I made the right choice. My Offer-Holders Residential was the key deciding factor for me. If you're considering the University of Bath as a Clearing option, make sure you go to the Clearing Open Days, which take place the weekend after Results Day.