Having recently finished my year abroad in Brussels, Belgium, I have had time to reflect on what an incredible experience it all was. Even though it got cut short by the global pandemic, I am still so grateful for the time I did get to spend in Belgium and would recommend a year abroad to anyone!
When I was applying to placements abroad back in second year, I was incredibly apprehensive at the thought of moving to a different country. I tried not to think about what I would actually do if I were to be successful because it was such a scary idea. Thankfully, I didn't let those worries hold me back but if someone had told me all the amazing things that were coming my way, maybe I wouldn't have been so nervous. There are many reasons I could give you as to why you should apply to placements abroad, but for your convenience I have narrowed it down to the following 5:
Meeting new people from all over the world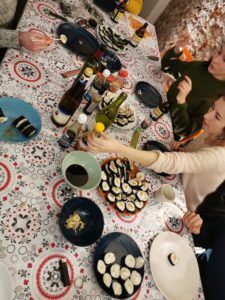 For me, this is absolutely one of the biggest reasons. Ultimately, the people you work with and the friends you make during your year abroad make the experience what it is. I lived in a large house full of Erasmus students with people from Mexico, Poland and Portugal to name a few! I worked in an office that was equally as diverse, representing nationalities from Canada to Italy. I got to learn so many different things about other cultures through the people that I met and hopefully was able to share some of my traditions with them too. If this is something that really appeals to you too, then a year abroad is absolutely the right decision. I am not saying that it is always easy – it was definitely nerve-wracking moving into a house full of 18 strangers, but it doesn't take long for you to meet like-minded people and make friends. Brussels is such an international community too that you are likely to be surrounded by people from all over the world no matter where you choose to live or work there.
Boosting your confidence to travel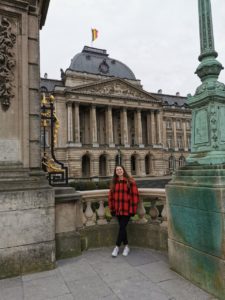 This is also another big reason to do a year abroad, aside from whether you choose to do one in Brussels, and something I probably didn't notice was even taking place until I had finished the year and moved back home. I recently booked a big trip across the world for when I graduate, and I don't think I would feel confident enough to do something like that had I not already had the experience of moving to and living in Belgium for eight months. Moving to Brussels was not the easiest thing to do and it did take me quite a few weeks to settle in but after a while, once I got into a routine and started to find my way around, it really started to feel like I belonged there. Doing this by myself and not knowing anyone in Brussels was definitely daunting but has given me a new-found confidence to travel even further abroad and for longer. This may not be such an obvious reason to do a placement year abroad but is definitely one of the biggest benefits I have found – one that I didn't even know I needed!
Develop your language skills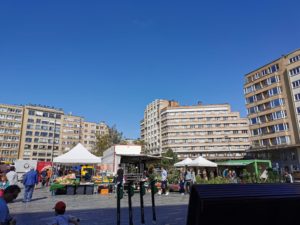 Doing a placement year in Brussels gave me the perfect opportunity to progress my French even though I am not a language student. I had taken French at GCSE level but had not really used or practiced it much since. By integrating myself into a different culture, I was almost forced to practice my French in order to order food, ask for things in shops and ask for directions etc. Some of my housemates couldn't speak English so that gave me another opportunity for me to learn some conversational French. Learning another language, even at a very basic level, is definitely a plus when looking for future jobs especially if the job you want involves travelling or moving abroad. Even if you are not doing a degree in another language, a placement abroad gives you the opportunity to learn a new skill.
Visiting new places and trying new things – especially food!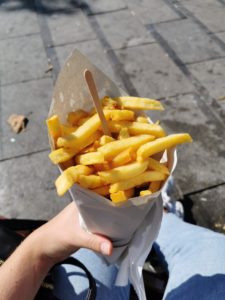 I really loved the cultural aspect to my year abroad, trying delicious food and visiting all the historical monuments across the city. I found that there were lots of things you could do relatively cheaply too. The Museum of European History, for example, is free entry and you could easily spend hours walking around learning all about Europe's past. There is also a Belgian Beer Festival that is held in the Grand Place in September which is a really fun atmosphere with music too. You can also go and visit the Neuhaus chocolate factory for free and try all of the different chocolates (which I would highly recommend!). Aside from all of the wonderful food and drink, living in Brussels definitely taught me a lot about how other cultures differ from our own. Regardless of whether your year abroad is in Belgium, living in another country for your placement year will show you a whole new way of life and so many opportunities will come your way unexpectedly. You never know - you might even want to move back!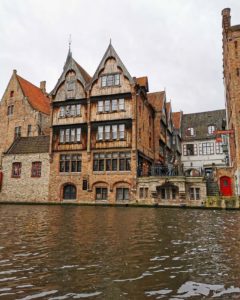 Not too far or too close
In terms of what I really loved specifically about Brussels was that is is a really well-connected city. During my time in Brussels, I visited Amsterdam, Bruges, Paris, and Cologne. Travelling to and from these places were relatively cheap and didn't involve hours of travelling time. It also doesn't take too long to get back to the UK if you perhaps are feeling a bit homesick every now and then. Unfortunately the Eurostar is rather expensive but it is incredibly quick to get into central London so it has its pros and cons.
I hope this has given you an insight into all the cool things that come with doing a year abroad and hopefully has given you the confidence to go for it! I also hope it's shown you that Brussels is a very cool place to do your placement year. If you have any questions or comments for me, please leave a message below.
Christina x