So,
COVID.
Social distancing guidelines issued by the government in early March as a result of the pandemic, made lectures and in-person small group teaching untenable. It wasn't a surprise when the university sent an update on the 16th of March to all students detailing their response to the evolving situation stating that, all learning and teaching was to be done online. Individual departments were to contact their students and explain the details and timing of how exactly this was to be implemented.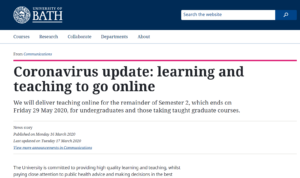 Remote Learning
For us first-year ChemEng students, it wasn't really a big deal. From the get-go, throughout the course of the year, all our lectures had been recorded and subsequently uploaded on to the video streaming platform called Panopto and all lecture notes and auxiliary documents were routinely posted on Moodle.
Given how useful such platforms are, it is your personal responsibility as a student to be able to use them to supplement your learning experience. So, by then it felt like more of the same, the questions that we would normally ask in the lectures, were instead asked on online forums they created or you could send them an email. Tutorials (i.e. Small group meetings you had with fellow tutor group members and your Personal Tutor) would be done on Microsoft Teams at pre-determined times that worked for everyone.
So far so convenient.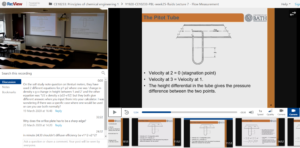 That week the announcement was made was the last week of lectures for our course, and once we were through with that, we were right in the assessment period.
First up, our end of year group design project.
DESIGN PROJECT
A staple of the Chemical Engineering course here at Bath, the Design Project we undertake in the first year is our first official foray in creating a solution to an open-ended problem. The project was designed to make us bring together and utilize the various pieces of knowledge we had learnt in lectures throughout the course of the year and apply them in the design.
We were randomly allocated into groups of five and tasked with coming up with the design of an isomerization (a process which transforms a molecule into another molecule with the same atoms) plant which is based on an actual industrial process (simplified of course). Each group was given a specified production rate, a desired product purity and tasked with producing a detailed technical report on our design, once all those instructions were digested, we all got stuck into the work.
Our department had made a number of adjustments to compensate for the COVID-19 pandemic and the multiple scenarios a student might typically find themselves in, we were provided, at least in my opinion, with reasonable guidance on how to attempt the project. The time frame we were given was adequate and the required IT services very much made available.
The project served to increase my practical understanding of the course, learning when and where to apply the various bits of knowledge taught to us in lectures imbued me with a holistic sense of what I was studying. Quite the achievement too, I wouldn't have imagined at the start of the first year that I'd be designing fairly complex engineering plants in a matter of months, talk less of doing it from home!
EXAMS
After the group design project, we had a week of revision before we were given our end of year exams.
The format of said exams, given the fact that students had to go back home obviously, had to change. In the time period from March till May, we received several emails from our department, the SU and the Vice-Chancellor as to the nature of the exams, the time frame we would be given to complete them and the new policies that would be in place in regard to marking and our results.
A 'safety net' policy was implemented in order to mitigate the impact the COVID-19 situation might have on a student's academic performance. Student  Services made their presence known too, in that period. I became acquainted with the breadth of the University's Student Services which very much remained available for all. All of this pretty much guaranteed that the student's plight was very much taken into account in how we would be assessed.
We had "take-home, open-book" exams, which meant that we could refer to our lecture notes and were provided access to our courses' e-books. In addition to that, we were given three weeks to complete and submit them. I can neither confirm nor deny if I jumped for joy upon reading how our exams would be structured, but I would say it was a welcome change.
Those exams took up every minute of those three weeks, from the calculations to the eventual write-up and submissions. I'd argue they were just as intellectually taxing as any normal exam would've been and I was all too glad to be done with them at the point of submission.
All in all…
My main takeaway from remote learning/being assessed remotely was the ability to adapt. Creating a study area, developing a regimen at home in order to get work done, avoiding procrastination, all took some time, and it was quite an exercise in self-discipline.
If anything I feel more capable of independent study and I no longer associate the notion of "university" or "higher education" with the physical settings of a building. Sometimes, all you need is a suitable study space, the enthusiasm, a personal computer and online access to crack on with your work.
Online-learning and assessments are here to stay, the pandemic is still on-going and we're adapting to the situation to ensure at least some aspects of our life such as education continue undeterred. Large-scale, in-person teaching such as lectures still cannot take place for obvious reasons, so it's safe to assume online learning is going to be the main-stay for the short-term.
Here's to more hours spent on Panopto.