As a computer science student, it might seem like online learning wouldn't change much about my life. Whilst the lack of contact hours and help in lab sessions has been strange to adapt to, my experience of online learning has been overwhelmingly positive.
                                 What does online learning look like?
As a university, we have been exclusively online from mid-March when most students went home. This shifted the dynamic of studying massively: no going to lectures with friends, no library or labs and a different study space to name just a few. The computer science department coped fantastically with the change. Although it was up to the individual lecturers as to how they wanted to deliver the content under the new circumstances, there was a significant amount of overlap in how things were done.
Many lecturers made use of Discord or Microsoft Teams in order to set up discussions with both lecturers, tutors and peers. Group and peer work is such an integral part of computer science that losing the connectedness was definitely one of my main concerns when entering the period of online study. However, these groups allowed for open discussions and even some video chats with tutors to stay on top of everything which made everything feel that little bit more normal.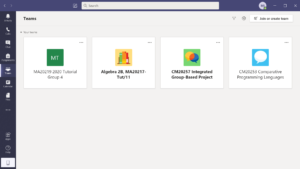 In terms of providing lectures, these were mostly recorded to be released in advance of the timetable slot, which allowed me to stick to my normal lecture schedule. This was the most helpful thing for me as I, like many of my peers, need some sort of routine to be able to function! Not having to wait for content was fantastic and it meant I could watch lectures at the time I would usually be attending them.
The lectures were delivered via Panopto: a recording software. This meant that we could both see and hear the lecturer and see what was on the screen - whether that be a PowerPoint or them writing. This worked fantastically and actually enabled me to see what was happening better than I usually could!
What were the advantages and disadvantages of online learning?
Online learning was, as we all expected, very different. But different doesn't always mean bad. In fact, there are many aspects of it that I preferred! For one, watching lectures online enabled me to pause, slow down, speed up and go back wherever I wanted to. This is a freedom that you (obviously) don't get in a realtime lecture, so it was super helpful to be able to go at my own pace.
As well as this, online lectures enabled me to watch them whenever I wanted to. For me, this meant usually sticking to the timetable so that I could stay on top of things. However, I do a lot of online tutoring which, as you can imagine, boomed during the pandemic. This meant that there were some lectures I couldn't 'make' on time. Luckily as they were all pre-recorded, this didn't matter and I could often complete the lecture in advance which was even better.
There were, of course, elements that didn't work so well, as there are certain things that can't be replaced digitally. Nothing could have replaced walking between lectures with friends or going through code with someone in person. Despite this, the department put in a tremendous amount of effort in order to keep things as normal as possible. Tutorials with screen sharing were available for help with coursework, and society-organised chats/digital socials were organised to keep up morale and connectedness.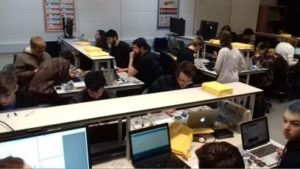 Group projects
Most coursework wasn't affected at all, as it would usually be completed in one's own time and submitted online. However, one element of my course that changed, in particular, was the group project module. This was a year-long project, so my group was already around 75% of the way through at the start of lockdown. This didn't stop us though, we were determined to complete the project to the best of our ability!
Through a series of online meetings (and LOTS of them), as well as discussions with tutors through Microsoft Teams, we were able to communicate really effectively. Of course, certain compromises had to be made: the only people who could test our products were those in our households and we didn't get to create colourful diagrams on whiteboards together, but we still had a lot of fun with it and ended up doing really well!
                                                              Exams
Of course - the dreaded one: Exams. With GCSE and A Level students feeling somewhat stranded, we wondered what our fate would be. It wasn't really possible for us NOT to take exams, as we didn't have much else to go off, and there were some modules that were only taken in Semester 2, so there weren't any January exams for anything to be based off.
Exams for me was one of the things that I found even better in lockdown than they were at Uni. Everybody is familiar with the anxiety-inducing situations that exams put you in: cramming the night before, nervously waiting to go in and hearing everybody discuss what might come up, scribbling as fast as you can. which I have suggested
My immediate thought was that doing them from home would bring up so many unknowns that the anxiety would be even worse. Luckily, I encountered quite the opposite. All computer science exams were given at 13.00 the date timetabled, and we had 24 to complete and submit online. The papers were only 2-3 hours long, so the 24 hours catered for any other commitments or difficulties regarding timezones.
Furthermore, the exams were open book, so we could make use of both our notes and journals on the internet. For me, this actually made exams FUN, as they became about puzzling over a solution, rather than cramming hundreds of flashcards worth of terminology.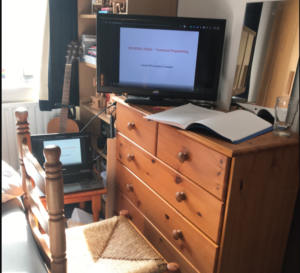 One thought you might be having is: wasn't it easy to get 100%? Well, that's what I thought too, but it's not the case. Because computer science is all about problem-solving, there were plenty of questions that no amount of Googling could solve. As I said, this just made them all the more entertaining - especially because the pressure was taken off, as you could spend as long as you wanted on it. This meant taking loo breaks without asking, grabbing a snack or stretching your legs halfway through. Overall, a strangely enjoyable experience.
Mental health
Of course, online learning doesn't just affect the physical studying aspect. The sudden change of routine and lack of interaction can have huge knock-on effects on mental health and mood.
I found the lack of structure in my days encouraged me to sleep in too long or procrastinating far too much, so it was really important to always keep my mind focussed on something, whether that was coursework, tidying my room, or even just a book I was reading!
This didn't work for everyone though, and luckily the University support team was still on hand to listen to students and give them advice. It's a tricky and uncertain time for everyone, and totally normal to feel completely thrown off by it all, so it was nice to know that there were people there for us.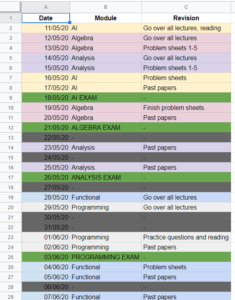 Summary
Although online study had its ups and downs, I really enjoyed the end of my second year. Yeah, I missed out on the end of year socials and celebrations, but I got some much-needed downtime and coped with all the work surprisingly well, thanks to the fantastic support from the University and copious amount of chocolate.