My first year's wrapped up now that exams are out of the way. Heading into a long summer with more free time than I honestly know what to do with. I'll eventually devise some sort of structure to fill out my days and do something productive but first, I thought I'd recap my first year experience here.
SETTLING IN
After the absolute blur that was Freshers' week, it was time to settle into what we all came to university for, work. I started lectures, tutorials, labs and got stuck into the course. Given the novel nature of the course, there was bound to be an adjustment period as I got to grips with the style of teaching and topics in the subjects that I hadn't studied in my A Levels. The syllabus is designed, for ChemEng at least, in such a way as to bring everyone up to speed, as the students in the cohort studied different subjects, and were in different systems at the pre-university level.
I tried out for the BUCS basketball team, didn't make it, joined the recreational "rec" team instead, we had training sessions on Fridays and games on Sundays, which worked out perfectly, as it fitted my schedule at the time. The ChemEng student society CESA, had its first social of the year, the white T-shirt social, had a good turnout and it helped us, freshers, to break the ice amongst ourselves.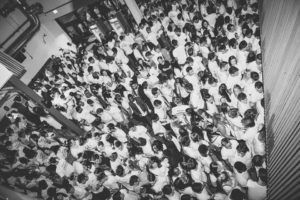 I ran for and was elected First year Academic Representative, which was such a privilege, as I got to convey my coursemates' views and opinions to the Head of Department and other staff on the Staff Student Liaison Committee (SSLC).
By design, I joined only three societies; Basketball Society, Christian Union and CESA, because I knew the time I had for extracurriculars would be at a premium given my course load. At the latter end of the first few weeks, I felt as though I had developed some semblance of a routine, still, a far cry from the regimen of school and I wasn't nearly as organized but there was some structure to my days.
Now, I'm not one to be homesick at all, if anything I'd been craving that uni life ever since my gap year, so once I was living it, I didn't miss home all that much, sorry mom. So, I felt like I had settled in well and quickly imbibed that sense of "community".
GETTING ON
You never really notice the moment you get into a pattern in university, when you've familiarized yourself with the scenery, schedule, people and the weeks start to blend into one another and life sort of passes you by. Before starting the year, my aim was to avoid this scenario and "live every moment", so to speak. For the most part, I succeeded, I showed up to just about everything, whether that be lectures, tutorials, basketball games, training sessions, went out just about every weekend all in a bid to avoid having a dull moment and it worked.
I came to realize, all that livin' was leaving me exhausted. There are only so many waking hours in the typical day and that point in time, I barely had any time to kick back and relax. So naturally, I fell into a little slump, particularly in my academics. I still attended my lectures, tutorials, all of that but I wasn't as engaged mentally and was just going through the motions. This was further exacerbated by the fact that I hadn't completely adjusted to the pace of the lectures and couldn't find the time to consolidate all the information being thrown at us, I hadn't even fully figured out a proper note-taking method to sort out what was useful and what wasn't in lectures. All of this resulted in me becoming disillusioned with parts of my course during the semester, it wasn't so bad that I wanted to switch to another course, I doubt there would've been another course that would've suited my interests anyway, but I lost motivation to do any extra reading or even study, Stressss
I found solace in my extra-curricular activities though. In mid-November, the Basketball club staged a knockout tournament to raise money for the Movember movement, which was all good fun. Towards the end of the month, the club had set our rec team up to face Bath Spa University's team and we just steamrolled them.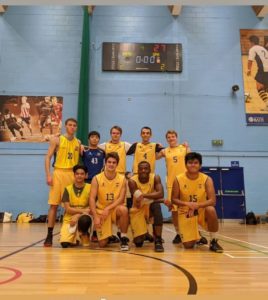 A margin of victory that wide is bound to fuel overconfidence and there were rumblings amongst ourselves that we should face the BUCS 2nd team next, shame that never came to fruition though.
END OF SEMESTER 1
For most courses, December marks the start of exam season. The ChemEng department had undergone a curriculum change so fortunately for us first-year students, we didn't have any exams before the Christmas break or in January. I was still in the slump I talked about earlier and was planning on using the Christmas break and pause in teaching to take a breather, catch up on the content I was lagging behind in and come back in the new year with a fresh mind.
Semester One ended with festivities, CESA and the Basketball club had their end of year Christmas dinners and the Student Union threw its annual party for sport club members, the Snowball.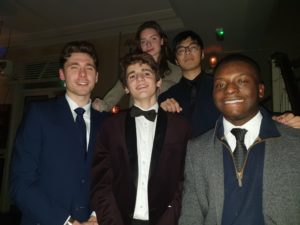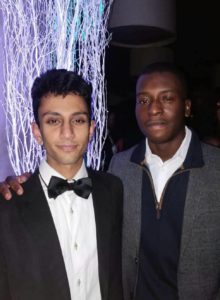 A merry end to the semester, which was needed given how unrelenting the pace of it all became.