Introduction
Hi, my name is Ciara Sherlock and I want to tell you about what I got out of my experience of studying On Track to Bath (OTB) at the University of Bath (UoB).
First, a little bit of background. I am a third-year student studying BSc Management with a placement year. I studied Business Studies, Economics, Geography and EPQ at A level. The grades I received were AAA and an A in my EPQ.
An EPQ is an Extended Project Qualification, it a project based on something you may be interested in or an academic interest you want to learn more on. The OTB project is a very similar format to the EPQ, and I shall mention later on why it can actually help you complete both at the same time.
What I enjoyed the most 
Getting onto this programme was a massive achievement, it was extremely competitive to get on, and getting a place meant I was one step closer to attending my dream university.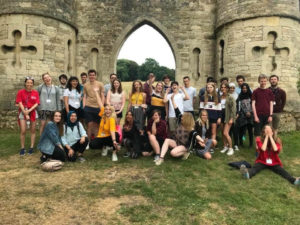 Everyone says that they enjoy group work, when in fact it can be very difficult and daunting. But what I enjoyed the most was seeing my teammates come out of their shells and completing the project together. The further into the project we got, the more we enjoyed each other's company.
What's good about getting to know people on the programme is that you feel like you know a few people before you even get here. For example, I knew 5 people from my track and numerous others from different tracks who now study here. I was also able to get in contact with the Student Ambassadors who gave me help during the programme and continue to work and communicate with them.
Lastly, due to being in close contact with the programme coordinator and my track tutor, I was fortunate because they wrote references for my application to be an Outreach Ambassador, and for applications that I have since completed for other jobs. References are extremely important, and when you get to university not being taught 1 on 1 as much can make it hard to gain valuable references. To this day I am still in close contact with these members of staff and it has helped me take advantage of so many opportunities.
It really improved my essay writing, referencing and presenting skills
As many of you might have felt after GCSE's, it can be hard to see what may come in use later in education. This is not a waste of your time. In most of your colleges and sixth forms, you'll be given structures, sessions and guidance on how to write essays, references and presenting skills but nothing beats actually doing it and being graded on it by university staff.
During OTB, I was trying to complete my EPQ and improve the written aspects of my A levels. By having even more practice and feedback, it really improved my essay writing, referencing and presenting skills. By the time you get to university, you will not have written for nearly 2-3 months, which doesn't sound long, but you get out of the habit and forget how to write. By doing so much practice it wasn't as difficult to get back into the swing of things once coursework was set.
I managed to fit OTB around my A level studies
I know from speaking to other track members that most students worry about their OTB studies clashing with their sixth form or college workloads. But please don't as, during Year 12, there's some spare time that you can fit it in. If you complete the program now, you already have that under your belt before you even apply to university. Doing this at the same time as studying for your A levels really does keep you motivated. As you're actively working towards your future and improving your chances at university.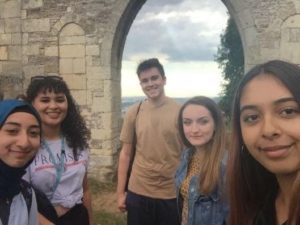 What I will say, completing your EPQ at the same time as OTB can be quite overwhelming. But because of how similar they are, it actually helped generate ideas on how to write my EPQ. By having both projects on your application you can not only show your interest in the topic of your degree but also show your motivation to attend the University of Bath.
If you are worried about not having enough time to complete everything. Please remember all the other students are in your position and the programme teachers are aware of the type of deadlines you're facing. Don't suffer alone, let them know as they are flexible! Don't run yourself down trying to juggle everything.
Trust me it's worth the sacrifice!
Like anyone, I was super worried about not getting an offer, let alone getting in. But OTB really puts you in a better position to compete against the hundreds of applicants they get every year. Not only does it show that you're interested in your degree topic, but it also shows that you're willing to sacrifice your time to learn further.
The whole programme is trying to make sure you are given all the tools you need to succeed and providing an equal playing field with other applicants. No matter what grade you get in the project it still looks amazing on your application. I managed to get an A in my project which meant I would receive an alternative offer if I got one; this, in particular, reassured me before results day.
It's proof that the University tries to be as flexible as it can for students who really show potential, and their contextual admissions process does help students to get a place at Bath even if they just miss out on getting the grades needed
Home from home...
Bath was the only university that made me feel comfortable, almost like home from home. I know most students want to get as far away as possible but from my own experience and talking to others,  don't fall in the trap of thinking by going to the furthest university the better it will be. It doesn't matter the distance, it matters where you feel comfortable, and this is important as you'll be there for 3+ years.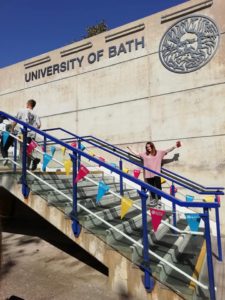 Another reason was, Bath is one of the best universities for my course, for placements and well known for networking. Don't just look at the rankings, look at what the university will give you. Bath has given me connections, support both financially and socially, and a good start to my career path.
They are very understanding of issues, in the sense, they have an amazing "mitigating circumstances" process even before you apply to this university and you can use it to express any issues impacting your studies and mental health at every step of the way. They actually act on it as well, which not a lot of universities do. Even if you are an A* student, tell the university everything that may have led to you struggling in any way as it helps them provide you with support and helps with scenarios if you don't get the necessary grades on results day. I had a lot going on during my studies, even though I managed to get the grades, it still contributed to me getting a place. They understood why I may have got lower in my GCSE's, or things that have held me back. The University appreciates honesty and they don't use it against you.
OTB also helped me in ways I could never have imagined 
The programme has helped me in so many ways I can't count, but here's just a few to mention:
Scholarships and Bursaries
It doesn't necessarily mean you get them, but your need to meet certain criteria for OTB. Some of the criteria are the same for some of the Scholarships and Bursaries at Bath and for me locally for the Wiltshire bursary. By doing OTB, it meant that my application for financial support was a lot stronger and resulted in me getting a Gold Scholarship and another scholarship which is no longer available. This financial help is extremely valuable and OTB is just one way you can get your hands on it.
By the end of my degree, provided nothing changes, I will have received over £16,000 of non-repayable money from the UoB, plus any extra finance I can receive due to being eligible for other financial funds. It also supported my application to a bursary scheme back home for which I will also have received £6000.
I'm giving something back as an Outreach Ambassador
Due to being a participant in the programme, it was a lot easier to get the Outreach Ambassador job, which pays! This was something I wanted to do regardless but I think having the first-hand experience of being on this programme, helped me to get the job.
I am currently an Outreach Ambassador, working on taster events, the OTB programme of course, and many other student events here at Bath. I want to be able to give the students on these programmes the same advice and experience I received when I was completing it.
Conclusion
Apply! I can't think of any reasons why you shouldn't and the opportunities from doing it are endless. Even if you're not sure you want to do it yet, just apply and see where it takes you. The more you do the better you will look later on in life.
This program will also help you decide whether university is for you, and that experience is not something you'll get sitting at a desk.