I grew up drinking bubble tea as a treat. With the tapioca pearls and the sweet milk tea, it's like a snack and a drink in one!
Nowadays, as it gets more popular, everywhere you go, new foods incorporating tapioca and bubble tea shops are popping up. There has been an array of flavours created too, so you're sure to find one that you love – fruit teas, Yakult, to name just a few.
So, in this post, I thought it'd be perfect to take you on a tour of the bubble tea shops in Bath to review them!
A few things to note before we dive in:
Before you ask me what tapioca *actually* is, I googled it for you – it is starch extracted from cassava root and is an alternative to wheat and other grains. It comes in a few different forms but it's most famous as little black, chewy balls in bubble tea.
You might hear it being referred to as 'boba' as well, but that's more of the Americanised way.
Bubble tea is generally around the £3-5 mark depending on where you go and what toppings you get.
I'm quite basic when it comes to bubble tea, my order is usually Regular Cold Hong Kong Milk Tea with Tapioca / Grass Jelly / Coconut Jelly. To keep it fair, I ordered these from the shops where possible.
CAFÉ at Polden - https://www.bath.ac.uk/locations/cafe-at-polden/
Let's start with the café on campus! The café opened at the beginning of 2019 and it's the perfect place to work or catch up with friends – I've featured it on my blog before too.
The first time I tried it last year, I wasn't impressed to be totally honest; the tapioca tasted funky, the straw was put in the wrong way… But I decided to give it another go with an open mind, here's my verdict.
My order: Classic Milk Tea with Coconut Jelly
Value for money: 7/10
Taste: The tea was a bit bland, but I was pleasantly surprised with the coconut jelly which was chewy and not hard.
Tealith - https://www.tealith.com/ 
The shop is in The Corridor and it's easy to miss if you aren't looking carefully enough. It's brightly decorated inside and they sell reusable straws and cup holders if you fancy getting one!
My order: Jasmine Pearl Milk Tea
Value for money: 6/10
Taste: They didn't have normal milk tea, so I ordered the Jasmine milk tea. I'm not generally a fan of Jasmine tea as I find it too floral, but it wasn't too bad! The pearls were a bit too hard for my taste though.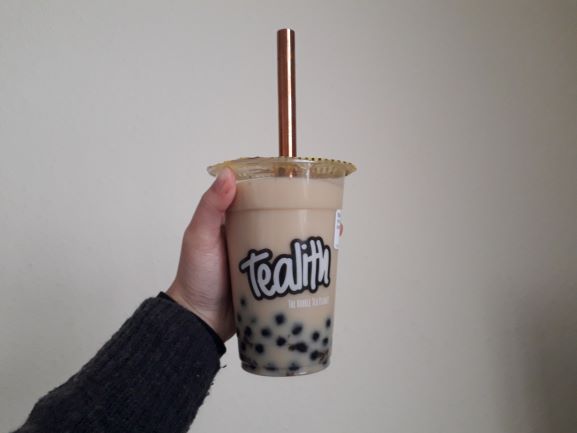 Gong Fu Tea Express
I've been here several times before and have always enjoyed it. It's on Lower Borough Walls which is convenient if you're in town. The shop is quite cute and decorated with ornaments.
My order: Regular Classic Milk Tea with Grass Jelly
Value for money: 8/10
Taste: I quite like their milk tea, it's a bit more on the sugary side but you could ask for less sugar if you want. The grass jelly was refreshing and less heavy/filling than tapioca.
Other notes: they only take cash. There are a few banks nearby with ATMs where you can withdraw cash should you need.
Watch the video to see how to DIY your own bubble tea and what else I thought of the bubble teas!
Things mentioned in the video:
Bubble tea mochi (currently available at Fresh)
Brown sugar tapioca pearls

(currently available at Fresh)

You can buy reusable straws HERE
A lot has changed since I did this post so be sure to check the websites before you go and do let me know if you visit any of these shops!