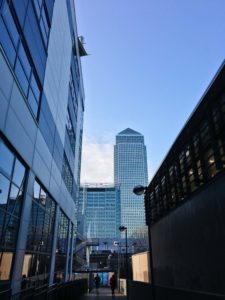 Wind the clock back to February 3rd, where I eagerly waited in the lobby of One Canada Square to meet my manager and set foot in the office where I'd be spending my next six months. My face was flushed from the cold walk to Canary Wharf, but it was going to take more than a bit of wind to curb the excitement of starting my placement at BNY Mellon. Fast forward six weeks, and concerns over a flushed face would cease to be an issue, as I was now going to start working from home.
A trading floor is definitely an interesting environment to experience the rise of any large news event, much less a global pandemic. When the trader next to you has the news constantly running on three of his six screens, the office chatter around transitioning to a virtual work environment quickly becomes a more tangible reality. By the start of March, my team was operating on a split working model – half were operating from home, and the other half (including me) were still in office. Two weeks later, and I find myself logging on from the kitchen table in my London flat.
I think most people anticipated that working from home would be temporary. Expectations around when we'd be returning were very short-term: end of April, beginning of May – when someone suggested end of June, we all thought it was absurd! However, as the weeks went on, you could tell that the general mentality had changed. The goal was to make our new normal feel as normal as possible, and the only way to overcome this challenge was to stay engaged and connected. As a placement student, my biggest concern was that there was no longer the opportunity for hallway run-ins or coffee chats, but honestly, the alternatives that technology provides are incredible!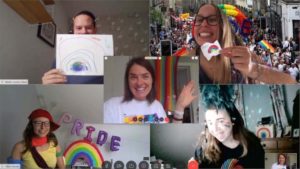 In my opinion, the best thing to come out of working from home were my team's remote weekly meetings. To keep things light-hearted during these strange circumstances, my manager decided that we should all wear funky headwear to the first meeting. Little did we know that what began as a bit of fun, quickly became a new routine! My manager would post screenshots of these meetings on LinkedIn, which ended up gaining quite a bit of traction online and around the bank! Theme suggestions started coming in from colleagues both in and outside of the Markets division – from Disney princesses and 80s film characters, to London Underground stations and key workers, we did it all. Our team photo for pride week was even shared by the BNY Mellon page on LinkedIn!
Naturally, there were good days and some not-so-good days over my placement. A change to a virtual environment meant that "Can you hear me?" and "Sorry, I forgot to take myself off mute" became part of nearly every conversation. At the peak of lockdown, it was sometimes difficult to stay motivated when confined to a small flat, but as the title suggests, it's times like these where you must improvise, adapt and overcome! New routines were improvised, approaches to work adapted and initial challenges of working from home were eventually overcome. Although clicking the "Log Off" button was not the way I would've hoped to finish my placement, I had an incredible six month experience, supported by great colleagues and a great company. Now back to Bath to finish off final year!