Since final year started, nothing's felt quite the same. You're indoors most of the time and meeting up with people isn't as simple as it once was…
You might feel this way too and that's ok!
Hopefully this post will give you an insight into what it's like studying at university in these strange times and help you feel more prepared.
How uni has changed
The Bath Blend teaching approach
With the government restrictions it's impossible and unsafe to have regular lectures and seminars. It's weird to think that we used to sit in lecture halls packed like sardines!
We still get in-person contact time though, which has been really nice to see other people in person. Of course, this is subject to changing rules and whether we have to isolate.
For final year sociology students, our 4-hour IPT (In-Person Teaching) session is focussed on preparing and writing our dissertations. For other years, the IPTs are reserved for core modules that everyone has to do.
Otherwise, we have 2 one-hour sessions online (Live Online Interactive Learning) per unit. All of my lecturers use Zoom, but others may use Microsoft Teams. Read more about the Bath Blend approach here.
Pros include being able to roll out of bed and into a lecture right away, cons include having to be extra disciplined.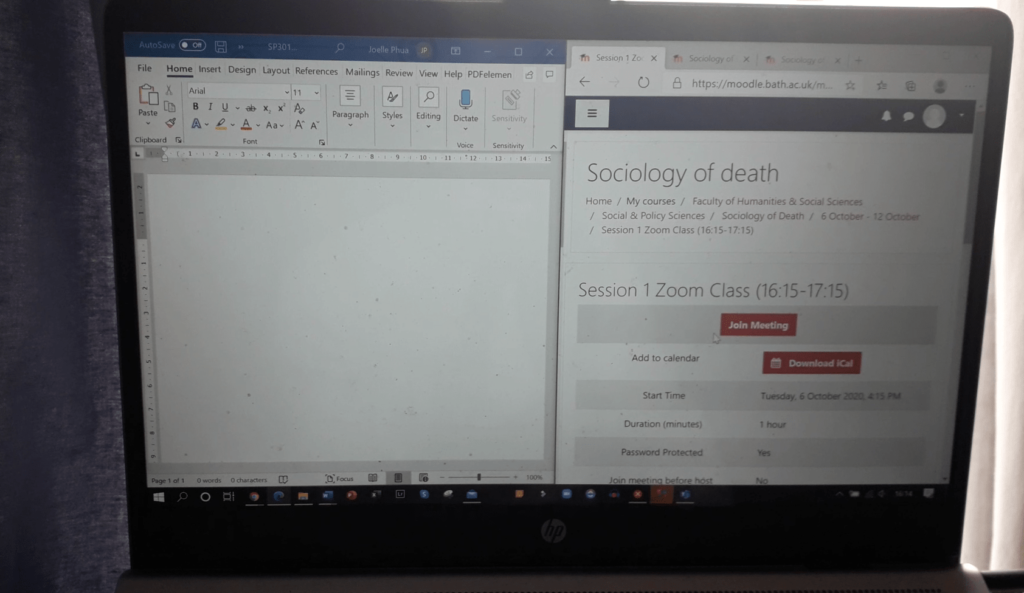 Safety and restrictions
When I first went to campus after the summer, it was really confusing as there are new markings on the ground and signs directing you in a one-way system.
However, since we're only going to one room (and the same room every week) for our IPT, I quickly reorientated myself with no issue.
It's reassuring to know that the university is taking safety seriously since the pandemic is still around even if we're back at uni. As you can see from the photo below, all the individual desks are spaced with paper towels and disinfectant spray on each one.
The university also has a procedure set out for you to in case you, or someone you know, tests positive for Covid-19 and must isolate so you don't need to worry about not knowing what to do.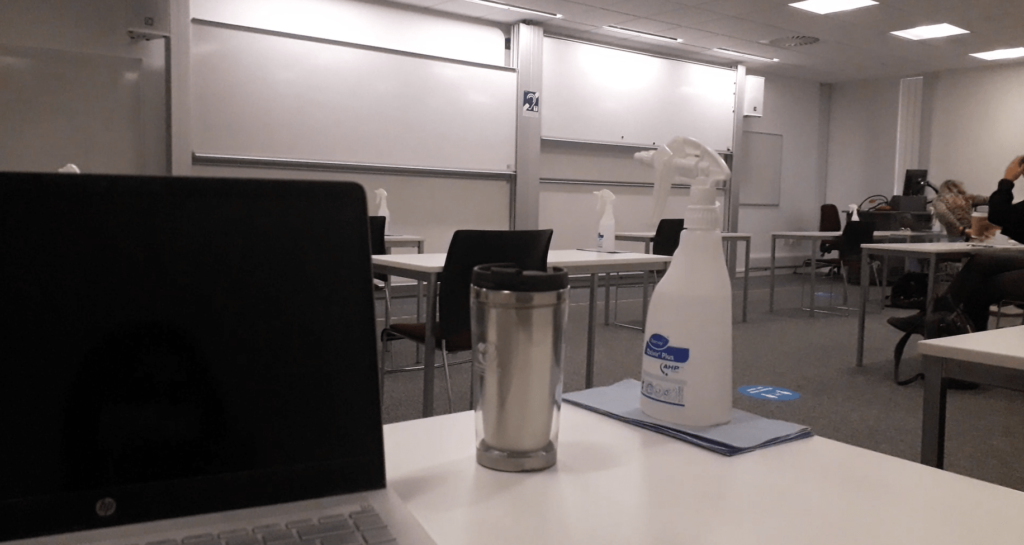 Social life
Arguably the biggest change in the midst of this is the hit your social life might've taken. To be honest, it is tough. But as long as you follow the health guidelines, you will be fine.
Thankfully, if you live on campus or want to socialise on campus, the university has created dedicated Covid-secure spaces like the East Village (in the East car park), Plug Fresco and Moles.
Tips to feel more comfortable in these times
Create some regularity in your life
Having mostly online lectures means that it's easy to fall into the spiral of days going by like a blur… The best way I've found is to create regularity – whether that's having set mealtimes, social times with your housemates or making a schedule for yourself.
Personally, I work best between 10am - 6pm so I make sure I only schedule work in that time-period. Read this blog post on how to organise yourself best whilst working from home!
Make sure you get outside and move often
I'm guilty of not doing this enough so take it from me and make sure you get fresh air and exercise at least a little bit every day. Whether this is going for a run or following a YouTube video for yoga, everything counts.
And when you stay at home so much, even a trip to the supermarket can feel like an occasion to dress up for!
Have a support network you can trust
Most importantly, talk to people. Don't be afraid to be vulnerable and share your feelings. Use Skype or Zoom to chat with your family or friends back home!
If you find it difficult to share with others, try journaling or meditation. After all, you can only be as honest with others as you are with yourself.
Of course, the uni has services you can make use of to ensure your mental health is good, read more here and here.
Watch my video below for a mini-tour of campus right now!