Hi, my name's Connor. During the last academic year, I felt the need to express myself creatively outside of my degree, a common theme for many at a science-based university such as Bath! So, I decided to join the Student Media as a contributor to Bath Time magazine.
It's been a great experience and they're always looking for more people to join. So if and when you join the University, you decide that you want your voice to be heard on issues that matter to you, or simply to express yourself creatively, please read on!
If you end up at the Univesity, you may hear one of their radio shows as you stroll around mini Fresh searching for a meal deal, you might pick up one of their magazines in the Students' Union or you may even watch one of their live streams on Facebook, but who is this mysterious organisation that generates tons of student-related content throughout the year?
The Society in question is the University of Bath's very own  Student Media society. Within Media there are 3 sub-groups that manage different media channels; Bath Time, our very own magazine with stories written by student contributors, University Radio Bath (or URB for short) who control the airwaves around campus banging out both shows and music throughout the day and, last but not least, CampusTV which is our very own television station. So students are able to extend their creative abilities across all 3 mediums if they so choose.

Bath Time is our student magazine, written for us by us. You might see their monthly print magazines available at various places around the campus, but they also run a website filled with articles and they frequently post the best ones on social media. They report on everything and anything; from hard-hitting investigative pieces on #NeverOK and sexual misconduct at university, right the way through to writing Minty Fresh; the revered freshers' newspaper that will catch you up on all the gossip during Freshers' Week.
Want to try your hand at journalism? Or even just express your views on the best places to eat in town? Anyone can become a contributor for Bath Time, all you have to do is join the Media Society and the Bath Time Facebook group, then either accept one of the stories suggested by the editors or message them with your own ideas. Happy writing!

These are the people responsible for the soundtrack around the University and you can catch them broadcasting live in the SU on a daily basis. URB puts out loads of content, not only do they have devoted DJ's, but they also have specialist radio shows focusing on a wide range of topics from politics through to sports. The best part is, anyone can easily get involved.
Whether you want to be a DJ, a radio presenter or even a more technical role like sound editing, all it takes is a short training period and you can have your own time slot on the air! I've been told that the best way to reach them is to walk into the studio in the SU and have a chat. They're a lovely bunch and support new ideas. I also have it on good authority they are looking for new DJ's, could you be the next Greg James?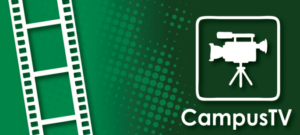 In your Fresher's Week, you may experience a TV crew running around, recording & interviewing you and your antics. This is CampusTV and besides that, they record and release a variety of content on Facebook & YouTube, though they are working on getting a devoted television channel at the University.
They mostly report on topical issues but anyone can approach them with potential ideas for content or even support & advice for any creative projects you may have going. They have had some impressive interviews and even live stream events like Bath's very own student Fight Night. To get involved join their Facebook group and get in contact with one of the admins who can advise you from there.
Overall, Media is a great society that works hard to engage the student body with interesting content. It's a fantastic way to creatively express yourself and show off your ideas to others whilst at university and an amazing way to get to know like-minded people. They're a social bunch with frequent socials throughout the year so you can get to know the other Media heads. Join one of the groups or join all 3, who knows, you could be Bath's next Media Mogul.