Hi, my name is Sarah and I'm a 3rd year Psychology student currently on placement in Dublin. This is my very first post, and so to begin with I would like to pitch to you why I believe it is 100% worth it to apply for an EU placement.
It may seem daunting and also an expensive choice to move to another country in the EU for a year, which is why I've chosen to write this post. Personally I've never been too fussed about moving abroad, but when I saw the opportunity through my placement I just sort of went for it. And now here I am, living in Dublin for the year.
I should also add that I'm living here rent free, with my maintenance loan and €125 a week from my organisation. Being in a foreign EU country also means I am eligible for an Erasmus grant, who pay an extra £520 a month to encourage students to go for these sorts of placements. I also still have all the support I could ask for from Bath, both from my personal tutor and the placement department, as well as from my current organisation who are consistently providing me with support, advice and extra training. So whilst volunteering for a Dublin based homelessness organisation (namely the Dublin Simon Community) may not sound like the most glamorous placement choice of all, it certainly has its perks.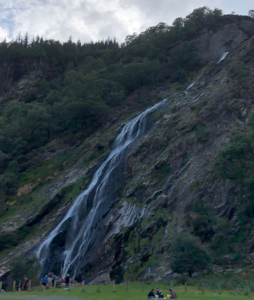 Now obviously Ireland isn't the most exotic country, and if you're not a fan of the rain I may direct you elsewhere. But being in this bizarrely similar yet different country, I've had the opportunity to explore places I'd never even heard of before.
My house is only a twenty minute walk from Saint Anne's Park and Bull Island beach. I'm also just a quick bus journey away from Howth - which is full of wonderful hikes, hidden beaches and a harbour with one of the most adorable lighthouses ever. Prior to our current lockdown I was able to hike to Wicklow Waterfall and hop on a bus tour all the way to Galway, with a stop at the Cliffs of Moher on the way. I'm now planning to return to Galway for a weekend to explore the city fully (and maybe get a commemorative tattoo...) .                                                                                                                                                                                                                            Wicklow Waterfall

And then there's central Dublin: full of vintage stores, vegan brunch spots, street art and a collection of different parks (including Phoenix Park, where over 100 carrot-loving deer reside). Walking through the city you're bound to pass some buskers jamming out, and maybe if you're lucky you'll see some drunk folk dancing along. Whilst Dublin is amazing in the day, nothing beats going out for walks at night (or just past 5pm at the moment), when all of its astounding architecture is lit up to create a dazzling effect and some amazing reflections in the river Liffey. One building is even lit up to create the Irish flag through its reflection!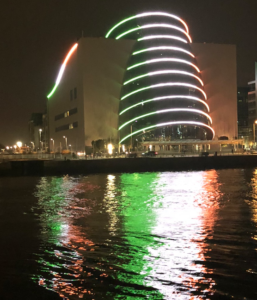 Moving here has given me so many experiences I never imagined for myself - I have a whole new country full of novel places just waiting to be explored. I'm also living with other volunteers from all over the world who are just as keen to make the most out of our year here together. We live in a house along the coast, which has a great route down to the beach for cycling, running and casual strolls. From my bus stop I can see right the way round the coast to Howth, which creates some mesmerising views, especially when I catch the sunrise.
 Obviously nothing's perfect, and I have often found myself cursing at the wind and lashing rain whilst waiting for buses, especially when there's a storm. Trying to understand certain Irish accents has been another feat of difficulty for me, though I do think I'm getting the hang of them now. Additionally working as a volunteer at a hostel is also not the easiest of jobs, and it did take me a while to find my footing there.
But despite these difficulties, I am so thankful for my placement and this chance to move abroad and have all of these crazy experiences. In my three months of being here I have learnt and grown so much, and I expect I will continue to throughout the rest of my year. On my days off of work I've seen the most breath-taking sights and at work I've seen people move on from being in some of the lowest situations imaginable (look out for my future posts for more on this).
A placement year provides the perfect opportunity to move somewhere new; to explore a new culture and to immerse yourself in all this country has to offer without having to worry about what comes next. It's essentially a taste-test of what your life post-uni could look like should you choose to stay where you end up. So if you move somewhere you're not too fond of, then its just for the year and you can move back afterwards and never re-enter that country again. And if you like it then you could start re-writing your future plans with this new found knowledge!
So to summarise... if you are thinking about taking an EU placement, I would strongly advise you to. Go for it, or else you'll never know what you may have missed out on.
Just some bus stop views to wrap this up.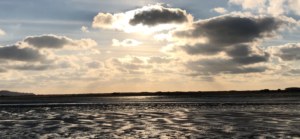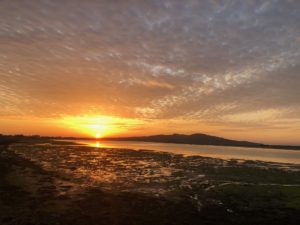 Thanks for reading my first post, I hope it may have inspired you. Please feel free to leave a comment if you have any questions and I'll do my best to get back to you.