Hi, I'm Jem, and I'm a first-year student here at Bath, studying chemistry with a placement year.
In summer 2019, I came on the Discover Bath programme (chemistry strand) for 4 days, which was an amazing, eye-opening experience, and ultimately helped me make the big decision of which uni to go to - with the answer being Bath!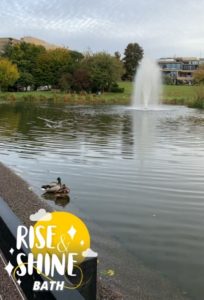 My experience on the Discover Bath programme:
Getting off the train in town, I was greeted by some Student Ambassadors, who took us up to campus for our induction talk and tour, and gave us keys to our rooms for the week. I stayed in Marlborough (on-campus, en-suite), which was great to see what it would be like to live in a uni room, and how talking to new people was actually a lot easier than I expected! The week was packed full of activities, both academic and social- a chance to experience new things, and meet new people, as well as having the opportunity to talk to current students, who were so friendly and helpful, and great to hear from them first hand about Bath.
On the chemistry strand, I had two days in the labs - one in the synthetic labs, completing reactions with benzocaine, with equipment much more sophisticated than available to me at school, and a second day in the computational labs, which was a completely new concept to me, but a good introduction as now I have them as part of my degree.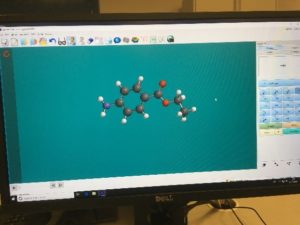 In the evenings, we had the chance to relax in the flat, have a film night in a lecture theatre, or play sports, which was great as there was something for everyone to get involved in. I love sports, and the fact that Bath is one of the best unis for sport, whilst being so highly-ranked academically, was one of the aspects that attracted me here, and so I opted to play rounders and benchball, which was great fun! On the final night, we went into the Plug & Tub (an on-campus pub that turns into a club) for the perfect end to the week.
The impact of DB programme:
This programme gave me a real insight into what life at Bath University would be like (but also uni life etc in general, regardless of where you choose), which reinforced my decision to go to uni, as before this week, I was also exploring apprenticeship options. For me, this week really helped my decision, which was the same course and university as the summer programme, but even if that's not what you decide, this week is such an amazing chance to get an insight into a degree course you may be interested in applying for before you actually have to apply/commit to a 3-4 year long degree.
Receiving an offer from Bath in November was the first real step on my journey, but logging into UCAS on results day to see that I had got in was the best feeling, and suddenly me going to uni felt so real! I had a sudden rush of emotions, a mix of relief, excitement, and worry - I was so relieved to finally find out I was in, and super excited to see what the next few years of my life at Bath would hold, whilst also feeling slightly apprehensive to move away from home and meet new people. Now after living at uni for just over two months, I love both Bath itself and uni life, and even though it was weird settling in at first, it was so much less scary than I expected, and really nothing to worry about!
Final advice for a year 12 student:
My advice to a Year 12 student would be to take any opportunities you can to visit unis or do taster courses to see which university and degree course would suit you best, and then pick whichever/wherever you think would make you happy - after all, you will be living there for at least three years, and you want to genuinely enjoy your time at uni and your degree itself. I personally think this is so important, and after a few months, I can honestly say I do feel like I 'Belong at Bath'.