Welcome to my blog page!
Hi, I'm Charlotte, a Health and Exercise Science student here at the University of Bath.
I am currently in my placement year completing two remote placements; one is a research placement at the University of Birmingham and the other is at a data insights company called Nutrition Integrated. I hope you enjoy reading about my experiences and hope that you can gain something from the blogs.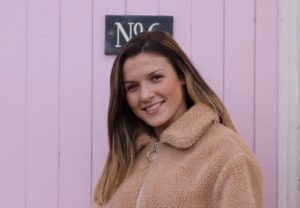 Applications, Applications, Applications
I hope you have all settled back into University life, even if things are looking a little different now than they were a year ago. I am aware that as a second year student it's that time of the year where the placement application stress really hits. I'm sure you've been getting on with your placement application process over the course of the semester and maybe you're one step ahead and have secured something already - in which case you probably won't need to keep reading. However, this isn't the case for most and that is absolutely fine. As semester one draws to a close, you may feel a time pressure but it is important NOT TO PANIC if you haven't secured a placement yet. You may not secure something until the Springtime or maybe even later. This isn't a speedy process - don't forget that. You'll likely face rejection and bumps in the road. At times, you may feel as though you're wasting time working on application after application... but it'll all be worth it. You WILL find something and - not to sound too cliché - but it'll all work out in the end!
My Application Process
Flashback to just over a year ago, I was settling into my new second year house, organising myself ready for the start of the semester and enjoying student life again. Although I was having an absolute ball, I had the constant niggling thought in the back of my mind that I needed to crack on with my placement application. I knew that it was time for me to sit down and seriously start thinking about what I wanted to do. So just like that, I pulled up my laptop and began researching.
One of the main reasons I applied to the University of Bath was so that I could do an international placement/year abroad so I began by formulating a list of countries I'd love to spend the next year of my life in. Australia, New Zealand, Canada, America and France were all included on the list. As I'd never been to the Southern Hemisphere; Australia and New Zealand really appealed. I began doing my own research, drafting cover letters to various start-up companies and I was also regularly checking the Moodle page for new placements.
In early October, a new placement was released to the Moodle page, located in Auckland, New Zealand. It immediately caught my eye and I knew that I wanted to apply. The placement was at a company called Harbour Sport, an organisation which aimed to increase and improve sport, health and wellbeing in and around Auckland. In addition to the work at this placement, the opportunities it offered outside of the work really excited me. Of course I was excited to go and work on various campaigns, learn more about the work of a sports trust and get integrated within the team. However, outside of all this came a number of perks such as immersing myself in a new culture, living in a student house just miles from the beach, having a shared car which could be used to travel around New Zealand and not forgetting being surrounded by the wonderful ethos of the Harbour Sport team! It's safe to say that I was VERY excited.
The Reality of Securing an International Placement... in a Covid World
I applied for the role, had a Skype interview and within 2 weeks I learned that I had been successful in my application. I had signed the contract and was ready to move to the other side of the world. In hindsight, I was lucky and had a very easy, speedy placement application process. HOWEVER... remember how I said you'll face bumps along the way? I wasn't joking. Of course, the last year has been like no other and next to nobody has faced an entirely smooth-sailing placement journey. In June, just weeks before I was due to fly - the placement was cancelled as a result of the Covid-19 pandemic. I was disappointed but had anticipated that this would be the case since the start of lockdown.
Consequently, I had been looking at alternatives for a little while however I had remained hopeful that international travel would still be able to go ahead come June. However, with New Zealand being so "hot on it" with their management of the virus, there was no chance I was getting into the country.
Moral of the Story - Don't Give Up
As a result, in late June... it was time to start my placement application process all over again. I began sending off cover letters, getting in touch with various contacts and having one-to-one calls with my Placement Officer. To cut a long story (which I'll explain in a future blog) short, by October I had secured myself not one, but TWO new placements for my placement year. Moral of the story: don't give up... even when it seems like it's all going wrong. It'll figure itself out. I guess the takeaway message from this really is to just remain calm... and keep plodding on. You'll become more resilient, patient and persistent. The process of applying is just as much of a learning curve as the placement itself!
I wish you all the best of luck in your applications and hope that you secure yourself something really great for the year.
Best wishes,
Charlotte x