For those students who are interested in a career in sales and trading or simply interested in trading yourself, I may have a perfect opportunity for you. Trading without adequate knowledge can be detrimental particularly if you are putting personal funds at risk. However, the Two Trader's Trading program provides an insightful guide on how to begin your trading journey and build solid foundations for your future.
My motivations
I am Michael Welsh, a final year undergraduate Economics student, and I have had the opportunity to take part in said program. Initially my motivations for taking part in the trading program were the transferable skills that I would gain along the way, such as risk management, disciplined money management and strong market analytical skills. However, the benefits far exceed these transferable skills. I will now guide you through the experience so far and why exactly I value this so highly.
Course layout
The program starts with an introductory webinar where you will meet Karl, David and Patrick. These are the people responsible for running the program. From here you are in charge of your own learning and have the freedom to learn the content such that it fits around your own timetable. This makes the course convenient to complete.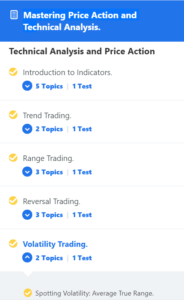 The content is conveniently broken down into digestible weekly sections, with regular testing in order to ensure that you have a full understanding of what you have learned. If there is any aspect which you have struggled with, Karl, David or Patrick will be happy to offer help in the weekly Q&A sessions.
What you will learn
The method of trading you will learn about is price action and technical analysis. This uses prices and the patterns they form to make trading decisions. Whilst traditionally you may expect to react to global news or fundamental analysis, this can be problematic for individual traders. Large financial institutions have a much wider access to information than an individual trader, be it news or financial data. As a result, these institutions can place trades far earlier than an individual may even receive the news. This can limit the profit potential of your portfolio as you may miss major moves played by large institutions.
However, price and many other factors you will learn about on this course, contain a significant amount of information which you can use to place trades. This is where the course has been so valuable to me. The material you will learn will be directly usable to you as soon as you feel comfortable. This means that you can use these skills to manage and put your own money to good use.
An example of a technique that can be used is a double top or bottom. This is a pattern which signifies a reversal of a trend. This pattern would look a little like this: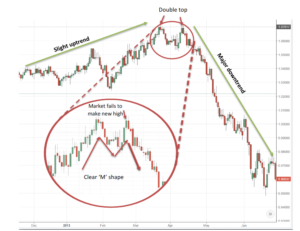 This pattern occurs as a result of the market's inability to create a new high or a new low. The example above is a double top and signifies a potential major downward trend. This creates an opportunity to open a short position. Whilst this is not a certainty, these methods rely on the law of large numbers. You may lose several trades, however, if you remain disciplined and stick to your strategy, your wins will by far offset your losses.
The Trading Challenge
On the day of writing, we have officially begun the first round of the trading challenge. This is the opportunity to put what you have learned to the test and trade on real markets. I will be writing further posts in the coming months to update all those who are interested.
The Faculty of Humanities & Social Sciences has funded this program for the first time this year as a pilot. So, if this sounds like an opportunity you would be interested in, keep an eye out for emails in semester two to see if it will run again next October
You can find more detailed information about the Two Traders at: https://www.thetwotraders.com/