Planning for arrivals
Last minute
As an international student, as you would imagine, moving to university is a difficult task. Now imagine you are in the middle of a pandemic, and on the 1st of September, you still don't know how you're going to end up in the UK. With the quarantine rules, flight cancellations, you just couldn't plan anything.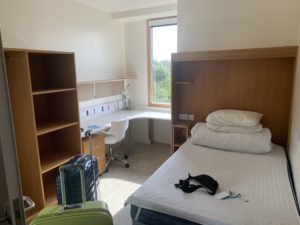 Advice for international students:
• Buy flight tickets with changeable dates (in case of any uncertainty)
• Bring the most important things with you in suitcases. After arriving you can receive packages from home for a good price
• Don't buy every possible thing you see in the shop; take some time to see what you really need
• Try to make your room as comfortable as you wish, with pictures, posters, even LED lights
• Bring more warm clothes if you are not from a northern country because it can get freezing cold!

Arrivals day

First impressions
I got my room on the 4th floor of the Woodland Court D block, where we don't have an elevator, so you can imagine how hard was it to get all suitcases to our rooms. We helped each other, as parents were not allowed in the building. Hopefully, this won't be the case next year, although I would recommend giving a hand, as you instantly start to get to know your flatmates (and also a big flex of how strong you are).
To everyone who is anxious about living in student accommodation: the best thing in my life!  Everyone is in the same shoes as you are, you don't even have to try to make friends, just go to the kitchen and someone will be there. We live in a household of 16, so it is impossible to be bored, however, sometimes it is hard to be on your own.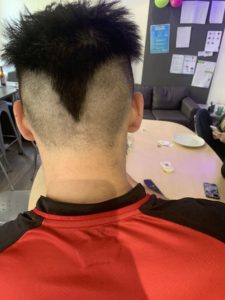 Your first night is always the biggest party, where you can open up while getting a bit drunk. The craziest stories are born in the first days, so I wouldn't arrive late!
"Freshers Week"
Activities
It was hard for us to meet people outside our flat, so we attended all the activities possible. I hope next year you guys can have a proper Fresher's week, with all the amazing activities.
Despite COVID, the University did a great job organising safe but also fun events. The best one was the 'Activity Arena' in the Founders Hall, with inflatables and console games.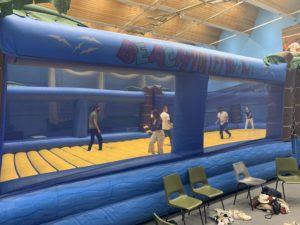 The wristband this year was significantly cheaper, but I would recommend buying it anyway because of the opportunity to meet and get to know your university mates. And of course, the huge parties that the university organises. Apart from the university programs, you will probably drink every night with your flat, which is great fun, even if you are not drinking. But remember: you can say no. It is important to drink responsibly.
First experiences
Difficulties
In the first week, the cultural shock was real. The food, the homesickness, the different environment. You will get assigned 2 peer mentors from a year above you, who you can reach out to with any questions or problems. Who knows, maybe I will be your mentor! The University offers a wide range of support, from the peer mentors, personal tutor, the Student Experience Officers, and the Wellbeing Office: you will not be left alone.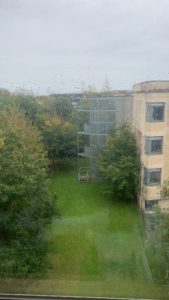 Also, don't worry about the language, you will get used to speaking and even thinking in English. I thought before coming here that I would have problems, but apart from some minor mistakes, it is all good.

The Bath Blend
Probably for our whole year, we will be studying in a system called the Bath Blend. The main goal of this system is to make online education as interactive as possible. It is a combination of pre-recorded lectures, that you can access anytime, online zoom lectures which are being recorded, and small groups online seminars.
The beginning is always hard, and in the first weeks we had some technical difficulties, but since then everything has been running smoothly. We have to understand that the University tries its best to offer us the best possible solution.

Current possibilities
Sports
As competitive sports are on a break, we still have the opportunity to train regularly. I am currently in the Men's first team for Volleyball, and we have a 2-hour long practice twice a week. According to the government's regulations, we can focus on personal development in smaller groups.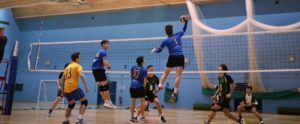 This is the case for every sport that the Students' Union has to offer. Apart from competitive sports, every club offers recreational sessions for beginners. Just go on the SU's website and check out the wide range of clubs.
You need to purchase the Membership for Sports, but if you don't want to, you just have to activate your free sports pass which gives you access to all the facilities available. You just have to book an appointment and have a friendly tennis match or a football game with your peers.
Societies
If you think the SU has loads of sports clubs, check out the number of societies available. By purchasing the Society Membership (one for all), you have access to around 130 societies.
Like everyone, I would highly recommend joining at least some. What can you lose? If you don't like it, you can always leave.  This year they had to go fully online, but they're still trying their best to organise great social events.