I think it's fair to say that this year hasn't been the year that any of us expected, we've all had to adapt in different ways and that goes for starting university too.  Obviously, it wasn't the freshers' experience any of us had anticipated when we applied but I've found that the University has done its best to support us and provide us with as normal an experience as they could following the COVID-19 rules.  The University has lots of systems in place to keep us all as safe as possible including one-way systems and accommodation bubbles while also providing socially distanced freshers' events to give us a chance to meet people outside of our bubbles safely like an activities arena, free pizza (which is always great), online events and an outdoor bar during Freshers' week.
It's undeniable that it has been much harder to meet people and go out during the pandemic but there have been lots of online activities and socially-distanced events put on by societies that have made it easier.  The Students' Union also had lots of events that we could go to to get to know our flatmates including going for drinks at the Plug & Tub or the East Village.  I'd say that despite the pandemic, we've still made the best of it and enjoyed the semester so far with lots of 'COVID-friendly' nights in and out.  We all made Christmas dinner together before we went home for Christmas which I will admit, does look a bit questionable but was really fun to do and tasted great.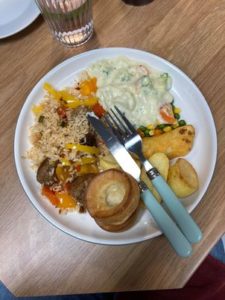 Online learning has been a big part of the academic experience so far.  It was quite stressful at first as there were lots of different platforms to get used to but I found this easier to adapt to over time - especially as many of the lecturers were new to it too.  For me, most of the lectures are pre-recorded so we watch these in our own time and then we have Q&A sessions spread throughout the week which support the lecture material.  I've found that I actually quite enjoy this style of learning because I get to choose when I watch the lectures and can rewind if I need to watch a specific part again.  Although, this does have its downside as I've found it's quite easy to fall behind when I'm completely managing my own time.  Alongside online learning, there's also a day of in-person teaching every week consisting of workshops and lab sessions which I really look forward to and enjoy each week.
We were also provided with a lot of support when we had to go into self-isolation as someone in my household unfortunately tested positive for COVID.  We normally share our kitchen on a rota with another household as Brendon Court (where I live) is catered, so we couldn't do this anymore when we started isolating.  However, the University was very supportive and provided us with plenty of food including a selection of items for breakfast, lunch, snacks and a hot meal everyday.  They also provided sports equipment and a laundry service which we could use while we couldn't leave the accommodation for two weeks.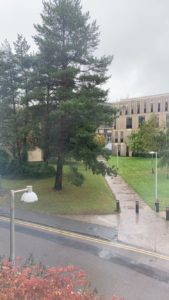 Being catered, we're provided with two meals a day in the canteen and then £20 a week Eat and Drink credit for breakfast and snacks which we can spend in the food outlets on campus (of which  I may or may not have spent a large amount on pizza).  As we pay for food when we pay for rent, there hasn't been much I've urgently needed to budget. I've only really spent any leftover money on laundry, printing, drinks and snacks so far. It's definitely very different from being at home; being able to decide how to use money and what I do and don't need.
I'd say that despite the extra restrictions that we have to follow and the changes to normal university life, I don't regret starting this year as there is a real sense of community looking out for one another as we're all in this together.  It's a lot to get used to but I can't wait to go back and already really miss it.