When I first heard that I had to arrive fourteen days prior in order to quarantine, I was nervous and dreading it. How would I make it through two weeks in a room all by myself? But now looking back at it, it was definitely a memorable experience.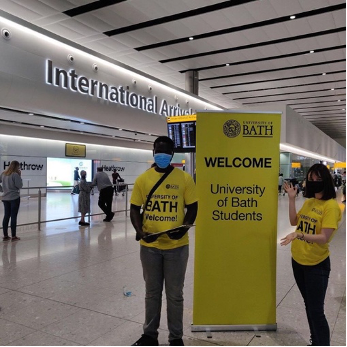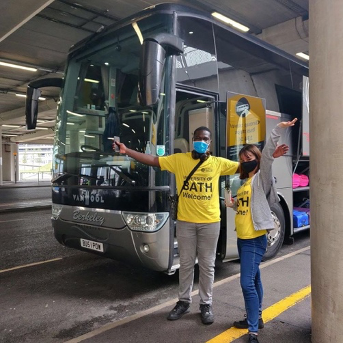 Transportation by the uni
I left Paris, France, on the 4th of September, two weeks before the official arrival week. A great thing offered by the university was a free coach service for all students arriving at London Heathrow Airport. This saved the hassle of booking several trains and buses from the airport to the campus. There was a very friendly group of student volunteers to greet you and guide you to where the bus was, and to make sure everyone was okay. This definitely made moving to a new country easier!
I was also able to meet other students coming from abroad. I befriended two people, one from Sweden and one from Bulgaria. We had a very lovely chat about our home countries while waiting for the bus. It was great to meet other people in the same situation.
Facilities provided in quarantine
People who had to quarantine stayed in Marlborough and Solsbury court, which is an en-suite accommodation. The room was very clean when I arrived, and a security guard gave me a detailed explanation of how everything would work in these two weeks.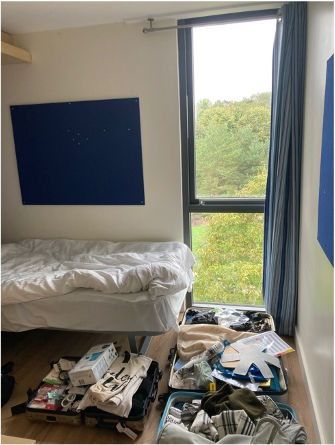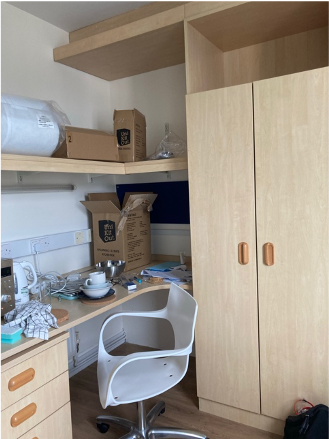 I was provided with lots of things from a duvet, pillow, sheets already on the bed, a dish-soap, sponge, towel for washing up, a microwave and a kettle (all free of charge!). You also had to purchase a bedding and kitchen pack in advance. This was £60 and contained all the basics you needed, such as pots, pans, and cutlery.
I was provided with food during these two weeks, free of charge. When I first arrived, there was a box of food in front of the door. These contained breakfast items such as porridge, Weetabix, fresh fruits, and fruit juices. It also contained canned soup for lunch and rice packages. You were also given a menu for weekly meals. The University also takes into consideration various diets or allergies such as vegetarian or lactose intolerant.
Fresh products such as milk and sandwiches were stored in the fridge in the communal kitchen. Dinners included various curries and dishes such as chicken tikka masala and lamb tagine were stored in the freezer, to be defrosted and microwaved when desired.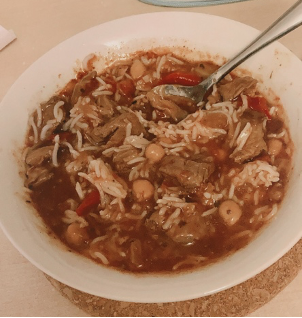 Virtual activities hosted by the Uni
The University hosts daily Microsoft Teams sessions on adapting to the new culture, academic skills, and fitness classes. These are great to keep you occupied during the days and to help you adapt to moving to a new country. Examples include work and visas, transportation, food, and drinks, etc. These are super helpful in preparing you to live in this country.
Exercise and outdoor area
We were allowed to go out every day to a designated area outside the building for exercise purposes. I went out for a walk every day to get some fresh air and exercise. There is so much greenery, even in this little part of the campus!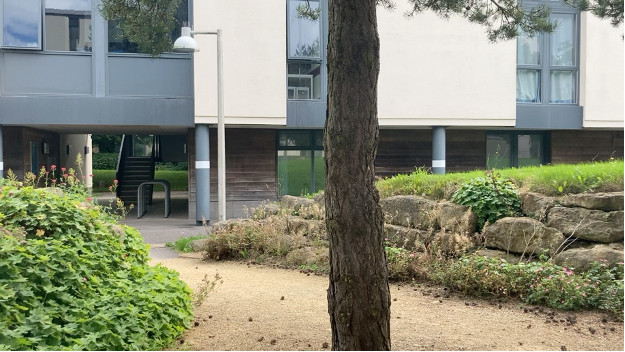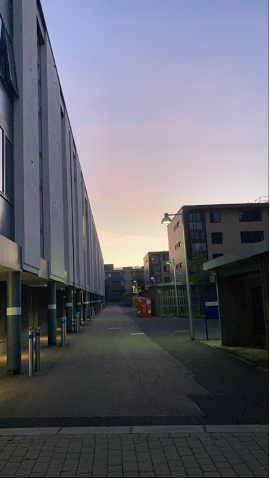 My views before and after quarantine
I was a little uneasy the first day I arrived. The excitement of finally arriving at university mixed with the uncertainty of these two weeks made me confused. I spent my first day unpacking things and exploring my room and the guidelines provided. I was unsure how I was supposed to spend the next two weeks, and it suddenly hit me that I was not going to have any human interactions for a solid two weeks.
This quickly changed in the next few coming days. I saw my quarantine housemates when the fire alarm went off and we all headed outside. We exchanged numbers and communicated through social media (mainly WhatsApp) throughout the next couple of days. We also had a Netflix party almost every night, which was really comforting. We got on really well and quickly became friends. In fact, we still keep in contact now!
My advice, if you have to quarantine, is to get to know your housemates, preferably virtually during these times. They were the reason quarantine was actually enjoyable for me. We exchanged so many stories about where we're from and our lives before coming here.
Also, take this time to sort out administrative tasks such as opening bank accounts, registration for the University, and checking what textbooks you have to buy. Trust me, you won't have time to do all of these once Freshers' Week and teaching starts.
Overall, take this time to adapt, relax, and get to know people (virtually)!
Obviously, this was my experience of quarantining at Bath and things may change in the future but the University will contact you with the latest information on this.
#WeAreTogether