Ahhhh, the inevitable drive up to university for move-in day. Squashed in the backseat between boxes of cutlery and clothes, your mother crying in the passenger seat as soon as you've left the house, and leaving the town you grew up in. It's a whirlwind of emotions, and the butterflies in your stomach only seem to grow as you get closer to campus.
For many, it will be the start of a new chapter after being in secondary education for the main part of our adolescence. It was overwhelming for me when the day came to move-in; I didn't know what to expect. What were my flatmates going to be like? Will I enjoy my course? Would I have a good time at university?
The fact that we're all in the midst of a global pandemic only seemed to amplify my worries. Freshers' Week this year looked a lot different compared to previous years – there weren't any dancefloors to get down on, and pubs and bars had a curfew of 10 pm. It looked like our first week on campus was going to be bleak, when it should have been a time of stumbling through town at 4 in the morning.
As our flat played icebreakers on the first night, it quickly became evident that doing Freshers' right would mean making the most out of what you have. We made our own makeshift bar crawl by dressing up each of our rooms and serving our signature cocktails, which was great fun. Whilst it wasn't going to be the stereotypical wild Freshers' Week experience, we could still try and get as pretty close to it as possible.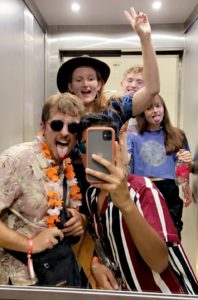 It's not just about the evenings though – the daytime is also great for exploring the city and getting to know your home for the next few years. Bath is the only UNESCO World Heritage City in the UK, and it's easy to see why. A trip into town revealed stunning architecture and a bustling atmosphere, and landmarks like the Royal Crescent and the Bath Abbey blew our minds when we saw them in person. Twisting alleyways lead to quaint cafés and modern eateries, with markets selling souvenirs and jewellery hidden around every corner. My flatmates and I also took the train to Bristol for a day out, which was beautiful, but not as nice as Bath!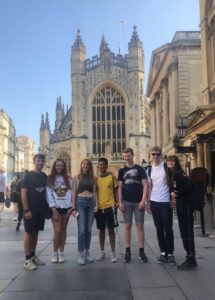 Even though the big arena events were unable to happen this year, the University of Bath still put in a lot of effort to ensure that new first-years still had an exciting experience. The Students' Union hosted a range of events from video game nights to pub quizzes, and with the Freshers' Wristband only costing £15 this year, it seemed silly to not grab one. My flatmates and I booked activities almost every day – a favourite was The Plug Fresco, an outdoor bar on Chancellor's Green. Another event we enjoyed was the Activities Arena – the inflatable games gave us all a good laugh!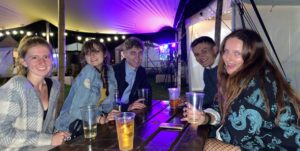 Of course, it wouldn't be Freshers' Week without a couple of good old parties. Unfortunately, they had to be within our household due to the guidelines, but we didn't mind that as that meant more alcohol for us! We held a beach-themed night complete with luaus, floral shirts and flip-flops, as well as a surprise birthday party for one of my flatmates. Sometimes you don't need massive nightclubs and pub crawls to have a good time – it's all about making the most of the company and setting you're in. In fact, some of the best memories I've made during my first week on campus include ordering takeout and watching High School Musical in our lounge. It's not easy to transition to university, and even harder in a pandemic, but it's easier to settle in if you make the most of what you have.