Due to COVID-19 and social distancing making friends had to be done differently this year, as I'm sure you can imagine. But trust me, it is still more than possible and I can assure you that you will make friends! After all, everyone is in the same position and it's strange for us all.
Housemates...
I have found that this year, housemates have become particularly close. In fact, a lot of house groups are choosing to live together in private accommodation next year as they have got on so well together. During Freshers' Week there are countless ways and opportunities for you to build relationships with your housemates; none of which involve awkward ice-breakers! The Students' Union put on lots of different events and activities that we could  go to with our house and participate in together.
Activities...
Additionally, throughout the semester the SU runs various activities that you can get involved with, these are a great way to get to know new people in a fun and relaxing atmosphere. These include the weekly "Plug quiz", weekly mixology classes, DJ sessions, movie nights and so much more, including seasonal activities like carving pumpkins during Halloween etc.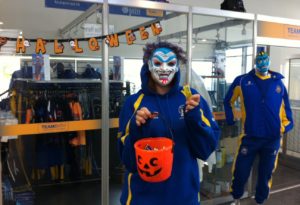 Sports and Societies...
Sport is another great way to get to know new people as you will be guaranteed to have at least one thing in common with them, your love of that sport. Though, generally you will find that there is a list of things that you have in common, not just your sport! At the start of the semester lots of people will sign up to a range of different sports to try them out and see which/how many they are going to continue going to once they get their timetable. If you enjoy sports I highly recommend signing up to anything that you think you may enjoy, even if you have never played it before.
I did this with several different sports and absolutely love them! There will be other people there who haven't played them before as well, so you won't be the only beginner. Furthermore, the coaches couldn't be more encouraging and supportive, so you don't need to fear them being too hard on you!
If you aren't sporty, I can assure you there are countless other clubs and societies that you can join, allowing you to meet other people with similar interests to you. These range from "Bath University Baking Appreciation society", to "Backstage Society" to "Bath University Debating Society" to the various musical societies, along with everything in between! Though, if you feel that there isn't a society for your passion you can start your own!

Course mates...
Equally, if you don't fancy joining or signing up to anything that's okay! Through the "Bath Blend" teaching style you will be able to meet other people who are studying your course. Making friends with fellow course mates is brilliant as you can work together on your course material and help each other when you get stuck. On my course, during my in-person time I am in a group with other students who are also studying Maths and Physics.
During this time, we are encouraged to chat through problems and work together. Even if you don't fancy chatting too much during this time you can chat with your group when walking to and from your classes. I am also in a Microsoft Teams with this group, where we can post anything that we are finding tricky and work through it together.
Not only will you meet people through the "Bath Blend" in-person groups but when you get your confirmation e-mail telling you that you will be attending Bath University there are multiple Facebook groups that you can join and on these you will generally find that someone has created a WhatsApp group for your course that you can also join. Through these groups you can meet more people who are on your course but may not necessarily be in your in-person teaching group.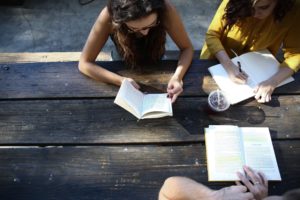 Walks...
Bath University campus is situated in the middle of a forest, right beside Bath golf course. This means there are loads of beautiful walks that you can go on with other people, getting to know them. There is a huge range of choices of walks that you can do, long, short, uphill, flat so do not worry about having to go on a long, strenuous walk with someone you don't know that well. Generally, in Bath there will always be a right of way that you can turn on to end the walk quicker if the conversation isn't flowing as well as you had hoped!
Understandably not all of the usual activities and opportunities for making friends have happened this year due to COVID-19 but they were replaced with a variety of alternatives so I do not feel that I have a lack of friends in the slightest. My biggest recommendation is to join clubs, societies and activities that you are passionate about. In these you will be guaranteed to meet a range of different people with similar interests to you. I also recommend developing relationships with your house by spending time with them, whether it be through cooking together or eating together.
At the end of the day, you are in control of your life, who you meet and what you do. Yes, there have been new rules put into place that need to be followed but you can still enjoy life, have fun and make tonnes of new friends. So, I recommend you enjoy it and make the most of whatever the situation!