The March 2020 lockdown for me came at a particularly rough time to go through; I was on my own inside the four walls of my room with my thoughts going round in circles. Inevitably, I started to develop symptoms of depression and after 2 months, I was diagnosed with moderate to severe depression. By far the darkest time of my life. I believe some of you might be able to relate to this (although I hope not).

I had completely lost hope of going to university anytime soon, let alone getting good grades. All it took was just one call to instilled a little ray of hope back in me, informing me about my grades and confirming my place at Bath University. Nonetheless, it still didn't fully hit me until I physically stepped onto the campus.
I thought moving into a new environment and officially entering into adulthood would be my perfect escape, but I was wrong. It would come as no surprise to anyone when I say that it was all because of the grave impact that Covid-19 had left on us. The limitations it had on us throughout Freshers' Week up till now was disheartening. It was also a huge awakening for me of the fact that Covid-19 is more real than I thought it was. The hustle and bustle of campus life vanished. The restricted social interactions made making new friends harder, more so than ever.

It was my first time in Bath. I was charmed by the breath-taking views! It was a roller coaster of feelings that I went through that day. From unpacking to seeing off my mom, it was very overwhelming. Excitement, nervousness, happiness, sadness, I experienced them all in one go all at once. No doubt, I shed a tear or two. And the worst part of it all, I couldn't explain to
myself my feelings at that point in time. So, to top it all off I found it frustrating and mentally draining.

To get through it all, the astonishing views at Bath Uni definitely helped!
I have to look at this beautiful scenery on campus...our very famous lake, right in front of the library, on a bright, crisp sunny day. (For a change, because Bath has been having its gloomy & rainy spells.)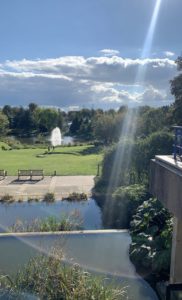 The peaceful evening strolls to Sham Castle to catch the sunset is my favourite walk and a must watch thing to do in Bath. With the convenience of just a 5-minute walk away, it is a great stress-reliever. The camera is not doing justice to the hilly views at all!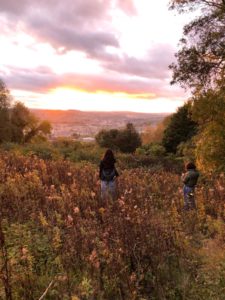 As the days passed, I made friends, met new people, explored the ever-so-beautiful campus, and different feelings started to emerge within me such as feelings of contentment and gratitude for landing up in a place like Bath. Once I settled down and got myself a new routine, things, slowly but surely, started to fall in place. The unconventional online learning started to feel like normal.

Finding the right kind of people and starting to live with them definitely helps. I had the pleasure of meeting these four girls in my flat. We girls stick together and have fun which makes living in times such as now much easier!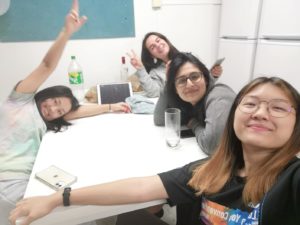 Then I realized there's no point in fretting over situations that are beyond my control.
I want to challenge myself to control the way I respond - to be proactive - rather than to anxiously react under these circumstances. Sure, there is a narrow window for social interactions, but everybody is enduring this plight! The Bath-Blend has presented us with numerous opportunities and support to make the most of this situation.
Building our careers and developing new skills whilst facing the challenges of a global pandemic is only going to make us stronger as a generation!