Having been a university student for over a year and vegan for an entire year, I am a self-proclaimed bargain hunter when it comes to food shopping. In light of Veganuary 2021 coming to an end, I have compiled a list of 5 vegan recipes for you to try from Monday through to Friday.
Recipe 1: of Mexican origin; we have the humble burrito. The key to this recipe is frying the burrito to achieve a grilled effect. For this recipe, you will need: 4-6 wraps, 1 can of kidney beans, 1 can of sweetcorn, 250g rice, 1 red pepper, iceberg lettuce, vegan mayonnaise, 1 tsp cumin, 1 tsp of paprika, 1 tsp chilli powder.
Instructions: Bring the rice to the boil, meanwhile in a frying pan fry the onions, garlic and spices. After 5 minutes add the rinsed kidney beans and sweetcorn. Whilst the rice finishes cooking, prepare the wraps with placing the iceberg lettuce, mayonnaise and peppers cut lengthways. Once the rice has finished cooking, drain and add to the bean mix. Then fill your wraps and grill!
Recipe 2: tomato risotto. For students, having risotto instead of pasta is empowering. So here is what you will need for a minimal ingredient tomato risotto: 250g risotto rice, 400g canned chopped tomato, 900ml of vegetable stock, 1 onion, 2 garlic cloves, 2 tsp mixed herbs, topped with basil and cherry tomatoes (serves 4).
Instructions: First make your 900ml of vegetable stock and mix into a saucepan with 400g of canned tomatoes (keep on a low heat). Chop and in a separate pan fry your onion for 5 minutes, then add the chopped garlic cloves and mixed herbs. Once golden, pour in the risotto rice and cook for 1 minute. Now, you will begin to pour the tomato and vegetable stock base into the risotto mix ladle by ladle. Only add more of the tomato base once the risotto rice has absorbed what is already in the pan, Continue until all the tomato base is gone and finally add salt, pepper, cherry tomatoes and basil. Enjoy!
Recipe 3: now I present you with the staple meal of my diet, something quintessentially vegan – couscous with roasted vegetables. Although at first, this may sound too simple a dish, it is low effort, cheap and flavourful. You will need 240g couscous, 1 red onion, 2 courgettes, 1 sweet potato, 2 peppers, paprika, cumin (serves 4).
Instructions: Chop the vegetables into bite-size chunks. Cover the vegetables in oil, paprika, cumin, salt and pepper and roast for 20 mins on 180 fan. After 20 minutes toss the vegetables and return to the oven for another 10-20 minutes. Meanwhile, boil enough water to cover your couscous in a bowl and add a vegetable stock cube to this mix. Leave this mix in the bowl until cooked, which should time perfectly with the vegetables cooking time.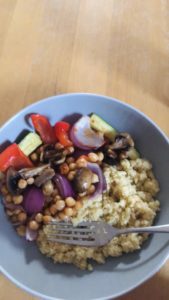 Recipe 4: beetroot hummus and vegetable pasta. For the pasta, you will need 200g-250g pasta, vegetables of choice (I use 1 sweet potato, spinach and 1 red pepper). For the hummus: 2 vacuum-packed beetroots, 250g chickpeas, 1 tsp tahini, 2 tsp paprika, 1 tsp cumin, 1 tsp oil.
Instructions: First chop the vegetables and cook (as in recipe 3). Bring your pasta to the boil and begin to make your hummus. To make your hummus you should blend all of the following ingredients: beetroot, chickpea, tahini, oil, paprika and cumin. Once the pasta is cooked, drain the water and add the vegetables and hummus. To make it even creamier feel free to add a tbsp of vegan mayonnaise.
Recipe 5: Here is the showstopper you have all been waiting for, the sweet potato katsu curry. You will need 2 sweet potatoes, ½ bowl of plain flour, ½ bowl of milk alternative, 200g – 250g golden breadcrumbs, 1 cucumber, 250g rice, 1 carrot, 1 onion, 2 garlic cloves, sprinkle of ginger, 3 tbsp of mild curry powder, 450ml of vegetable stock, 1 tbsp soy sauce, 1 tbsp maple syrup.
Instructions: Preheat your oven to 200 fan and grease baking trays. Slice the sweet potatoes to look like the picture below and cover them in batter accordingly: dip each slice into the flour, then the milk, then the breadcrumbs. Once complete, place the sweet potato coins in the oven for 15 minutes on each side. Now you can begin to make the curry sauce and bring the rice to the boil. To make the sauce fry one chopped onion and 1 chopped carrot. Sweat for 10 minutes and add the garlic, ginger and curry powder. After cooking for a few minutes add 1 tbsp of plain flour and gradually add the vegetable stock to maintain the thickness of the sauce. Stir in 1btsp of maple syrup and 1 tbsp of soy sauce, then blend. Now you have your sauce, drain the rice and plate the sweet potatoes alongside sliced cucumber.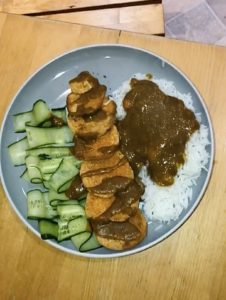 My final tip to give you is to try out these recipes with friends. Although chaotic at times cooking with flatmates can work out a lot better than expected, one of my favourite weeks at university this year has been our house 'Come Dine With Me'. Also, it is a lot easier to stick to a vegan diet the fewer temptations there are surrounding you. Enjoy!