Starting university is a big change and is the beginning of a whole new chapter in your life, and before starting, one of my main worries (which I'm sure nearly every other student shared) was whether I would fit in. I won't lie, moving in last September was a daunting experience, just because everything was so new, but after meeting flatmates, and course mates (albeit only virtually in zoom lectures), and spending a few weeks with them, I'm not sure why I was so worried about 'fitting in'.
I know the perception of Bath uni may be slightly more middle class, and the stereotype maybe for more affluent people to attend uni here, but realistically, the range of students here is so diverse, and this range is amazing, in my opinion, as it's impossible not to 'fit in'- just be yourself and there will always be others that you get on with, and feel you belong with. Personally, I'm in a flat of 18 people (in Westwood Quarry), and the range of backgrounds in my flat alone is so broad, from others on the Bath Bursary like me, to those from grammar and private schools, and this diversity essentially means we can all fit in.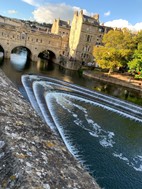 I came from a school that was borderline 'low-achieving', being included in the list to get a lower offer in the eyes of some universities (such as Bristol), and from a family of lower-income (which is why I am eligible for the Bath Bursary). Bath appealed to me initially because of its sports facilities, but also because it was ranked so highly across all league tables, and had a good reputation for placements, which I was interested in doing.
The open day reinforced my interest in the University, just from walking around campus, talking to friendly students, exploring the facilities, and learning more about the Bath Bursary and other scholarship opportunities. This proved to me that Bath was not only for students with higher income backgrounds, but that it was open for all, and they were willing to support the students from lower-income families. Other universities I visited had less generous financial support schemes, where you had to apply for the bursary, rather than it being given to all those who are eligible (like the Bath Bursary). This started to break down the perception in my head of Bath being solely for richer students, as Bath seemed to be more invested in destroying the idea that financial situations should determine the university you go to.
Personally, on the maximum student loan, and a recipient of the Bath Bursary, I feel as though I am in a better financial situation than many students who come from wealthier backgrounds, and so do not get the maximum loan, as they may have to rely on their parents (to 'make up their loan'), or a job, for more money, whereas I don't.
After being at Bath for just over a semester now, I can happily and confidently say, I do feel as though I 'Belong at Bath', but I believe anyone who comes to university here can feel this way if they are willing to get involved and truly just be themselves, because of the diversity I have seen across campus as a whole and the inclusive nature of the University in terms of students from a wide range of backgrounds.
Within each accommodation, there is a mix of students allowing you to feel happy and comfortable in your living environment, surrounded by not only your flatmates but your friends. This diversity continues across to each degree program, with the mixed cohort mirroring the range of people with which you would find yourself working in your future workplace.
Despite my first semester being heavily impacted by COVID, I did manage to get involved in some sports before lockdown started. I was part of a netball bubble, with 11 other people, across all years at uni, and I really felt like I fitted in with that group. Alongside netball, I attended some lacrosse development sessions, which were great fun, and really inclusive, as they knew we were all beginners in these sessions, and so they helped us from the basics upwards. Bath was ranked the top sports university in the UK in 2018, because of its facilities, and the performance of the athletes here, yet they also cater for complete beginners in many sports, and so I found that no matter what level you are (I have played netball for years but had never picked up a lacrosse stick before uni), you can fit in at a sports club here at Bath.
As well as sports, Bath has 'The Edge' which is a modern arts and creative centre, open for all who have a passion for drama, arts, music, or dance, and although I haven't personally been involved in anything there, as I am definitely more of a sports person than a creative person, it is another great way to meet like-minded people, who you share many interests with, regardless of your parent's financial background.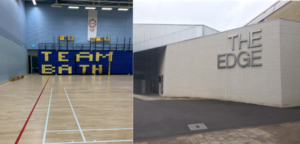 Education is the best leveller, so my advice would be if you, and your predicted grades, are good enough to apply, don't let other people's opinions and/or preconceived perceptions, especially regarding financial situations, stop you from applying to the university you want to go to. Personally, I got the required A-level grades and wanted to go to a highly ranked university, like Bath, and so I did not let my financial background stop me from applying. I can say with certainty that this was one of the best decisions I've made, as I really do feel like I 'Belong at Bath'.