Hi everyone,
So in my last blog post I outlined our VIP project on sustainable transport. We have made lots of progress since then, which I will summarise in this post.
To remind you, our project is a report for Bath and North East Somerset Council on their plans to implement Voi, an electric scooter company, in Bath. You may have noticed a few Voi e-scooters around if you have ventured into Bath for a lockdown walk.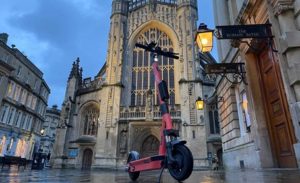 VIP Student presentation evening:
At the start of the semester, all VIP project members were invited to a virtual Student Presentation evening, where group leaders from all VIP projects presented their work so far. It was lovely to see how much progress has been made in each of the projects, and how everyone has overcome challenges this academic year has presented to do some great work for the community.
In our sustainable transport presentation, we outlined our progress, and visions for the future of our project. One key achievement we have accomplished so far was to create our own questionnaire, to hand out both to university students and the wider community. Questionnaire responses will give us valuable insight into people's transportation habits and 'cognitive maps' of the area they live in. We have also created a formula to work out how successful different e-scooter initiatives are. The formula includes variables such as ridership and modal shift, large values of which indicate high success.
My contribution to our project:
The formula brings me on to discuss what I have been working on in the project. I am part of a subteam responsible for researching examples of e-scooter companies in different European cities. I collect data on how many riders companies have, and the method of transportation that riders have switched to using e-scooters from. For example, if a company reports high ridership and a high modal shift, but riders have switched to using e-scooters where they would have previously walked, this would not be as beneficial for the environment as if they previously would have driven. The numbers I research are then put into the formula, and the overall success of that company in that city is calculated.
I also find other information for each case study. For example, for my work on Dott in Brussels, I found information on Brussels Mobility's Ten-Year Plan to improve pollution levels in the city. Therefore, I can discuss how e-scooters can fit in with this plan. With this research, we dedicate a section of the report to writing in detail about each case study, as well as including results from the formula.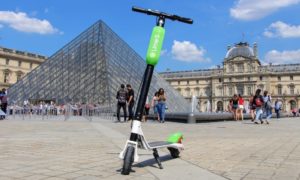 As you can see, last semester we made great progress on our report. We plan to continue our research to find more case studies, like Lime in Paris and Dott in Brussels. After this research, we can put all our findings together and produce the report, which we are confident we can do this semester.
I hope you have found this blog to provide useful and interesting updates on our project.
Takedown Statement:
If individuals feel their photographs have been used in this blog without permission, it will be removed upon receipt of notice.