How did the OYW Bath Committee overcome the pandemic and reinvent the annual caucus?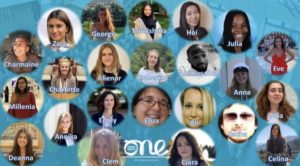 This year, as for many aspects of our student life, One Young World Bath has had to face obvious challenges encouraging each one of us to reinvent and adapt to what has become the "new normal". We are very thankful to the student organizing committee who has done an incredible job putting this event together. Despite the challenges set by COVID, everyone has truly engaged with their roles and has shown great enthusiasm and energy.

YES! The pandemic has NOT prevented us from standing up and sharing to our community what issues and challenges we seek to impact at One Young World.

One Young World Bath is extremely proud to host its annual conference this Sunday 07 March 2021!

WE DID IT…
• Forming the Committee…
In early October, we received many outstanding applications from very talented members of our student body. Ciara and I, along with the university managers selected a few students to form the committee. From both a delegate and student perspective, choosing who to work with is quite challenging as well as empowering. Together, we have managed to create a proactive, reliable and motivated team. All committee members were allocated a specific role based on what had been done in previous years. Obviously, in light of current events, we've had to reshape certain tasks and adapt them to this new way of working. Overall, everyone has smoothly fulfilled their part and proved a great sense of adaptability.
I am amazed of how resilient everyone has been; especially when we had our first weekly meetings, and we were unable to foresee how to set up our objectives. I think everyone was so determined to present and offer what One Young World is about that the obvious barriers didn't matter anymore. For each one of us, there never was a single doubt or question on whether or not OYW Bath would go on this year!

• The Autumn Online Series of Events…
This year the Committee innovated!! Based on what's going on in the world and our personal interests, the committee threw an online series of events tackling some core social issues. From mental health in times of COVID to sustainability as well as widening participation and disability access in higher education, we tried to tackle the areas on which we seek to have a meaningful impact. This series of events was a very accurate way to get students involved with the organization and to bring something new to the table throughout the pandemic!
This online series of events allowed the committee members to more specifically engage with One Young World, and to widen their committee roles. Everyone discovered the joys and scares of Zoom events such as how to get people's interests and attention without boring them nor overstimulating their participation…. These four sessions were similar to workshops; which allowed very interesting discussions around such key challenges. I was very happy to receive positive feedbacks and hear that attendees were impacted and inspired by the speakers they had listened to.

• Putting Together the Online Caucus…
Whilst initially planning to host the caucus on campus, the evolution of the pandemic and the implementation of a third lockdown in the UK had us review our plans. Therefore, after facing the disappointing reality of COVID, we decided not to reschedule the conference but rather moved it entirely online.
SO, here we are, only a few days to go before D-Day!
Daunting and intense are the two adjectives I would use to describe the past couple months! Throwing an online caucus contains a wide range of small tricks and challenges that need sorting out. And, the division of the committee into subcommittees has proved to be very efficient in tackling all the different aspects regarding the preparation of the conference.
On the one side, some preparing aspects didn't vary too much from a normal event such as marketing an event through social media or getting speakers accept to voice at the event. However, on the other hand, the whole logistics and attendee aspects of the events completely differ. Sorting out how to fully manage all the Zoom technicalities or how to throw interactive workshops came along certain challenges. But, overall, the committee has been very proactive and eager to offer a great event to the attendees. Everyone collectively played the game and put incredible work efforts into this project! Together, we are doing as an enthusiastic and determined team. So thank you everyone for making it happen under such circumstances!

Thank you @oywbath for your time and energy in helping putting all this together!

Now, the road ahead remains full of surprises for us delegates! We may not know how and when yet, but the next summit chapter still needs to be written! So, we are extremely excited to tell our next story!