"The University of Bath has a long history with the One Young World movement, the longest of any university in the UK.  Our values and objectives overlap strongly particularly in supporting the development of young global citizens to unleash positive change throughout society." Professor Rajani Naidoo, the Head of the University's Race Equality Taskforce, welcomed us in to the 2021 One Young World Bath Caucus. In contrast to previous years, the annual conference, organised by the Bath OYW delegates Ciara Sherlock and Clemence Levoir with the help of the student organising committee and members of staff, was hosted online this year. This didn't stop the event being as thought-provoking, inspiring and engaging as the previous year with an amazing set of speakers and panellists.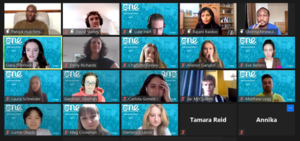 The conference opened with a speech by Patrick Hutchinson, founder of United to Change and Inspire, about unity and the power to change. He gave his inspirational account of saving a counter protester at a Black Lives Matter movement protest and talked about the need for collective action to overcome racism in society. His quote "Innately we are flawed as humans, but we cannot let our biases get the better of us." set the precedent for challenging our bias and perceptions throughout the conference.
The conference was split into three sessions based on our three themes in line with the Sustainable Development Goals (SDGs) and attracted around one hundred attendees. The first session was based on SDG 10 Reduced Inequalities where Luke Hart, an activist against domestic abuse, gave a passionate and emotive speech drawing on his own experiences. He focused on the need to talk more openly about domestic abuse in order overcome and raise awareness of it as well as the need to remodel masculinity in society. This was followed by a compelling panel looking at education, racial inequality and disabilities.
This was followed by SDG 3 Good Health and Wellbeing where we jumped straight into a panel discussing the importance of keeping your physical and mental wellbeing good during Covid 19. This highlighted the range of wellbeing support available at university and the importance of recognising when something is wrong and asking for help.
The last session was on SDG 13 Climate Action where Siobhan Gardiner, climate change and environment lead at Deloitte Ventures, talked about the power young people have to shape the future economy to one of a green, social and circular one. This was followed by another compelling panel who brought climate action into the university context and had a discussion about what we can do address the climate emergency.
The lunchtime workshops gave attendees a chance to delve into the theme that interested them the most. The reduced inequalities workshop, led by TedX Bath University, discussed how socioeconomic, racial and gender equality has been impacted by the pandemic and gave attendees a chance to give their thoughts on equality and how it impacted them. The climate action workshop, led by Bath University Model United Nations (MUN), looked at the environmental impact of cities, the current solutions put in place to tackle it and how to create cities of the future. The good health and wellbeing workshop was led by Sophie Jade (an NHS Psychological Well-being Practitioner) and Lila Maleviti (Head of Student Minds at Bath) who reflected on practical steps for enacting positive change and ways that you can manage your well-being and support others during challenging times, including the practice of being mindful. The collaborative workshops allowed attendees to reflect on the themes.
Carlota Gomez Tapia, a Bath alumna now Programme Manager at One Young World, delivered the final remarks to bring together what had been an inspiring day.
Lumie Okado proceeded to give a thought provoking spoken word poem reflecting on back on 2020 as a time to heal. With the opportunity to network after, the closing remarks drew together the end of an engaging day of empowering discussion and hearing from people leading in their fields.
The overall impression from the day can be surmised in a quote that Luke Hart gave in his speech; "No matter how much suffering life brings it is always possible to respond to your circumstances with strength, courage and ultimately love". As we all move forward in a very uncertain year with covid, climate change and inequalities in society, the conference showed that under whatever circumstances, we are all capable of changing the world in our own way.
Thank you to all the attendees, speakers, panellists, the student organising committee and everybody who helped make the day so special.
Thanks to Katherine Allsopp, OYW Bath marketing committee member for writing this blog.