As a second-year student, I have experienced Education with Psychology face to face and through the Bath Blend, which has consisted of online lectures and some in-person teaching. In regard to the degree itself, I have had a differing experience in the second year from the first year, however, neither year has been less rewarding.
Education with Psychology at Bath is a 3-year full-time course or 4 years with a placement year, which takes place between second year and third year. With every department running contact hours differently, what does a typical day in the life of an Education with Psychology student look like?
Education with Psychology Timetable
In terms of a typical week, each module has two hours of lectures which are seminar-like in their approach. Having 5 modules across the Department of Education and the Psychology Department each semester, these 10 hours per week will be made up of provision of content and discussion of materials, which is then supported by 'reading around the subject' in preparation for assignments such as groups projects, essays and presentations or just furthering your academic interests. Although our modules are held by the Education and Psychology Departments, our course strives to take an interdisciplinary approach to its teaching, exploring the dynamic nature of education through the schools of:
anthropology
philosophy
education
sociology
psychology
A Day in the Life
Just like in the first year, I start my day by socialising with the other 'morning people' but now in my house rather than in my flat in Quads like last year. I'll then attend my lectures for the day, which last year I walked to with some of my course-mates. This year I hastily Snapchat to make sure it's not just me sitting in the waiting room before the lecture starts. Something I'm grateful for is our cohort, the people we share our lecture time with. With some departments having towards 200 students, Education with Psychology sits as a relatively small cohort with 45 students in my year. This means lectures can be formatted as seminars, for everyone's voice to be heard, and it makes getting to know everyone on your course a lot easier, especially during coronavirus restrictions.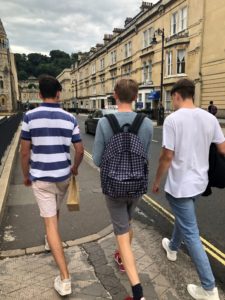 The Community of Education with Psychology
The community feel of Education with Psychology is heightened if you get a role at university. In the first year, I became a Student Ambassador, meaning I, alongside others, helped out at university open days, offer-holder days and departmental virtual Q & A sessions. Now in the second year, I am part of the department's peer mentor team. We act as a 'guide on the side' for first-year Education with Psychology students if they ever need support. There are other opportunities to get involved with our department too, such as being 1 of the 2 Academic Representatives for your year group.
After my lectures, if I'm feeling particularly inspired, I'll head straight to the Online Library or the Virgil Building in town for academic readings. But if I decide to have a break from university work, food or a walk is on the menu. In the first year, this took the form of Lime Tree's pizzas and a walk around the lake, and this year might be a takeaway sandwich from a café in town and a walk around Royal Victoria Park.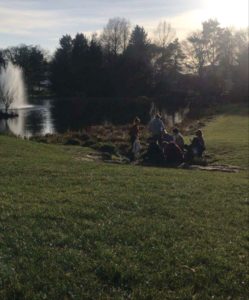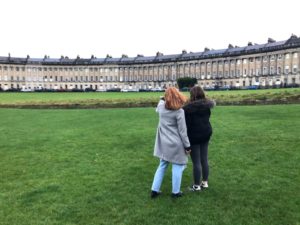 The Bath Blend
Another walk,  I undertook weekly before the lockdown, was from my house in town up to the University for my in-person teaching (IPT). Even in single-digit temperatures, by the time you get to the top of Widcombe Hill you'll wish you never wore a coat. IPT is part of the 'Bath Blend', an approach to contact time the University has used since restrictions for teaching have been put in place.
For our department and my year group, this looks like a 4-hour session of teaching over 1 day. The 4 hours is split into three 70 minute sessions, with 15-minute breaks between them. So, each week we have 70 minutes of contact time for 3 modules (the other 2 are completely online as they are open to other courses as well). After a survey in week 4, our department received the highest student satisfaction rates of any department with 73%.
The staff supporting Education with Psychology have gone, to be cliché, above and beyond in these current circumstances to make disruptions to learning as minimal as possible. Choosing Education with Psychology at Bath is not only rewarding academically but rewarding socially and emotionally. Every day in my life of Education with Psychology has been another day I've fallen in love with my degree.