I remember around this time last year, I had received my university offers and was starting to think about which university I wanted to firm. If you're in a similar situation, then I hope this blog will help you!
I watched a lot (and I mean a lot!) of YouTube videos about university life. But given that we are all living through new, unpredictable times, my experience has been a little different to what I imagined. So I'm writing all about what my first year of studying Economics and Politics at Bath has been like so far - hopefully to provide you with some idea of what university, during these times, is like.
Why I firmed Bath
There were many reasons I decided to firm Bath for this course. First, at the time according to the Complete University Guide, Bath ranked in the top ten for both Economics and Politics! Also, the majority of students go on placement, so Bath is one of the top-ranked universities for graduate prospects, with a very high employment rate for graduates. Knowing that Bath was a top university for my course was very appealing. I didn't initially apply for a course with placement, however, upon looking into it I decided that was a big opportunity that I would love to take. In fact, during Freshers' Week, I switched my course to one with a placement!
Another thing that drew me to firm Bath was the structure of my course. I had a look at the programme catalogue for my course and read through all the compulsory and optional modules that were offered at the time (this catalogue can change as the course evolves) I found that I particularly enjoyed the structure of the course here and the compulsory units we would be covering. I also looked forward to the flexibility I would have to tailor my degree in later years by choosing optional modules.
Lastly, in the summer before I applied to universities, I visited Bath for a day. My dad and I went around the city and explored all the shops and restaurants. It wasn't an open day, but we still took a bus to campus and had a walk around there too. I loved everything about the city and the campus, and I could really picture myself spending the next few years living here.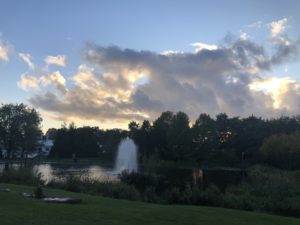 First semester
The Economics and Politics course is under the Economics department (as opposed to Politics with Economics, which is under the POLIS department). This means that the degree is slightly more Economics-based in the first year, where the majority of the modules are compulsory. For the first semester, I took four compulsory modules – three were from the Economics department and one was from the POLIS department. These might be different when you join so see the course page for the latest information but in 2020 I have studied:
Introductory Microeconomics
As the name suggests, this module introduced us to core microeconomic concepts – most of which you would recognise if you studied Economics at school. However, the lectures (which were all live) still started from the basics and covered everything, so you don't need to worry if that's not the case. With each topic, we were assigned chapters to read, which went into more detail about what we learned. We also had seminar questions, which we then went through in a live session. Overall, I quite enjoyed this module.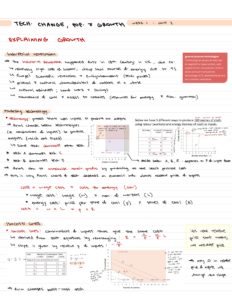 Mathematics 1
This module covers key mathematical concepts and how they're applicable to economic problems. We covered things like differentiation, matrices, and constrained optimisation. As I'm not the biggest fan of maths, I thought I wouldn't enjoy this module. However, I actually found it interesting and enjoyed understanding the real-world applications of the concepts. The lectures were all live, and for each one, we got a set of worked examples and were given problem sets, which allowed me to practice and develop my understanding of the topics.
Introduction to Probability and Statistics
This module covered the core foundations to understand methods of data analysis, and probability and statistical inference. I found this module a little challenging, however, we were given problem sets and then had a chance to go through some questions in a live session – which I found helped me a lot. Similarly to the Mathematics 1 modules, I see how the concepts we learned apply to real life, and how they would help us in our careers.
Introduction to Politics – Theory and Analysis
I found this module very interesting. This module was taught by multiple lecturers and all the lectures were pre-recorded. We covered topics including key political concepts – like power, class, and race – as well as different ideologies – like neoliberalism, conservatism, and anarchism. I admit we had a lot of readings to do each week, but I found that they helped me grasp the concepts better. We also had a live Q&A session each week to ask lecturers about the content. For one of our assessments, we had a broad essay topic, which I particularly enjoyed, as it allowed me to explore my favourite parts of the module.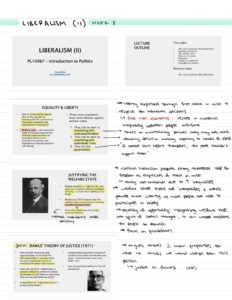 For the first semester, we had 'In-Person Teaching' (IPT) sessions. The schedule was on rotation so each week we had a four-hour IPT for a different module. This allowed us to interact with our course mates and discuss concepts from the lectures.
Second semester
For the second semester, I'm taking four modules, one of them being an optional module. Once again these might be different when you join so refer to the course page for the most up-to-date information but in 2020 I've studied:
Introduction to International Relations
This module is from the POLIS department and covers a wide range of topics. We learn all about main theories and concepts, as well as key issues like colonialism, globalisation, and the state and war. The lectures are all live, and we are each assigned a seminar group, where we have a live seminar session every other week to discuss the content with our peers. This module is worth 12 credits so it has a lot of content and readings to do, but I find that it's interesting so I don't mind it.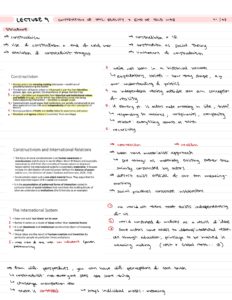 Introductory Macroeconomics
This module covers core macroeconomic concepts which are similar to what I studied in school, but as with the 'Introductory Microeconomic' module from the first semester, the lectures cover the basics. The lectures for this module are all live, and we also have a live Q&A session every week. Our IPTs for this semester have been online, and for this module, we use them to go over seminar questions.
Statistics and Data Analysis
For this module, all the lectures are live, and the content is based on collecting, analysing, and presenting data. I find this module really interactive, as we have a lot of Excel classes and exercises. This is especially helpful for me, as I enjoy learning by doing. I can see how this module applies to real life and the things I'm learning will be helpful when I go on placement.
Optional – Development Economics: Microeconomic Perspective
This is an optional module from the Social & Policy Sciences department. I chose this module as it covers my favourite aspects of Economics. The topics are all about resource allocation, inequality, poverty, and more. For each topic, we are given readings to do and a set of videos to watch beforehand, which I find really interesting. We also frequently have live discussion sessions where we comment on the readings, videos and lectures, and answer exercise questions. We're only at the beginning of the semester, so I'm excited to learn about the other topics on the syllabus.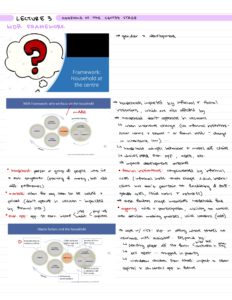 For the second semester, we had five placement information sessions, where we learn all about the placement application process, and writing CVs and cover letters. Our IPTs were also different, as we now have two 2-hour IPTs each week, so we now have IPTs for two modules per week instead of one.
Final thoughts
I really am enjoying studying a joint honours course. I like how my modules have more variety and I learn about a lot of topics – which are still interconnected – as it helps me get a grasp of where my interests lie. I look forward to my second and final year, where I have more optional modules and can tailor my degree to suit those interests.
Don't forget to check the University website for the most up-to-date information on this course just in case anything changes in the future.