Ask anyone who did the International Baccalaureate (IB) and they will tell you that it was a gruelling process.
I had my doubts about the IB, like why I was forced to take Chemistry when I knew I wanted to do business. However, in retrospect, it was great preparation for what was ahead of me. I was able to manage my workload and organise my time as the IB is an intense programme that requires independent learning. The IB opens your mind to greater possibilities beyond the textbook and has developed my soft skills as well as technical knowledge.
Nonetheless, there are certain elements of life that the IB cannot prepare you for – such as the transition to another country.  As an international student, I was familiar with different cultures, but being away from home and in a new environment presented a new set of challenges.
Now looking back as a final year student here is some of what I've learnt along the way!
What you should pack
Along with clothes and toiletries and your usual essentials, here are some things that I found were particularly useful as an international student:
A socket adaptor: I brought some appliances, such as my mini speakers, that required a socket adaptor. It's also handy to have it with you when you travel!
Photos: I printed off a big deck of photos before I left and pinned them on my pinboard when I arrived at uni. It made my room feel a little more like home and it reminded me of some great memories with friends and family. It made a huge difference for me in the first year!
What surprised me about English customs
Sunday Roasts: Prior to coming to England, my perception of English food was poor. My parents were concerned with what I was going to eat! I was then introduced to roasts, and in my opinion, it may just about be the best thing about England! A Sunday Roast is my favourite way to round off the weekend.
Curry: I had no idea how popular curries were in England. It is a staple in the country and the options are endless so it feels like there is always room for more curry.
Tea: The tea culture is real. It was a shock to me that 3-4 cups of tea a day is considered standard. It took about 3.5 years, but I've officially been converted. Now I'm that person going through all the tea bags... Truly, nothing like a good cup of earl grey.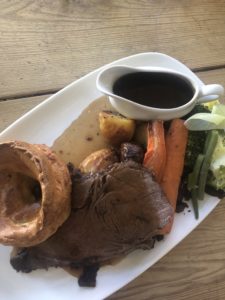 How I overcame homesickness
In the first year, homesickness hit me like a ton of bricks. I was desperate to go home and be surrounded by family. Sharing how I was feeling with my friends helped me process what I was going through. Chances are, you're not the only one missing home! I spoke to some of my friends who also moved from Shanghai, and we bonded over the different aspects we missed about the city. Sometimes I wrote down what I was going through, documenting the highs and lows of my day. It was another outlet for me to express my feelings.
When I went home for Christmas, I learnt how to make some of my favourite dishes so that I could recreate them once I got back to university. Cooking has been a great stress reliever for me as I tend not to dwell on work when I'm in the kitchen. Recently, our flat celebrated Chinese New Year and I was able to recreate some dishes I would usually have at home!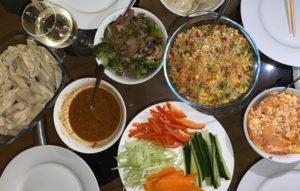 There are some great Chinese supermarkets lined up on St James Parade in town. Occasionally, I would pop in and pick up some condiments. Even just browsing the store brings back good memories of my childhood! When I just want some food that reminds me of home, I always opt for either Hondo Sushi or Chilli Family Noodles!
Final thought
My biggest tip would be to find something about each day or week that excites you. It may look like watching an episode of TV, having dinner with friends or having your favourite dessert. Whatever it may be, it shifts your perspective by ensuring you don't dwell too far ahead in the future. After all, the only moment you'll get to enjoy is the moment you're in right now!