It's always interesting to see people's reactions whenever my flatmates or I say that we live in Polden. Sometimes they roll their eyes, and other times it's a comment about our bank accounts. Polden seems to have a reputation for being the 'posh' block, but despite the stereotype, most of us are just like everyone else on campus!
For those of you that haven't heard of it, Polden is the newest accommodation block on campus and was completed in 2018. The rent is £215 a week but please check the website for the latest prices. There are four blocks A-D. A, B and D have four floors, but C has 6. It's located on, debatably, the quieter west side of campus but is still just a short walk to the library, cafes and the lake.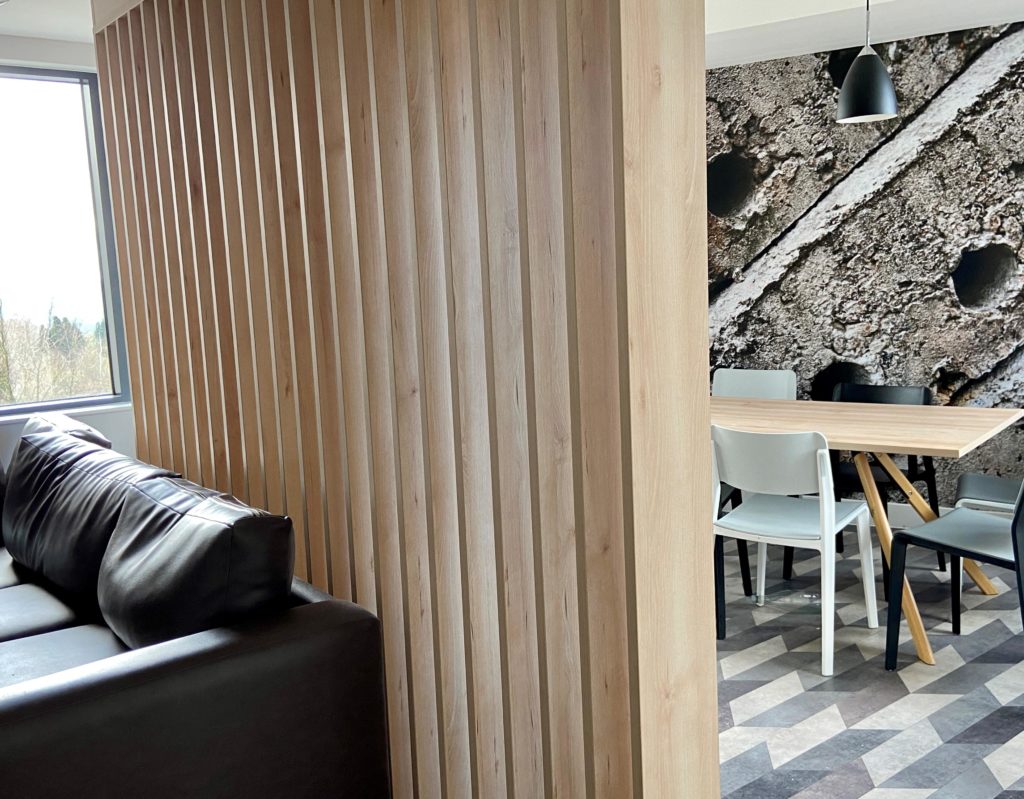 The rooms in Polden are all en-suite with keycard access. I'd say that the best aspect of a Polden room is the double bed; it's so comforting to jump into after a long day or night out. The desks face the windows, which provides bright natural light during the day and a beautiful view of the sunset in the evening, which is such a mood booster.
There's plenty of storage as well, including a wardrobe, chest of drawers, and even under the bed! Additionally, the bathroom is spacious for a student en-suite, and it comes with our own toilet, washbasin, cabinet and shower. The only downside to the shower is that it doesn't have a sliding door or curtain. It is only half covered by a wall of glass so water often tends to get on the bathroom floor if you're not careful.
Each kitchen is shared between a maximum of 8 people, and there are two kitchens on each floor. The view from the kitchen from my block, C, is of the surrounding hills around the city, and it's lovely to wake up to or to have golden light come in when the sun's low. We also have a balcony that has a view of campus, but unfortunately, access has been restricted to balconies this year.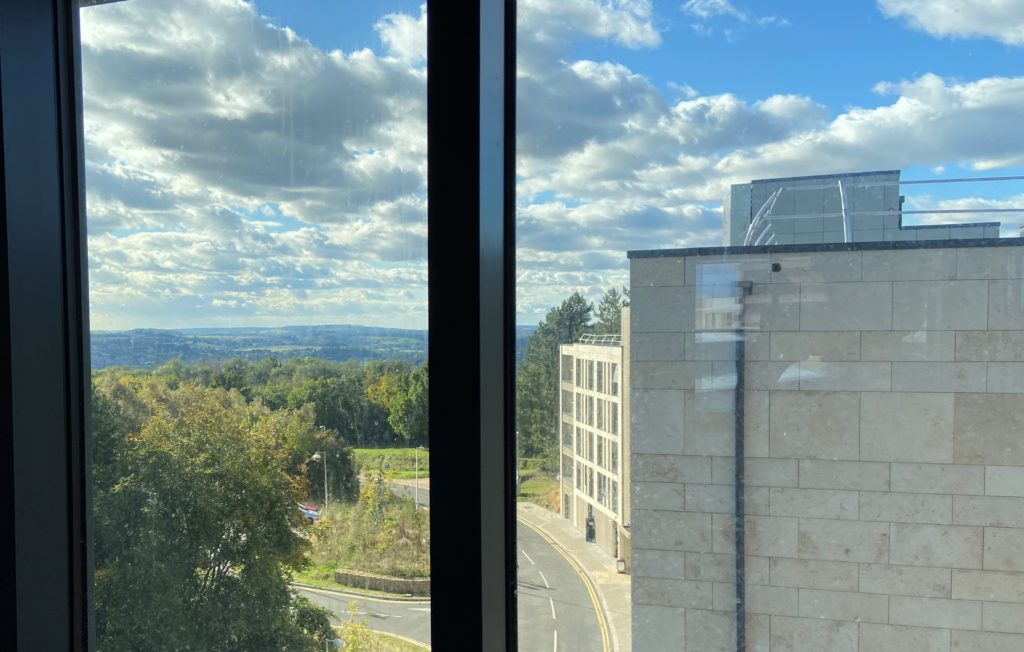 For only 8 students in a flat, the kitchens are well fitted and large. There are 3 fridges between the flat along with 2 sinks. We also only have to share 2 stovetops, ovens and microwaves which is a breeze considering everyone cooks meals at different times. My flat's personal favourite is the breakfast bar – we only sit at the dining table for 'family' meals or games. We love taking turns sitting at the breakfast bar watching our other flatmates cook dinner, then passing the stools over when some of us have finished eating.
At the other end of the kitchen is our dining table, which has a big TV on the wall (useful for watching Boris Johnson's evening announcements and then collectively groaning!) A small vacuum is also provided in the large cabinet for us to clean the floor when it gets a bit dirty. As a bonus, each floor has its own washing machine in the kitchen which definitely helps to save up the coins.
The most quintessential features of Polden have to be the lounges. Each floor has its own lounge (except for the first floors, they share with the second floor) and this is usually where most of the evening fun happens. With the big TVs on the wall and comfortable L-sofas, playing games on the Wii or even just watching a movie is a great experience. Luckily, Polden C also has a larger lounge, with the back of the lounge having a long table perfect for games.
As with the kitchen, the view from our lounge is phenomenal. Next to our lounge is the dryer room (only on every other floor), which comes equipped with two dryers and clothes racks. This saves the hassle of having to carry big hampers of clothes back from the launderette!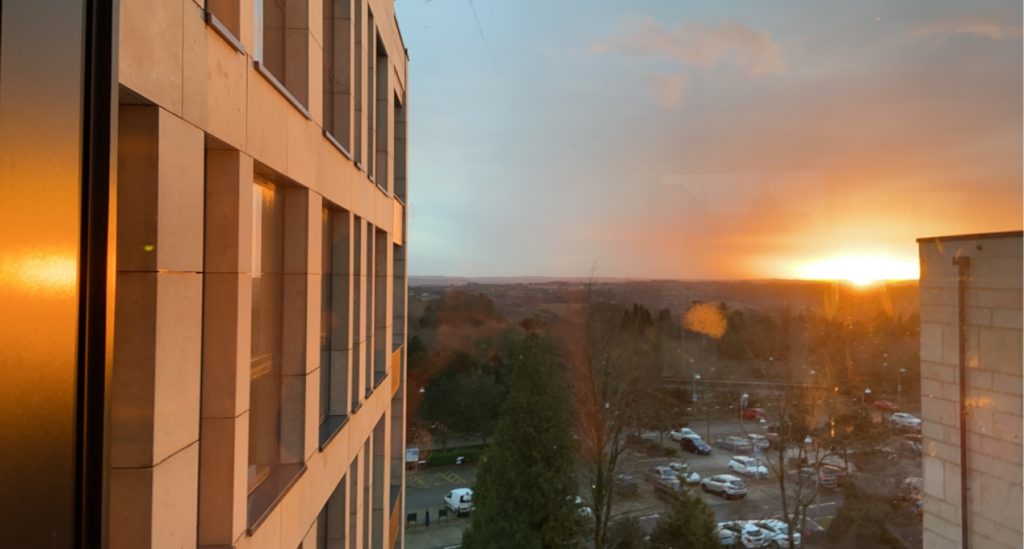 Finally, the Polden courtyard is accessible from the back entrances to each Polden block and is a great place to converse with friends. Hopefully, when restrictions are lifted, it'll be a much livelier area. We also share the courtyard with Polden Court and Westwood, with views of their blocks from our lounge.
While Polden has a plethora of advantages, there are some downsides as with any student accommodation. First and foremost, it's the most expensive student accommodation on camp because you're paying for the convenience of all the extra facilities but if you're not worried about having an en-suite or a larger room, it might be advisable to go for more budget-friendly options like Westwood or Marlborough/Solsbury.
Another point to consider is the style of Polden. I've heard many people (and I mean a lot) of people say Polden resembles a hotel. I personally like the hotel feel to it, but others may prefer a cosier, more familiar accommodation. Eastwood, for example, consists of shared detached houses without long corridors and noisy footsteps. At the end of the day, it's simply down to personal preference as to which halls will best suit you.
Lastly, there's the assumption that Polden residents are rich. However, I think this is a massive generalisation; there is a range of students here from different cultural and socio-economic backgrounds. Most of us are friendly and sociable and easy to get along with. There is always a mix, but maybe there has been a general trend over the years with the Polden demographic.
Overall, living in Polden has been a brilliant experience. I've met so many people with different stories to tell, and had great fun at our themed nights and even in casual chats in the lift. I'm glad I chose to live in Polden, as though it's more pricey it's certainly worth it. I'm definitely going to miss the bed the most when I move out in the summer.