You finally have your offer and now you're debating from which accommodation to choose.
I was unable to view all the accommodation options in person, so I could only use what I saw online. Bath has a range of videos and 360 tours on their website which was very beneficial in helping me to choose my accommodation especially as I couldn't see them in person.
So now I'm going to talk you through why I chose Westwood Quarry.
Westwood Quarry
Westwood Quarry has five floors and is laid out as a block of flats. There are around 20 of us on one floor, all studying different subjects. This is one of the main reasons why I choose Westwood for my accommodation as it is one of the most social accommodations. With 20 people living on one floor, there is always someone to talk to and be with.
The Kitchen
Westwood is self-catered accommodation, which is so much fun as everyone can help each other out and socialize while they cook. On one floor there are 3 kitchens. There are two larger kitchens at either end of the corridor, in which around 8 people share, and there is a smaller kitchen in the middle which fits around 3 or 4 people.
The kitchens are of a good size and are fully equipped. Unlike in other accommodations where they have a kitchen and a social gathering area, the kitchen is the only social area. However, we always have our parties in the kitchen and have a great time!
The Bedrooms
The bedrooms are a perfect size in my opinion. There are a good size desk and chair, with large storage space and shelves, as well as a lamp. There is also a large whiteboard to write all your work on which I have found very useful, and also a notice board. The rooms have a single bed and another notice board to pin up photos of friends and family.
Westwood is shared bathroom accommodation, so there is no en-suite but there are 4 toilets and 6 showers for everyone to share. However, more importantly, there is a washbasin and mirror in each of the bedrooms, which is so helpful. There are a decent-sized wardrobe and drawers to fit all of your clothes and next to the wardrobe is a full-length mirror too.
There is also a lovely view from the window which is nice to wake up to. We have two cleaners who come twice a week to clean the kitchen and bathrooms, which is super helpful.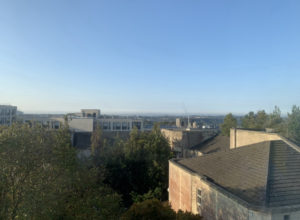 .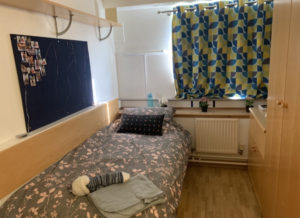 Location
Westwood is on the west side of campus, meaning it is a five-minute walk to the Parade, so it's close to the library, the Students' Union, and very close to our on-campus supermarket, Fresh. The launderette is also located a short walk from the flats, which is very handy. Being on the west side of campus means that it is only a five-minute walk to Sham Castle, which is a great walk if you need a break from studying to see the amazing views of Bath.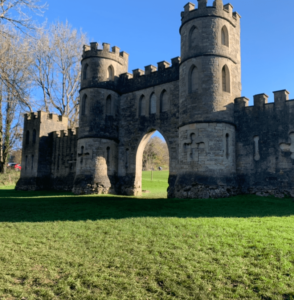 Final Thoughts
I have loved my time in Westwood so far, and would definitely recommend it.