Completing a Remote Placement... Whilst Living in Bath... in a National Lockdown...

Hi! I'm Charlotte and I am currently completing my (remote) placement year whilst living in Bath. I am fully aware that my placement year "set up" is not the norm and although some may question my choice to live in Bath during my placement year, I would have to say that it's been the best decision! In my eyes, I have "gained a year of student life" which I would not have had otherwise. Another huge perk of living here the extra year (and during a national lockdown!!) is that I have explored this city inside out and have discovered so many new beautiful spots that I did not know existed during my first two years at university. I have spent time with new people and have gained time with those that would have graduated by the time I returned from placement. I must also admit that I haven't hated working from home as with my 'two placement situation' (click here to read my previous blog if you want the story behind that) I can, to some extent, manage my time as I wish. Keep reading to see what a typical placement day in my life looks like... whilst living in Bath... in a national lockdown.
6am - 9am
Unlike many students, I am a morning person as I love the feeling of being up before the rest of the world. I aim to wake up at approximately 6am on weekdays and, quite often, will head out on a morning walk; either alone or with a friend. If I'm alone, I'll normally play a Podcast or listen to a new playlist and simply get lost in my own thoughts as I walk. I nearly always get a morning coffee whilst I'm out and I have loved supporting small businesses during this time. I highly recommend Mús Coffee House in Widcombe - it's a great independent coffee shop. In my opinion, walking is a great way to start the day especially since, at the moment, most of us are sat at desks and staring at screens for hours and hours everyday. I aim to get back to the house for 8:30am so that I can enjoy my breakfast before starting work.
9am - 2pm
At 9am, it's time to login online and start my work with Nutrition Integrated. My mornings are spent on calls and working on the various tasks set for that week. We have a 'status' call each morning at 9am where roles for the day are delegated, we provide feedback on tasks from previous days and generally catch up with one another. Although I've worked remotely for nearly the entirety of my placement, everyone at the Nutrition Integrated team has made me feel so welcome and I truly feel like I am a part of the team. As I enjoy the work, these 5 hours tend to go by rather quickly and by the time I look at my clock, it's nearly 2pm and time to stop for lunch! (I also I treated myself to a Nespresso machine at the start of my placement year therefore I continue to get my caffeine fix as I work in the mornings!!)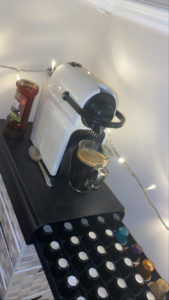 2pm - 2:30pm
By this point, I have been sat at my desk for 5 hours and am developing some serious cabin fever. I try and get out of the house, even if it's to walk a quick lap of the block or to pop to the shops. As the weather has improved recently, I have been loving having my lunch outside. However, I try to keep my lunch breaks short otherwise I struggle to find the motivation to start work again...
2:30pm - 5:30pm
At around 2:30pm, I sit back down at my desk to start my work for the University of Birmingham. My contract states that I must complete 15 hours of work per week but this time is entirely flexible so I can manage my hours as I please. I try to do 3 hours per day Monday - Friday, but where possible I try and complete more hours on a Monday and Tuesday so that I can take Friday afternoons off! Besides the odd call every now and again, I don't necessarily have any face-to-face time with this placement and so I put on some music and start chipping away at my tasks for the week. This role entails a lot of data cleaning and data management and as a result, I can complete tasks quite quickly. Therefore, my line manager has recently allowed me to enrol into some additional courses to better my CV and my skillset.
This week, I completed a course in the data analysis software 'NVivo' and will soon be applying my newly gained knowledge when analysing interview files from patients across the UK who are involved in the By-Band-Sleeve bariatric surgery trial. Moreover, in the coming weeks I will be starting a systematic review course at UCL to better my scientific writing. I will use this knowledge in the near future to assist my line manager in writing a systematic review on bariatric surgery trials and their effect on diet and eating behaviours. I feel very fortunate to have been given this opportunity of improving my own academic skills whilst on my placement year. Click here to read about the By-Band-Sleeve trial in a bit more detail! 
5:30pm - 6:30pm
Time to exercise! As someone who enjoys being out and about, the 8 hours of desk and screen time can get quite frustrating. When I finally close my laptop for the day, it feels as though I need to get outside. Over the last 5 months, I have returned to running following a persistent injury which took me out of the sport for nearly 18 months. I have loved having the additional focus of running throughout my placement year; setting myself regular goals and trying to beat them week on week. I am really happy with how it's going and aim to break my half marathon record before my placement year ends!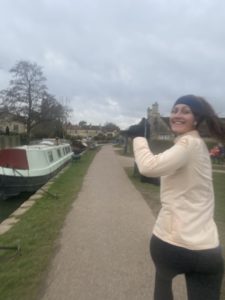 Some nights I run with a friend and on evenings where I don't fancy running, I will head out on a socially distanced walk with a friend as I believe social contact to be VERY important on these 'corona days' especially as I live alone!! Let me explain that in a little more detail...
6:30pm - 10:30pm
Since December, I have had no housemates in the house share that I live in. Therefore, I am actually living alone in a 6 bedroom house and as lonely as that might sound... it's actually been a dream as it has allowed me to 'bubble' with my friends' household. Therefore, I've had the best of both worlds in that during the day time, I get a peaceful home to work in but in the evenings, I can go to their house to socialise! I try to ensure that I have completed all my work by the evening so that I can fully relax and enjoy this time. I will sometimes go round to their house for dinner or on weekends, we will have drinks and games nights which has been a lot of fun! As we've not been able to do any normal student activities, we've had to get creative and recently had a 'mixology' night trying out different cocktail recipes.
On nights where I stay in, I like to cook for myself (often whilst calling a friend or my family) and then I switch off by reading or watching Netflix (I recently re-watched 'How I Met Your Mother' and had forgotten just how much I love it!). By 10:30pm, I'm normally ready for bed... before waking up again and rinsing and repeating! Although the days can get a little bit monotonous, I really can't complain too much as there is definitely lots to do and I feel extremely fortunate to have had the opportunity to both work and socialise (to some extent) throughout this pandemic.
I hope this has given you a good insight into what a remote placement day might look like. Stay tuned for more placement updates from me soon! Until then, stay safe and keep smiling - better days are coming 🙂
Best wishes, 
Charlotte x