Before I came to university, I had no idea how quickly purchases like washing detergent and cling film add up. I quickly realised I wanted to work part-time, supplementary to my studies. However, as an international student, I wasn't sure what opportunities were available as I hold a Tier 4 visa. Given students are only allowed to work up to 20 hours during term time, I was afraid employers would prioritise non-international students. Especially during COVID-19, there is even greater uncertainty around job opportunities.
Opportunities at the university
However, throughout my final year, I have been very fortunate to be working for the university as an International Student Ambassador (ISA). The university offers a variety of roles, which provides students with a lot of choices.
International Student Ambassador
As an ISA, I have had the opportunity to chat with prospective students about my experience at Bath. Through my participation in webinars and virtual fairs, I have developed my communication skills and greater confidence. I have been able to develop public speaking skills, which are invaluable for both my education and my career. Above all, it is a rewarding feeling knowing that my own experiences at the University can be of help to other students. Working as an ISA offers great flexibility, as I get to choose what I want to get involved with. I base my commitment around my academic workload and deadlines and staff members have always been accommodating to my needs. Moreover, during COVID-19, I have been able to work remotely to reduce health and safety risks.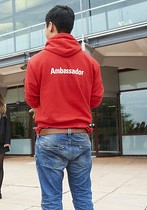 Blogging
As part of my job, I get to write these blogs! These blogs are great as they amplify student voices and represent voices from various backgrounds. I think it's safe to say there's something for everyone, as there is such a wide range of topics covered. A major reason why I have enjoyed writing these blogs is because I always think that sharing my highs and lows could help someone else dealing with something similar. For instance, when I arrived at the University as an international student, it was a daunting transition, to say the least. Now, reading about other students' experiences has provided me with comfort knowing that I wasn't alone.
Unibuddy
I have also been a Student Ambassador for the School of Management since my first year. In my first year, I helped out with Open Days. I conducted campus and accommodation tours and spoke to prospective students and their parents. Now in my final year, I have been a part of the Ask A Student campaign, where offer holders can message existing students through the Unibuddy platform. It has been a great experience to chat with prospective students and to be able to answer their questions.
Other jobs on campus
In non-COVID-19 times, many of my friends also work at the Fresh supermarket on campus or at The Plug & The Tub at the Students' Union. Staff members are considerate of the demands of our degree, and therefore offer great flexibility
Opportunities in the city
Some of my international friends have been able to secure opportunities working in town. One of my friends works at a café in the city as many cafés are still open for takeout coffee. Arguably with COVID-19, there have been fewer opportunities. However, it is reassuring to see restrictions ease, and hopefully, the re-opening of restaurants and retail stores will bring about plenty more job opportunities.
Working part-time has been an enriching experience and it is also a nice break from uni work. I have also met some fantastic people through working as an ambassador, which has been a huge bonus! If you've been put off applying for jobs due to the pandemic, I would say definitely keep your eyes peeled for job opportunities if you join the University!