Studying behind a laptop screen on a desk and a chair – sometimes even in a bed under the comfort of a duvet has been a highlight of 2020, and by the looks of it 2021 too. All due to the grave impact of Covid-19!
It took me a while to adjust to this new lifestyle of online classes, especially when one thing I was most looking forward to when joining the University, was the daily interaction and the hustle that goes on in the lecture hall. It's important to accept the fact that we're not having a normal experience at a university. It is sad and disappointing, but we also have to make the most of it in order to survive.
My experience as a first-year Accounting and Finance student
To be transparent, it is not as satisfying as sitting in a lecture hall filled with people talking and learning with the pleasure of face-to-face teaching. One thing we all took for granted was the joy of being in close proximity with people and socialising! It took me a few months to come to terms with having to live without regular social interactions with friends and family. But eventually, it started to feel normal as my mind became more and more occupied with studies and extracurricular activities. It's true what they say - busy is a blessing!
Coming back to online learning, it felt like watching a YouTube video that is informative. It was very easy to lose focus and motivation during the lecture. I remember my first week of attending online lectures, I fell asleep due to the lack of sleep the previous day and lack of understanding about what's going on. Over time I realised this is not how I can survive a whole year of university that heavily relies on online lectures. I need to be proactive about it. Fortunately, the university itself made the experience a little easier. It made resources and help readily available with just an email away. Lecturers and staff are extra supportive towards the students.
Here are some of the strategies that I used to cope up with the demotivation:
 One of the best ways that I coped up with the demotivation of online lectures is by making an easy-to-read timetable. Planning ahead my lectures and relevant seminars on top of the timetable provided by the University is the key. This helps me visualise the topics to do in subsequent lectures better and gets me excited about them. It prevents me from aimlessly scrolling through my timetable and Moodle trying to find the relevant link to the lecture. I like to prepare my mind for what I will be learning in the lecture to keep me going. This strategy helped me stay focused.
 Furthermore, it is important to get out of bed and get moving. One of the biggest demotivators is getting straight out of bed and attending lectures when the brain is still in sleep mode. It really helps me to start the day with the right and healthy mindset. It is important to allow yourself some time to change clothes, eat breakfast and drink some caffeine before jumping straight into the lecture. Ideally have a quick workout for the day in the morning and out of the way although it's not always possible. Perhaps just a 15-minute walk to get sun exposure really sets the mood right. It helps me be more productive throughout the day.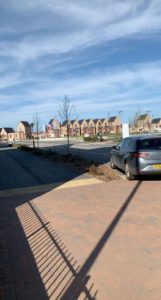 Food was one of the biggest entertainments throughout the lockdown. It was one thing I looked forward to the most each day. Inevitably, I did develop a habit of binge eating even when I was not hungry. Comfort food like burger meals, pizza, biryani all really excited me. After all, I am a foodie! But it wasn't long after I started noticing weight gain and changes in my mood. I started to become irritable very easily. The main reason being this feeding myself with innutritious foods did no good to me other than satisfying me for the next hour. With time I learnt that there is no point in depriving myself of foods that I love but I should start incorporating healthier foods alongside such treats. It seems like a small change but makes a huge difference!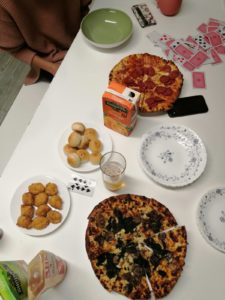 Allowing yourself some time out
At my age binge-watching on Netflix is very common. Certainly, I'm guilty of it too! With so much extra time at home, it is very easy to get carried away with watching 'just one more' episode. I have done that multiple times, but I have also felt bad about it afterwards. It is important to keep reminding yourself that we are living in strange times and so slips here and there are completely okay. In fact, I find it mentally healthy to allow myself some entertainment time to boost my motivation to work harder the next time.
These are a few of the things that helped me keep on track during the lockdown which I wanted to pass on. Because of some simple lifestyle changes, with time, I started to become used to this new lifestyle. Waking up only to sit on the other side of the room didn't feel as suffocating. Slowly and surely a routine starts to build up; the mind starts to adapt to such settings, and it gets preoccupied with the more important things of the day like deadlines, assignments, virtual events etc. And you almost forget the gloomy things going on in the world. I hope it will be the same and even better for you!
What are online lectures like?
On a separate note, the University has adapted to this pandemic incredibly well and is still being able to deliver knowledge to students. We are never behind with our course - everything was kept up to date as it would under normal circumstances. During our first few lectures online, many students had concerns about whether they would be able to finish the course like they normally would. We were assured by the staff that the delivery of lectures and content will remain the same except it will all be translated into the virtual form of teaching. This was reassuring and stress relieving to know that this pandemic would not influence our peak years of career building.
Every module for the course is displayed comprehensively on Moodle with the lecturer's notes, slides and announcements. It doesn't take much effort to navigate through the workings of Moodle. It is efficient and easy to get used to. For extra help, tutorials on how to use Moodle are easily available to you. Furthermore, there is plenty of tech support easily accessible in case of any difficulties.
With all that being said and with hindsight, online learning isn't that bad. Sure, it's unconventional but it is a great learning experience for students. It allows you to discover more productive ways to study to fully comprehend the topic that you might not have thought of before. To say the least, it definitely makes you a pro at using and getting comfortable with the tech side of things!