The coronavirus pandemic has resulted in unprecedented changes to the fundamental aspects of working life. Over the past year, a large portion of the global labour market have swapped the office desk for the dining room table, the tube for the staircase and the regular morning coffee for the… well, cheaper (though less exciting), regular morning coffee. While the pandemic won't be around forever, it is likely to leave a lasting impact on how, where and when workers carry out their jobs. And it is that last point which brings me onto the topic of this blog: working hours.
The hours you work as a placement student will of course vary significantly depending on the job you're in. Attitudes to work and expectations of what defines a 'working day' differ between companies, industries, cultures – even under different managers. Therefore to get the most accurate representation possible, I took the time to speak to a handful of peers scattered across various  economics-based industries before writing this piece. Here's what I found.
My working week
As a research assistant at a macroeconomic research house, I work 8:30am-5:30pm, five days a week. I'll sometimes be expected to begin work slightly earlier or finish slightly later if there is data being released (for instance UK economic data is usually released by the Office of National Statistics at 7am, therefore an economist will have a written piece prepared and ready for me to send out to clients by about 8am), and I will sometimes voluntarily choose to work beyond my hours if there is something I want to get finished, but on the whole my days are usually quite consistent.
There are, however, a couple of factors that must be considered when discussing my own working hours. The first is that my company have offices in London (see photo), Singapore, New York and Toronto, therefore any data being released at highly unsociable hours can be covered by employees elsewhere in the world.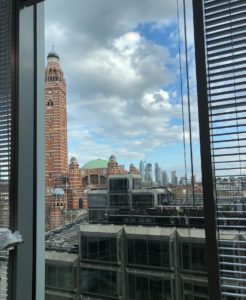 For other research houses which are not as widespread, this may not be the case. Secondly, it is important to note that I have worked from home since joining the company last summer (bar a handful of days here and there), therefore travel to/from the office is not something I account for when discussing my hours. For the next cohort of placement students, this may not be the case.
Flexible working
For a friend of mine who works as a pricing analyst at a utilities company, the reality is similar: a standard 9 to 5, which may overrun on occasion. The only real difference between our two jobs is that their work is generally more independent, therefore allowing greater freedom in deciding hours: if they have to pop away for an hour to do something, they'll tack an extra hour onto the end of the working day to make up for it.
Two friends who work in the public sector say similar, though both mentioned an expectation bestowed upon them by their respective employers to 'keep an eye on' any developing headlines which could potentially impact their work, outside of working hours. To some this may make it seem that civil servants are unable to ever truly switch off. However, both added that the general interest and passion for current affairs that they and others working in the public sector possess means that following the news in the evenings and on weekends is something they would probably do anyway, irrespective of their jobs, and therefore does not feel like a burden.
Consider the hours when choosing a placement
However, as we move from Whitehall to Canary Wharf, the experience changes quite significantly. Industries such as investment banking and equity management have always held a reputation for their live-to-work, dog-eat-dog mentalities, and although working hours at undergraduate level do not quite match the extremities seen at graduate/junior level (a recent survey of first-year bankers at Goldman Sachs found that respondents worked an average of 95 hours a week!), a friend on placement at one of the world's leading investment banks reported 14-hour days being the norm and weekend work not being unusual.
These companies are prone to giving employees work-related benefits which may not be feasible at smaller companies, such as free gym memberships and discounts at certain restaurant chains. And greater flexibility with remote working means that these hours are arguably easier to cope with than they may have been in the past. But either way, there is no denying that the hours are demanding and certainly not for everyone.
The important point to take away from this blog is that every placement experience is different. Industries, companies, and roles will differ between students and, with that, so too will working hours. There is also the pandemic to consider, and what the future will bring with regards to a home-office work balance. Hence for the time being there are simply too many variables to be able to say definitively what working hours an economics placement student can expect to end up with. But by speaking to those who have been down the road before, you're in with a good guess.