When I first started my degree in Modern Languages, I had my heart set on a high-flying career in accountancy. Every time I did a career quiz, accountancy was always near the top of the suggested list – and I could see why. It was a career that ran in the family, played to my strengths and personality traits, and even paved the way for international travel opportunities.
So, in 2013 (which feels like a lifetime ago), I secured a placement at one of the 'Big Four' global accountancy giants. While some people might have been put off by the relentless nature of meeting tight deadlines, there was something about the adrenaline rush and general intellectual stimulation that left me wanting more.
But, as I soon found out, career plans evolve constantly! University made me do a complete 180 that led me to reconsider all of my carefully laid career plans. By taking up part-time work, placements, and volunteering at university, I discovered other career paths and sectors that I'd previously ruled out or not even realised existed! That's where the University of Bath's Careers Service came in useful. What's more, I've found it beneficial to use these services every year – not just in my final year of studies!
First off, what is it?
In a nutshell, the University of Bath provides support for students, regardless of whether career plans are clear or undecided. What I've appreciated most is that they've designed services for all students, taking into consideration how career plans may be affected by issues surrounding equality, diversity or international backgrounds. As I came from overseas to study in the UK, for example, they've helped me envisage what it might be like to work in the UK compared to my home country.
What services are available?
The University's career service seems to cover just about everything career-related from start to finish! They offer in-person appointments with advisers (now remote due to COVID-19) to discuss career paths and job applications, career fairs and employer-led events, industry-specific sessions to engage with Bath alumni, psychometric tests, workshops, and skill development sessions.
Once I started to reimagine my future career, I turned to the 'Career Discovery' section on the Careers Service website… there's a ton of information about traditional employment, as well as postgraduate study and self-employment. Personally, I found employer events and career fairs to be the most useful at this stage. It not only gave me a snapshot of what it might be like to work in different sectors, but also the opportunity to find out more about specific companies.
After I'd gained work experience in different sectors – accountancy, marketing and hospitality, just to name a few – I kept coming back to the 'Career Essentials' section on the Career Services website. I wanted to gain experience in a few different industries to develop a diverse skill set and fresh perspective at each opportunity. Of course, this meant tailoring my CV and applications to different industries that each valued different skills and experience. Accessing 1:1 appointments, workshops and online information allowed me to better understand the job market… and for the times when a job application wasn't successful, I was able to regain my confidence and bounce back thanks to the opportunity to practice interview techniques and psychometric tests.
The 'Career Fulfilment' section is perhaps the one that I've interacted with the least, but it's by no means any less useful. It's a section designed to increase awareness of networking, wellbeing and diversity in the workplace, all of which are becoming more and more important. In particular, I've found the Careers Service blog and social media posts on Twitter, Facebook and Instagram to be the most engaging way to access this advice and information.
When's the best time to use these services?
Once I started to explore other career paths to find the best fit for me, I ended up visiting the Careers Service each year I've been at university!
First Year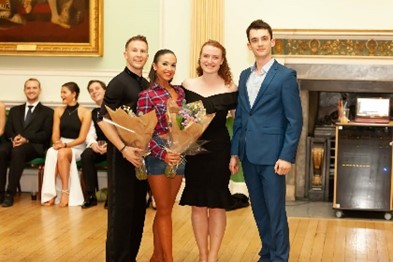 During my First Year, I had the most time available to research careers – and it can easily become another 9-5 job! What surprised me the most was that my degree modules and extracurricular activities heavily influenced my career aspirations. For example, translation quickly became a favourite part of my Modern Languages degree. As a result, I took up several translation jobs and realised that the nature of the work complemented my personality type and lifestyle preferences. In a similar way, my voluntary work as an Events Planner for the University of Bath Latin and Ballroom Club was so enjoyable that it made me consider events planning as a future direction.
Second/Third Year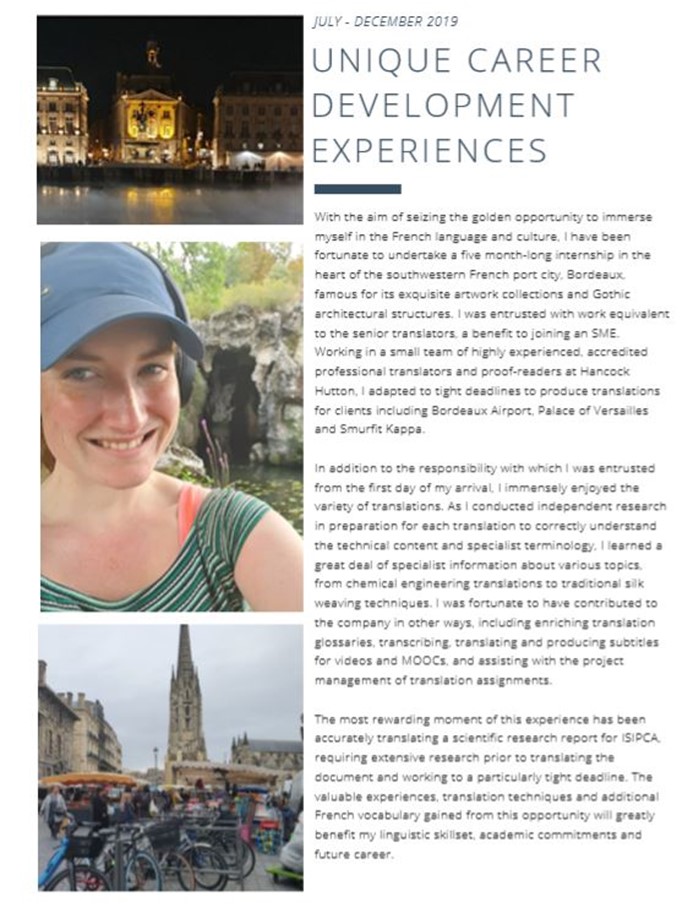 One of the most exciting aspects of my degree was the integrated Year Abroad – the perfect opportunity to see first-hand how I would feel about careers while on placement abroad. During my Second Year, I secured a placement as a Wedding Planner in Cannes. However, just six weeks before my flight was scheduled to the south of France, the placement, unfortunately, fell through. The University provided various types of support – my first port of call was the Year Abroad team, where staff in the Department of Politics, Languages & International Studies (especially my Placement Officer!) helped me with the next steps.
Following my Placement Officer's advice to use this opportunity to consider placements in other industries – not just events planning, but also industries like translation – I also found the Careers Service's online resources and 1:1 appointments useful to reconsider my future career plans in general. Since the change of plans came unexpectedly, the Placement Team also pointed out that MyFuture advertised placements and vacancies with University of Bath students and alumni in mind! The result? Thanks to support from different sources, particularly the faculty's Placement Team and Careers Service, I was able to land interviews and even job offers at short notice.
Final Year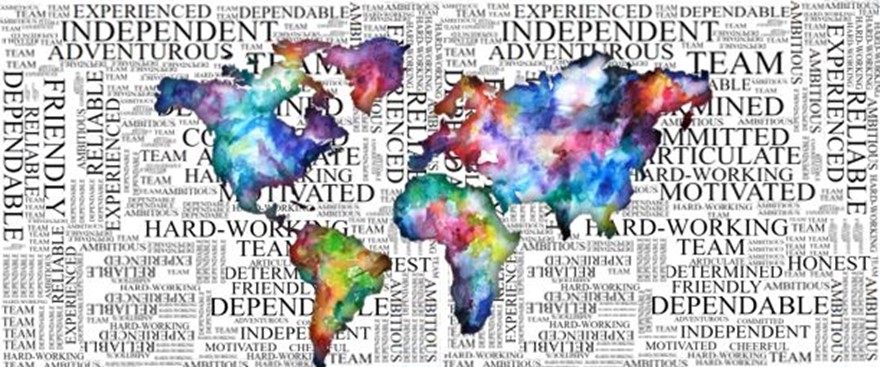 No sooner had I moved into my accommodation for Bath (for the last time!) ahead of my final year of studies, I knew the Careers Service would help me finalise my post-graduation decisions. Graduate schemes often open as early as autumn, so accessing online services over summer and early autumn helped me narrow down which graduate schemes – if any – would be worth pursuing. There are no two ways about it… accessing the resources provided by the Careers Service has not only shaped my future career plans but also played a role in securing part-time work, voluntary work and placements.
Personally, I've found these services to be beneficial every year – not just in my final year of studies!