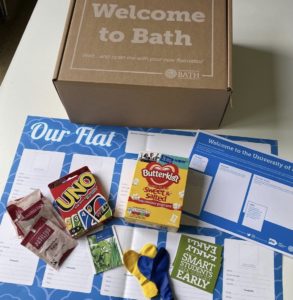 Getting the grades and being accepted for your dream university is one of the most exciting times of a teenager's life. The achievement of accomplishing good grades should be forever remembered. Naturally, you look forward to starting this new chapter of your life as an adult.
I remember feeling this exact same way when I was about to join the University. However, last year wasn't exactly normal. With that being said, COVID has had a huge impact on my joining the University as a newbie. I had expected a lot from my experience and was gravely disappointed to think that it was not going to be the same. It took me a while to realise the impact this had left on me – especially the anxiety of missing out.
I am an international student from Pakistan, but I moved to the UK indefinitely about 4 years ago. Needless to say, I was expecting a lot from my experience, I was exhilarated and excited about getting into uni, meeting new friends, my lecturers, my mentors – basically anyone who I can look up to! I was impatient to get it done and over with as my stressful A level exams had the potential to make or break the beginning of my career pathway.
But, in the end, it didn't work out like that as COVID hit. With exams being cancelled and uncertainty far and wide all around us – the future looked a bit discouraging. Nonetheless, the time kept on going and we did end up at universities one way or another – for some not so much physically. Unavoidably, with the COVID restrictions, it wasn't a question of how to enjoy university anymore, rather it was about how to adapt to the restrictions and still have a reasonably good time.
In this blog, I will be sharing my experiences as a first-year international student at university and how I managed in spite of all the restrictions.
As an international student, you are not just moving homes instead you are shifting countries – that is a huge deal! You come to this new environment with a different atmosphere, culture and even language sometimes. You are bound to feel some sort of way – overwhelmed - is the word! But to add COVID on top of it all is a whole other level of overwhelmed, especially with a lot of expectations in mind (which was the case with me!)
COVID did not come easy for any students but especially the international ones. From not being able to enjoy the campus life to studying everything behind a laptop screen – was all a bit uncalled for, and frankly got boring at one point. Some people, however, enjoyed the peace and quiet of not having to get up and get ready in the morning while others longed to be outside to meet people.
As an extrovert myself, I can say that the latter is true for me. The endless months of uncertainty and lack of interaction did not come easy to me. However, aside from that, I can also say that it was one of the most crucial times of my life to groom and get to know myself a little better – even though at that time I did not feel that optimistic.
In hindsight, it was an opportunity to sit back, pause for a minute and reflect on what was going on in that fast-paced mind of mine that didn't have time to stop. Literally, stop! It gave me opportunities to let myself cope with and indulge in this newer, virtual world of meetings, education, and meet-ups. One key takeaway from all this is that I can, at least, call myself a pro of the tech things!
The travel restrictions are a whole other level of frustration. Because of this, many international students didn't have a chance to physically arrive at university. But for those who did, it wasn't much different from studying completely online. The international students, from my course alone (Accounting & Finance), were from all around the world. USA, France, Dubai, Singapore, South Korea, India – you name it! Sadly, this diverse community did not get the chance to unite themselves under the same roof this year.
However, there is always a bright side; those who did manage to come to Bath were welcomed with a great Freshers' Week. It didn't quite look how it should; bearing the restrictions in mind, but we still managed to have fun! The week was full of activities to welcome students. We had mini-golf, pubs, a whole arena dedicated to games including Mario Cart and a cool jumping castle. We also had movie and music nights by the lake (of course if the weather allowed!) The University did the best it could within the boundaries of those restrictions, and it didn't turn out half bad!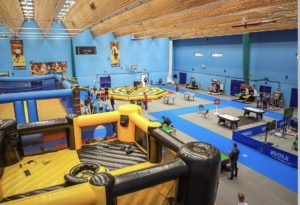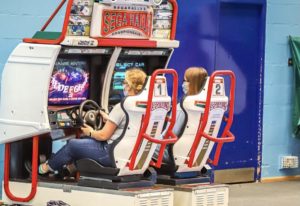 Students were offered tours of the University and the city to make them feel welcome. The Bath Skyline walk, although 4 hours long, is breathtaking and a must-do! The University being in a pretty city is the cherry on top! It gives you a good idea of the culture at Bath – the places to shop, eat and enjoy. The first month into university was not in lockdown so the shops were open for exploring and the buses ran frequently.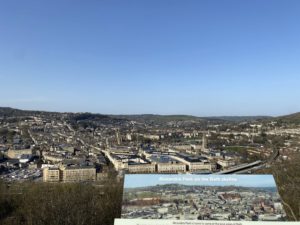 Let's talk international; those who were not able to join us on campus were given as much consideration as those who did. They were provided with immense online support, meet-ups, inductions and almost everything. The uni, very carefully, took into consideration the time differences in different continents and wonderfully managed to make them all feel included.
It was announced from the very beginning that the lectures would be held online. This limited the very essence of university – the social life! However, students were encouraged to arrive at the University if at all possible, and some were able to spend a few months to get a taste of campus life. Unfortunate as it was, we tried to make the most of the situation. With most of the time spent in doors, it gave me a good opportunity to form deeper, closer relationships with my flatmates. Undoubtedly, I made lifelong friends this way. With endless laughter, deep talks and all-night games, the lonely wintery nights turned out to be warm and cosy. I am lucky to have met them!
As the second lockdown of 2020 hit, everything shut. The University knew exactly the kind of impact it could have on the students and therefore went above and beyond to help them out. There is immense support available at all times throughout the year. Not just academic, but also mental and physical wellbeing support. The Student Services team are very accessible and are only a phone call or an email away. They make sure to get back to you as soon as possible and help you out with your individual problems. The key thing is to take a step forward and ask for help, the rest is sorted by the University.
The University managed remarkably well during the peak months of quarantine. One of my flatmates, in my first year, was suffering from extreme home sickness and depression after isolating due to the never-ending lockdowns and quarantining. Having contacted the Wellbeing Service, they were able to arrange professional therapy sessions for her that lasted up to 6 weeks. The feedback was very positive and she said that it was exactly the kind of push she needed to get her through the rest of the academic year. This is one of the many examples of how Student Services were able to help students.
Almost all the accommodations floors on campus were isolated at one point during September – December months in 2020. The spectacular support that the student living team provided exceeded my expectations. We were offered lunches and dinners for each day which arrived as frozen packs. We were also provided with fresh chicken roasts with deliciously baked potatoes and vegetables on Sundays and free delivery for our groceries. On top of this, we were sent massive boxes every 5 days filled with all sorts of snacks one could possibly want. Crips, Doritos, Pringles, cookies, cakes – you name it! They did their best to keep us students cheery. We made the best of these little things that came with the pandemic – like free food!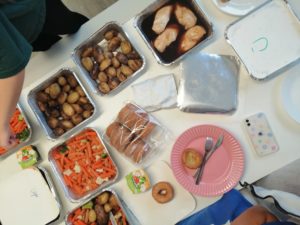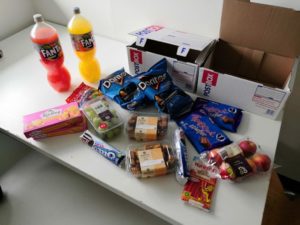 One takeaway from my experience is that the student living and accommodation team were there to cater for you. Arrangements for new students joining the University in the next academic year might not be the same so you'll need to check the website, but I'm sure the University will do its best to look after you.  If necessary, do not hesitate to seek help. Just email them and they will be happy to help or signpost you to the relevant team. It'll be worthwhile making the most of these teams, I promise you!