Being born and brought up in Dubai, I was able to strongly experience the Indian culture which made me slightly nervous about how I would get to do the same in the UK. Joining a university that celebrates diversity and cherishes every culture was very important to me and I can proudly say the University of Bath did not disappoint.
I am here to share with my fellow Indians, what you can expect in Bath and how you can make it your home away from home!
Bath Indian Society
Originally set up as the Bath University Asian Society, the Bath Indian Society came to be in 2020 and is home to over 200+ Indian and non-Indians. It is one of the best places to find like-minded people and bond over festivals, traditions, art & culture! The society is known for its diverse activities ranging from Bollywood nights, Movie & IPL (Indian Premier League- Cricket) screenings, weekly dance workshops, Poojas during festivals, inter-university dance competitions, Diwali-Eid Ball and the Annual Holi (festival of colours) celebration.
The best part of it all is there is something for everyone and it offers a great way to make new friends.
I have been an active member of the Bath Indian Society since my first year and had the opportunity of becoming the secretary of the society in 2020-21. I collaborated with societies like the Warwick Indian Classical Dance Society to organize dance workshops and have been conducting regular workshops in collaboration with the Tamil Society this year. I was also able to participate in the Just Bollywood dance competition in 2019 where I danced with 20 other dancers from the society.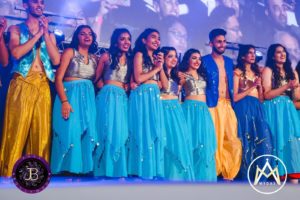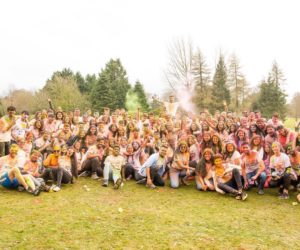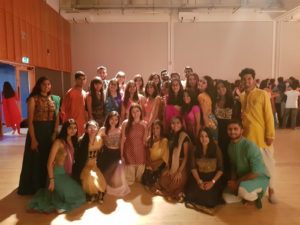 The Society has a lot to offer so if you are someone who is just as passionate about spreading the Indian culture, do not hesitate to join! It will be a great opportunity for you to build the Indian community at Bath and enjoy the cultural richness of the Society.
Fantastic Food and where to find it!
One of the things we are all bound to miss is home-cooked food and access to a multitude of Indian options. But good news! The University and the city of Bath offer great Indian options to satisfy your cravings.
The Parade grill and bar at the University offers Indian gravies like chana masala, dal, and rajma with rice every couple of days, so watch out for those! Other cafes like the Pitstop café in the Students' Union and Lime Tree offer Indian snacks like samosas, stuffed vegetable patties etc
The city is host to a number of Indian restaurants such as Indian Temptation, Mantra, Bikanos, Chai Walla etc where you can enjoy authentic Indian food.
When it comes to Indian groceries, the newly opened Perfecto International food market has a wide variety of Indian ingredients to choose from. From Chapatis, frozen parathas and masalas, it comes close to the markets you would find at home.  Sainsbury's and Waitrose supermarkets also have a good amount of Indian food for sale.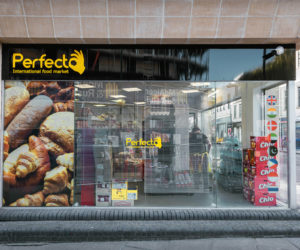 SU and International student support
All in all, the University offers great support for international students, and the Students' Union supports the University in bringing Indian events to campus. There is a weekly newsletter that international students receive to get notified of any relevant activities and events.
The SU organized its first-ever Artisty festival in February that celebrated different cultures and creativity. Additionally, the recent Holi festival hosted by the Bath Indian Society witnessed over 200+ students coming together to celebrate. So, make sure to look out for such festivals in the future!
My recommendations for what you can bring to University would be:
At least 3-4 Indian outfits for the festival season
Special Indian spices & snacks (which you may not be able to find in Bath)
I hope you found this guide useful! You can be assured that there will be lots of Indian activities in store for you at the University of Bath!
Feel free to ask me any questions you might have in the comments section below!