For the last nine months, I've been interning at the National Literacy Trust (NLT), a charity dedicated to transforming the lives of disadvantaged children in the UK through literacy. I've just finished my placement and thought it would be a good idea to reflect on my time there while sharing some insights into what working in the charity landscape is like.
Sense of fulfilment 
Interning at the NLT was a very rewarding placement. Personally, one of the things I love most about working in the charity sector is the sense of fulfilment. There is something incredible about helping to drive change and help improve the lives of others. Specifically, I loved working at a charity dedicated to education and literacy for children, as this is something I am passionate about both within and beyond my studies.
I have found my role at NLT especially insightful as learning about media and literacy within the UK, as well as the role of policy, compliments my studies in International Development. It has also given me some inspiration for my upcoming dissertation topic. Being at the heart of the charity in media and communications, I have been exposed to eye-opening stats and findings, which have given me some ideas for potential questions to explore.
Wide exposure to people and information
I have significantly enjoyed meeting and hearing from such a broad range of people from different backgrounds. My role included doing social media and newsletters, as a result, I encountered many people from different departments. I've learnt that as a marketing intern, you are quite central to the charity. From this, I've been able to learn about literacy for different age groups, policy updates and research on literacy. Likewise, I've also been able to share insights into social media marketing and how employees within the charity can best make use of it. Through this, I've been able to build some long-lasting professional relationships and friendships even beyond my placement.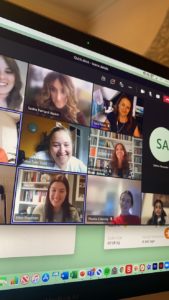 As well as interacting with people within the charity, I've also had the experience to engage with authors and publishers beyond the charity. Not only has this helped to build my communication skills, but I've had some insightful interactions with professionals within their respective fields. Some of the highlights include hosting two Premier League quizzes with children's authors in the UK, one of which had over 60,000 student participants.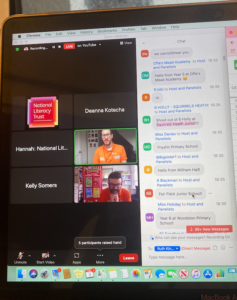 Flexibility 
As charities rely on funding, they can sometimes be short-staffed. This also means there are many chances to move around internally and learn new skills. Moving around internally can also help you decide which role you are most suited for. It may be that you prefer working within one specific department to another. Working for a small charity can also mean you have more responsibilities and a greater say within the organisation as a whole. Working for an NGO, more specifically an INGO, can also provide opportunities for international travel or posting (depending on the size of the INGO). This can open doors and provide fantastic new experiences.
Moreover, NLT saw a massive expansion these last few years. Therefore, a proportion of their employees now work remotely across the UK, given that their office is based in London. The option to choose remote or a hybrid of remote and in-person has meant that the charity has been able to reach more disadvantaged communities across the UK and provided greater flexibility to employees.
Working for a cause 
I think an amazing thing about working for a charity is that you can work for a cause. Obviously, for a charity, the goal isn't entirely profits or market share. There is the opportunity to instead, work in a particular sector or charity that you personally align with or that you may find interesting.
There is also such a range of NGOs and INGOs with regards to size, cause and type. This means that you can gain experience in different organisations and find one that you are drawn to. Throughout my time at NLT, I also learned that there are a wide array of roles and departments within a charity itself including, media, marketing, communications, research, programs, fundraising, policy, human resources and more. While the sizes of each department may differ from organisation to organisation, there are many different types of roles to explore.
Creativity 
The scope for creativity in my role has also been great. As the NLT is growing, there is a lot of potential when it came to creativity within social media, including how we present images, findings, and how to best market campaigns. I've loved discovering new tools to help enhance the impact of our marketing campaigns. For example, I introduced the use of Canva to help us create engaging animations and infographics to better capture the attention of our respective target audiences. Through refining our tone and style, it's been rewarding to see followers and engagement increase.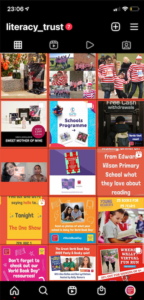 As a social media intern, I had the freedom to also construct messaging to share on Instagram, Twitter, Facebook, and LinkedIn. As a literacy charity, the wording was crucial. It was important to ensure there were no grammatical errors, but also that the social media captions were engaging. This required a degree of creativity and was very exciting to do. Working in a charity environment generally promotes creative collaboration, and allows for employees to problem solve using their own ideas.  
Overall, I've had an incredible experience working at the NLT doing digital marketing. My experience here has led me to continue to pursue a path in the charity landscape and maybe even in a new type of role or department.