Some railway improvement work is taking place between Christmas and New Year close to Bristol Parkway station and at Stonehouse. You'll also find below details of platform improvement work at Bristol Temple Meads. If you are travelling over the Christmas period, please take extra care and plan ahead.
25 and 26 December
As usual the railway closes for Christmas Day and Boxing Day to give us a chance to get some crucial work completed on the network - including signalling work at London Paddington (due for completion on Boxing Day ahead of return to normal service on Monday 27 December).
27 – 31 December
Having started on Christmas Eve, we will be continuing work to install new track either side of Bristol Parkway station, focused on a section along 'Filton East Curve' to the west of Bristol Parkway and two sets of points at Stoke Gifford East to the east of Bristol Parkway. This is crucial maintenance that will help ensure the safe and smooth running of the railway on this important route for years to come.
At the same time, we are installing a new railway bridge at the Ocean in Stonehouse, on behalf of the Cotswold Canals Connected Project, creating an open structure that will allow boats to pass through.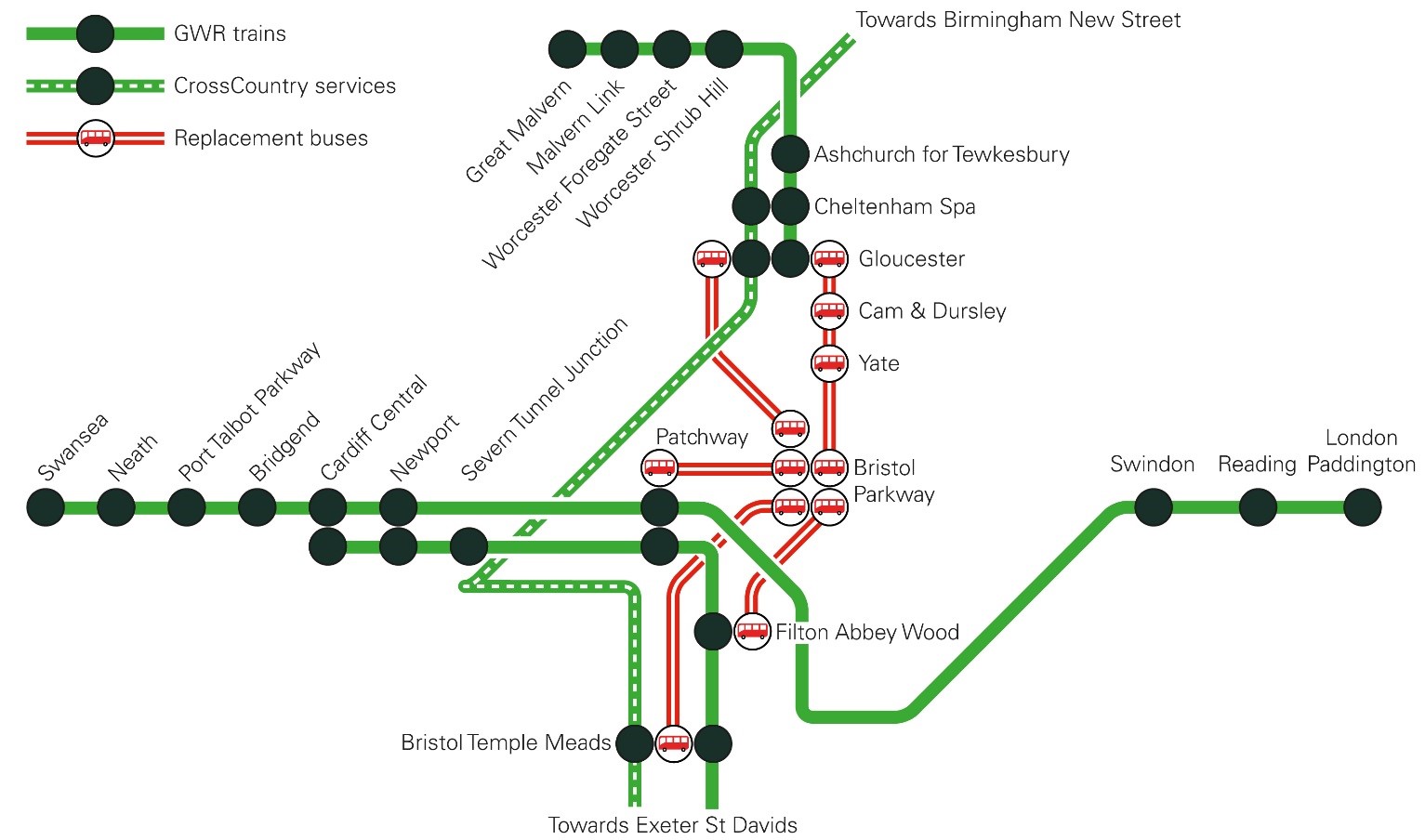 Travel advice:
No GWR trains Christmas Day or Boxing Day.
27 – 31 December, no trains call at Bristol Parkway, Yate or Cam & Dursley. Replacement buses will be in operation. Trains resume New Year's Day.
Trains between London and south Wales will be diverted and hourly trains between London Paddington and Swansea will stop at Patchway instead of Bristol Parkway.
CrossCountry services divert between Cheltenham Spa & Bristol Temple Meads stopping at Gloucester instead of Bristol Parkway.
Please plan your journey and check before you travel:
www.nationalrail.co.uk
www.GWR.com/Christmas
www.Crosscountrytrains.co.uk
Platform improvements at Bristol Temple Meads
As part of the Bristol Rail Regeneration programme, we're making Bristol Temple Meads more accessible. Starting this Christmas and running through the first few months of 2022, we're installing tactile paving along the edge of platforms 1 – 12 to bring them up to the same standard as platforms 13 and 15. When completed the tactile paving will help partially sighted customers, but please do take extra care while this work is underway.