October 27 marks UNESCO's World Day for Audiovisual Heritage.
"Archives at Risk: Protecting the World's Identities" is the slogan of this year's celebration.
The world's audiovisual heritage of sound recordings and moving images are extremely vulnerable as a result of factors ranging from neglect, natural decay to technological obsolescence, as well as deliberate destruction. Consequently, UNESCO has made it part of its mission to raise public consciousness of the importance of preservation of these recordings through the World Day for Audiovisual Heritage.
All of the world's audiovisual heritage is endangered. Therefore the key action for UNESCO is to honour preservation professionals that help to safeguard this heritage for future generations despite the many technical, political, social, financial and other factors that threaten its survival.
UNESCO has encouraged everyone to showcase some of their precious collections, so that present and future generations can enjoy the treasures in the achives.
To join in with this process, we've got a version of the oldest film made at the University - approximately 50 years ago. It was originally made on 16mm film, which we've had digitised.
We hope you enjoy it!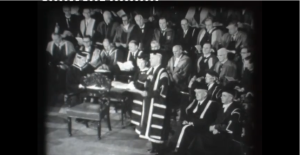 If you would like to know more about the UNESCO project the link is here:
http://www.unesco.org/new/en/unesco/events/prizes-and-celebrations/celebrations/international-days/world-day-for-audiovisual-heritage-2015/
The Proclamation is here: